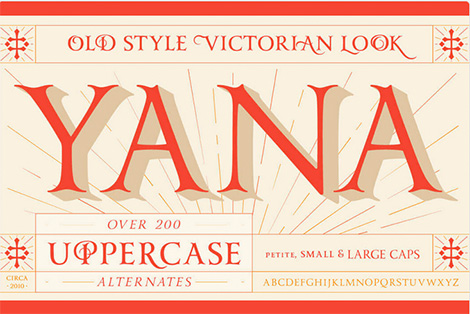 Classy, calligraphic, and confident. Yana's classical proportions convey worldly sophistication and experience. Yet unlike more staid classical faces, Yana's concave terminals and elegantly flared serifs suggest romance, mystery, and a touch of Victorian extravagance.
Designed as a versatile family for everything from text use to headlines and titling, you'll find yourself using Yana in project after project. Yana is available in regular, bold, and italic variants, and includes two sets of swash capitals — each available in standard sizes and small caps, but also in mid-sized petite caps, ideal for adding beautiful, properly scaled flourishes to the middle or end of wordmarks.
Yana is available through a limited-time promo deal here.

Share on Facebook
Share on Facebook