Swiss modern graphic design meets Hotel Astoria Lucerne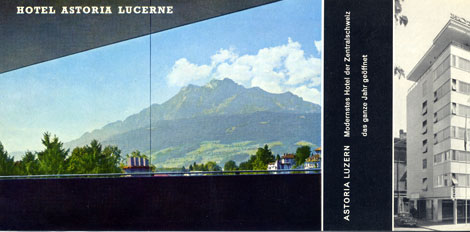 Hotel Astoria Lucerne was located in Luzern, Switzerland. As they claim in their promotional material, they were the "most modern Hotel of Central Switzerland". After looking at this I brochure, I believe them. I'm not sure if the hotel still exists. I was able to find some information on a Hotel Astoria Lucerne designed by Herzog & De Meuron but, I'm not sure if bears any relation. I realize Herzog & De Meuron are modern day architects, but possibly they renovated the existing structure? Anyone have any info on this?

I'm not sure who was responsible for the layout, but, it is a wonderful example of Swiss modern graphic design. The photography is top notch as well. The black and white photos inside the brochure are credited to C.J. Bucher. Fans of the Swiss based photography magazine Camera might recognize his name as he was the founder and original publisher. Bucher died in 1950 so he couldn't of been able to take the color photos present on the outside. If you look closely at the picture below, the room is filled with Harry Bertoia's Diamond chair. Knoll didn't start to produce these chairs until 1952.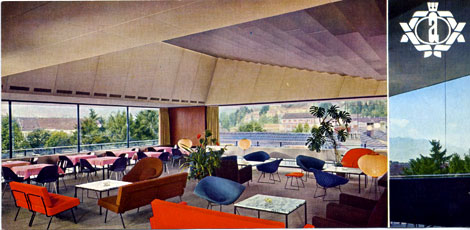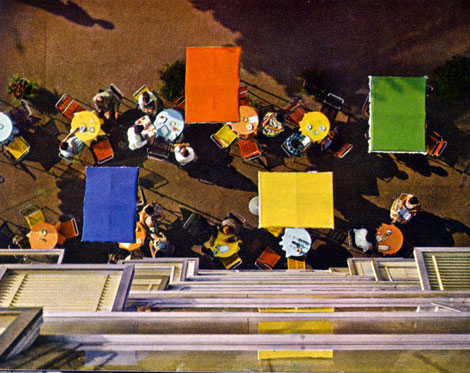 I love this photo, It reminds me of the opening shot of Jacques Demy's Umbrellas of Cherbourg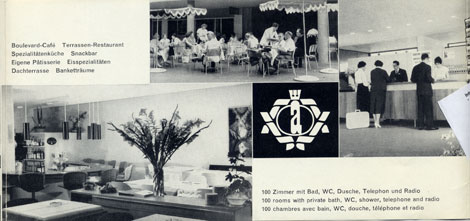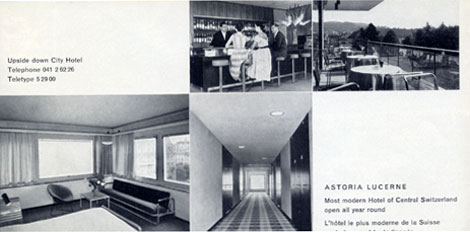 WOW! A Harry Bertoia chair in every room!


Share on Facebook
Tagsbrochures, ephemera, graphic-design, hotels, Mid-century, modern, swiss, switzerland
01.21.08 in Off Our Bookshelves by Dave
Share on Facebook