'Cutie Bear' by Delicious Design League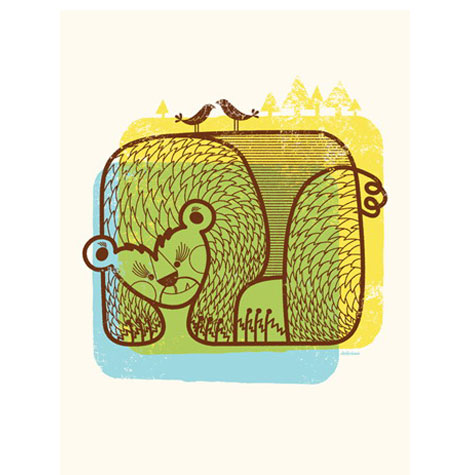 Cutie Bear by Delicious Design League. 18″ x 24″
The best part about bringing you the poster pick series is reading your responses to our selections. This week can't disappoint because it is virtually impossible to see the work of the designers at Delicious Design League and not be smitten.
Delicious Design League is based in Chicago and commandeered by Billy Baumann and Jason Teegarden-Downs. The firm focuses on designing for the music industry but leaves room for all things design. 'Cutie Bear' feels right at home here at Grain Edit. Clean lines and smart color combos never go out of style. The trick is to make it look effortless, but it's obvious a great deal of thought goes into something so, well, cute.
Cutie Bear is available for purchase here.
——————–
Also worth checking: Delicious Design League – Posters, Design and Illustration.
Not signed up for the Grain Edit RSS Feed yet? Give it a try. Its free and yummy.
——————–

Share on Facebook
Tagscontemporary, Illustration, posters, USA
10.08.09 in Poster Picks by Dave
Share on Facebook