Corporate Diversity: Swiss Graphic Design by Geigy 1940-1970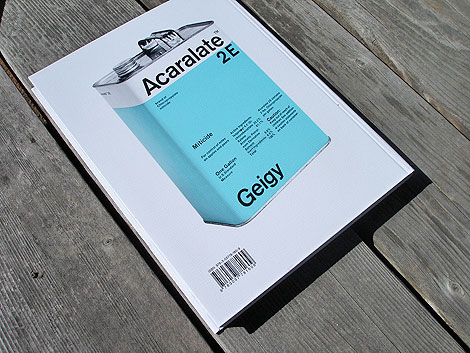 Corporate Diversity- Swiss Graphic Design and Advertising by Geigy 1940-1970. Published by Lars Muller +Museum fur Gestaltung Zurich – Back cover image of Acaralate canister designed by Markus Low in 1967

The fine folks at Lars Muller have just published an excellent book titled Corporate Diversity: Swiss Graphic Design and Advertising by Geigy. I know alot of designers (myself included) that are extremely excited over the release of this book. It chronicles the work of the design studio J.R Geigy AG which was a launching pad for one of the great periods of Swiss graphic design, in the 1950s and 1960s. It's amazing to see the quantity and quality of the designers associated with Geigy. Under the leadership of Max Schmid for many years, the studio employed Roland Aeschlimann, Karl Gerstner, Jörg Hamburger, Steff Geissbuhler, Andreas His, Toshihiro Katayama, and Nelly Rudin, among others. Freelance designers such as Michael Engelmann, Gottfried Honegger, Armin Hofmann, Herbert Leupin, Warja Lavater, Numa Rick, and Niklaus Stoecklin were also used. In the 1960s, the Basel office, most especially George Giusti and Fred Troller, was involved in developing the studios of the subsidiaries in the United States and the United Kingdom, placing more emphasis on advertising. This is the first comprehensive presentation of Geigy design, an important Swiss contribution to the international history of design.
For those of you that have been wanting a copy of Publicity and Graphic Design in the Chemical Industry by Hans Neuburg, this book features some of the same content and is going to be easier to find. If you have money to buy one design book this year, this is the one.
———————
Details:
19.8 x 26.4 cm, 208 pages, 385 illustrations, hardcover
Edited by the Museum für Gestaltung Zürich, Andres Janser, Barbara Junod
Book Designed by Norm and set in their typeface Replica
———————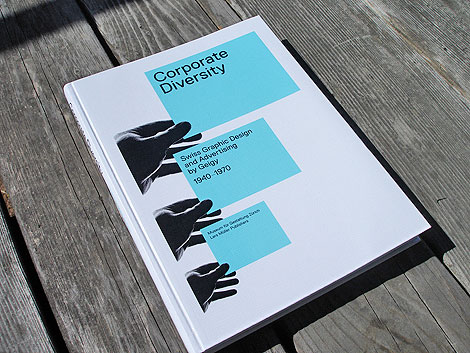 Corporate Diversity: Swiss Graphic Design and Advertising by Geigy 1940-1970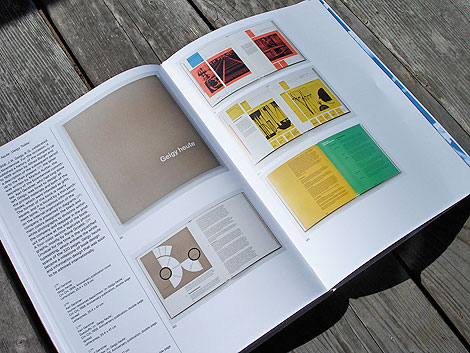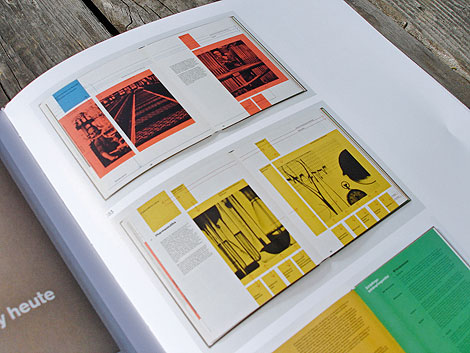 Geigy Heute (Geigy Today) designed by Karl Gerstner 1958, letterpress 25.4 x 22.9 cm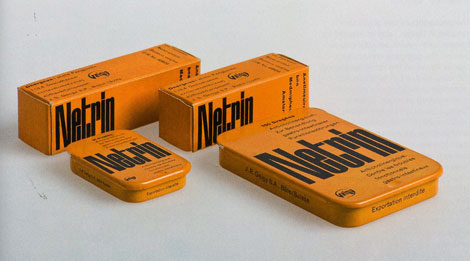 Packaging for Netrin designed by Armin Hofmann in 1953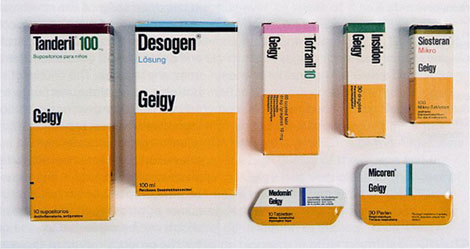 Retail Packaging for Geigy pharmaceuticals 1961-1962 – Design by Max Schmid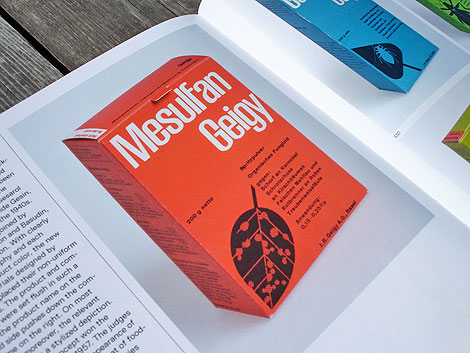 Mesulfan Geigy insecticide/ herbicide packaging for Swiss market designed by Andreas His 1956, Offset printing 12.6 x 8.6 x 4.9 cm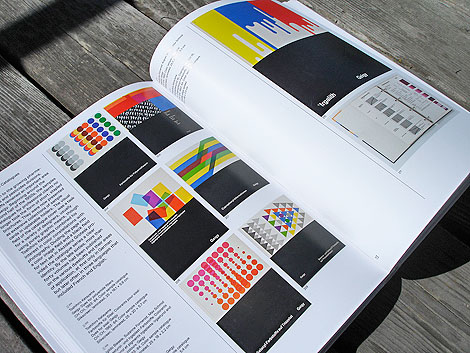 Color sample catalogues designed by Toshihiro Katayama 1963-1964 set in Akzidez Grotesk, 25×18.1×5.6cm Silkscreen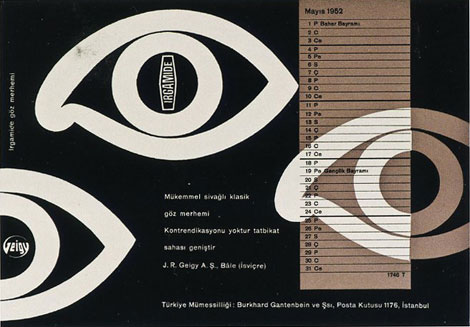 Irgamide Blotter designed by Armin Hofmann in 1952 Letterpress 14.1 x 20.3 cm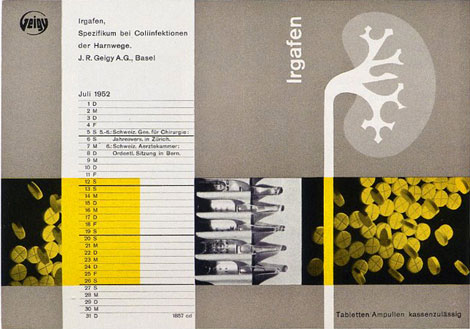 Iragafen Blotter designed by Nelly Rudin in 1952 : Letterpress 14.1 x 20.2 cm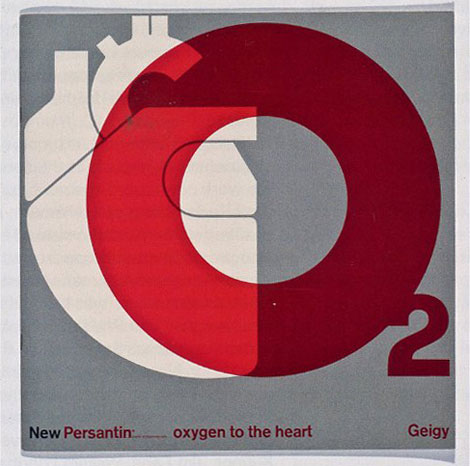 New Persantin brochure designed by Fred Troller, offset printing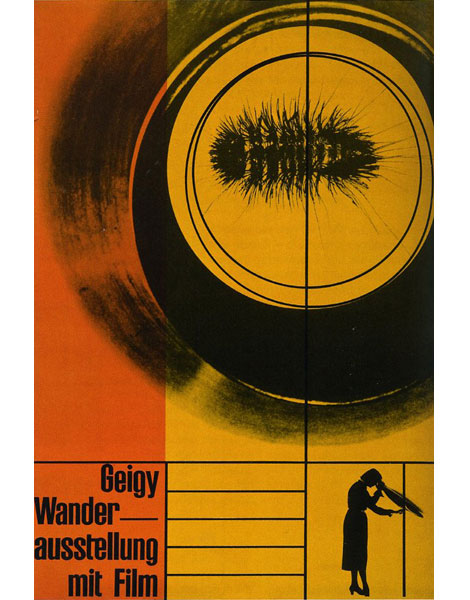 Geigy Traveling Exhibtion with Film poster designed by Karl Gerstner in 1953, offset printing 100x70cm
You can buy a copy of Corporate Diversity: Swiss Graphic Design by Geigy here.
———————
A short film was created on the exhibit that accompanied the book. (via Aisle One)
Also worth checking: die neue Graphik by Karl Gerstner
———————
Not signed up for the Grain Edit RSS yet? Give it a try. Its free and yummy.

Share on Facebook
Tags1950s, 1960s, Books, graphic-design, reviews, swiss, switzerland, Typography, vintage
04.06.09 in Off Our Bookshelves by Dave
Share on Facebook