Emigre at Gallery 16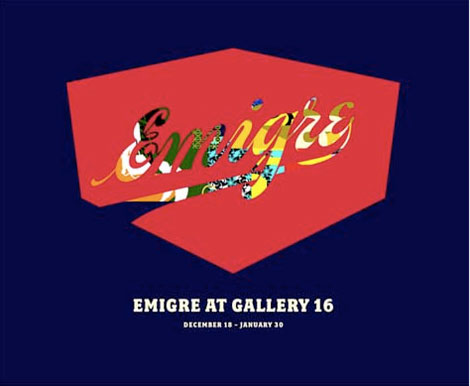 If your in the Bay Area, there's a cool exihbition over at Gallery 16. The exhibition celebrates the 25th Anniversary of Emigre, and will present artwork from Emigre as well as the new Gingko Press publication Emigre No. 70: The Look Back Issue – 25 Years in Graphic Design. The 512 page book covers the best of a quarter century of Emigre magazine.

More info on Emigre:
During the late 1980s and throughout the 1990s, graphic design was experiencing one of its most exciting and transformative periods. The Apple Macintosh computer had been introduced, design schools were exploring French linguistic theory, the vernacular had become a serious source of study and inspiration, the design and manufacture of typefaces was suddenly opened up to everyone who could use a computer, and for the first time in the United States, New York City was no longer the place to look for the latest developments in graphic design. And in Berkeley, California, across the bay from Silicon Valley, Emigre magazine, like no other, recognized the significance of the events, and became both a leading participant and a keen observer of this innovative international design scene, generating a body of work and ideas that still resonate today.
———-
Also worth checking: Graphic Design Referenced
Not signed up for the Grain Edit RSS Feed yet? Give it a try. Its free and yummy. Also catch us on Twitter.
———-

Share on Facebook
Tagsemigre, Events, graphic-design, USA
Share on Facebook