/Sponsor/ Verb: 72-Font Super Family – the complete series
There's no better way to get your next project moving than with the awesomely active (and actively awesome) Verb font family. We've actually run a Mighty Deal on the Verb font from Yellow Design Studio before and it got so many of our fans pumped up that we've decided to bring it back. Even if you took advantage of our previous Verb Deal, you'll want to stick around.
This time, you can get the entire Verb Font Family from Yellow Design Studio, or even just pick up the Verb fonts you don't have yet.
Verb Font Family Highlights:
Actively Sans-Serif: Based on the sans-serif typeface, the Verb font family is a friendly and heart-warming font chock full of bold confidence and tons of energy.
Tons of Moving Features: Verb just can't sit still. Besides some pretty enthusiastic letters, your purchase of this actively awesome font get you loads of incredibly useful features like small caps, discretionary ligatures, alternate connected ligatures, old style numerals and currency, and so much more.
72 Different Fonts: Not one to sit still for a moment, Verb includes four subfamilies: Regular, Condensed, Extra Condensed, and Compressed. Even more, each subfamily sports 9 different weights
Size Matters Not: No matter the size, Verb works wonders for your projects. At normal text sizes, Verb performs beautifully. The larger the size, the more lively shapes come into focus.
Verb Really Gets Around: Need to use the Verb font in different languages? No problemo! Verb supports a vast array of languages.
With a font like Verb, you can't expect a simple little deal, can you? Verb comes at you with 3 fantastic deals to choose from: Get the Regular set for just $17, instead of $89, or get the Full Verb Font Family for just $37 instead of $169. Also, if you already have the Regular set from our previous deal, you can upgrade to complete the family for just $27.
————
A Huge thanks to Verb font family  for sponsoring this week's RSS Feed!Interested in sponsoring the Grain Edit Feed? Visit our sponsorship page for more info.
————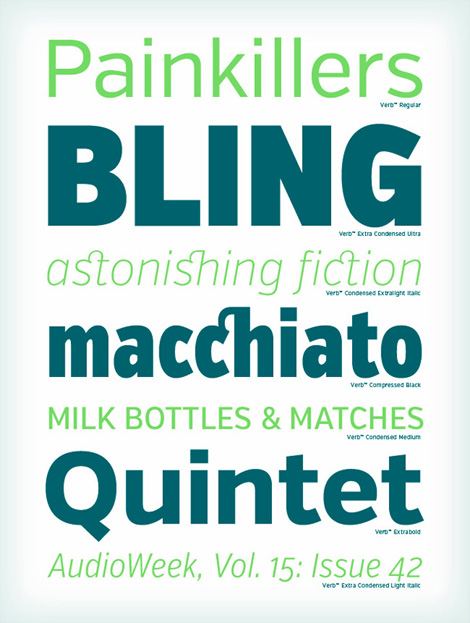 Share on Facebook
Tagssponsors
Share on Facebook