Crafty 2010 Conference in Singapore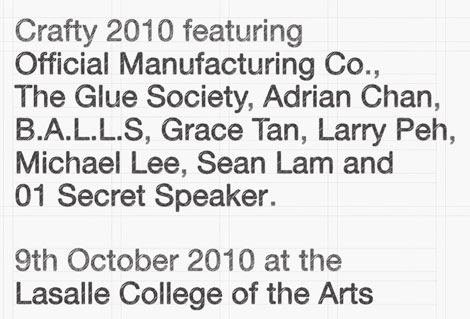 Crafty 2010 will explore the artistry and process behind disciplines from design to art, fashion to film and advertising to specialized print techniques. Held at the Lasalle College of the Arts in Singapore, the project is produced by design think tank Anonymous and curated by art director Felix Ng.
Speakers will include: The Official Manufacturing Company, The Glue Society, Adrian Chan, B.A.L.L.S, Grace Tan (kwodrent), Larry Peh (&Larry), Michael Lee and Sean Lam (Plate).
Supplementing the conference will be A Crafty Paper.
The 40pp newsprint paper, will feature a foreword by Thinking For A Living founder Duane King, as well as speaker profiles and interviews. The paper is complimentary for all conference attendees.
(via Swiss Legacy)
—–
Enjoy this post?  Sign up for our tasty free grain edit RSS feed.
—–

Share on Facebook
Share on Facebook