Poster Offensive 4 – Minnesota poster art show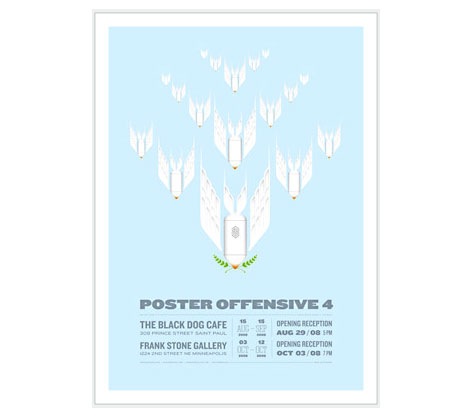 For those of you in the Minneapolis/ St. Paul area, Poster Offensive 4 will be hitting your hood on Friday August 29th 2008 at the Black Dog Cafe. The show later travels to the Frank Stone Gallery on October 3rd.
Poster Offensive is partnering up with the organization, Provention: A group of Minnesota artists offering a peaceful welcome to the GOP conventioneers as they arrive in town. The Poster Offensive is a non-partsian poster show dedicated to the promotion of peace and democracy.
Participants include: Aesthetic Apparatus, Peet Fetsch, Todd Bartz, Boyd Brent , Kelly Munson and many others.
For gallery times, dates and locations click here.
Many thanks to the gracious people at Spunk Design Machine for putting this event together and for sending us some of the swell posters seen above. If you live in the Oakland area and would like a poster, please contact me.

Share on Facebook
Tagscontemporary, exhibtions, graphic-design, Illustration, Minnesota, posters
Share on Facebook