Bo Lundberg interview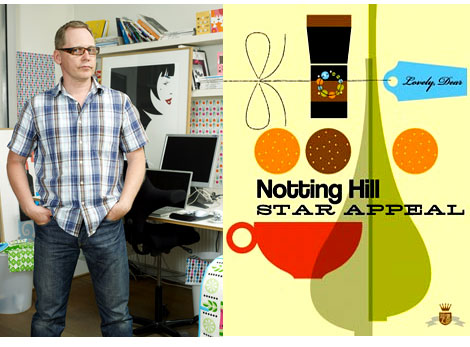 One of the notable things that has come out of producing this blog has been the opportunity to speak with designers I respect and admire. Bo Lundberg is one of those designers. Several months ago we posted some of his work. Since then Bo and I have been exchanging emails which eventually led to this interview. Here he shares a few thoughts on inspiration, as well as his creative process.
Bo's work has been featured in Old Type/ New Type by Steven Heller, Illustration Now! published by Taschen, Illusive: Contemporary Illustration and its Context by Hellige & Klanten, as well as other publications. His clients include Wallpaper magazine, Elle, Vogue, Neiman Marcus and Scandinavian Airlines.
Without further ado, I'm proud to present Bo Lundberg.

[pictobrowser 10159078@N03 72157603498680137]
Why don't we start out with the daily routine. What is a typical day like for you?
It depends on the season. Since I live in Stockholm, we have all four seasons here. At this time of year I wake up quite early and feed our dogs, two flatcoated retrievers. After a short walk, the old dog goes back to her bed again and will not get up until around 10.30 am. The young is spending her mornings sitting by a window quietly observing everything that happens outside. The best she can hope for is a falling leaf or a bird that flies by, but that seems to make her day.
After breakfast I go through my emails. Since most of my clients are based in the US they are working while I'm asleep. I often work at home until 11 am. Then I take my bike to studio I am sharing with eight other designers/illustrators in the centre of Stockholm. Quite often we go out for lunch together, at least a handful of us. The afternoons are spent in the studio. I love to have people around me when I work but I also enjoy the quiet mornings in our house.
I usually go back home around 5.30 pm and have dinner with my wife and two sons. If I don't have to do any work during the evening I just chill out. I'm a bit lazy you see.
Who/ what are some of your influences?
I would say that I am still pretty much inspired by objects and patterns from my childhood. I once did some glass and textile patterns for a company in the UK and it wasn't until afterwards I realized that the colors and some of the motifs must have been inspired from objects in our summer house. So I haven't really learned much after my childhood. Sad but true.
I love Stig Lindberg, Wilhelm KÃ¥ge, Olle Eksell and Charles Harper but I try to go my own way as much as possible. When I was around 13 I was in a serious Salvador Dalí period but luckily I got out of it with most of my sanity intact. Anyone that visits the Miro Museum in Barcelona has to be impressed by Miro's work.
When/how were you exposed to these artists?
I found a book about Dalí at the library in my hometown and I wouldn't let go of it. I didn't discover the other guys until I studied design.
Are there any pieces amongst these artists that really stand out to you? Something that to this day continues blow your mind every time you see it.
Several. But there is an image by Charles Harper where he is showing a cow attacked by piranhas that totally blows me away every time I look at it. It doesn't get any better than that. I love the butterfly. It's beautiful and cruel. Just like Mother Nature.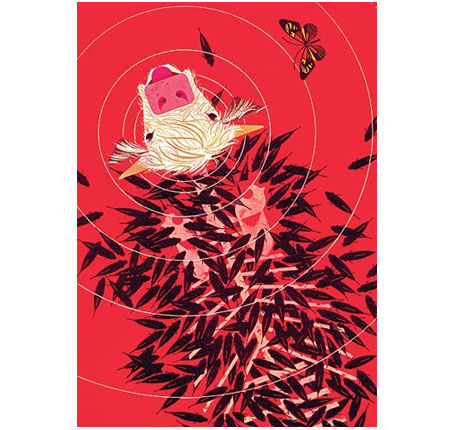 What are two of your favorite books?
Why not "New Vintage Type" by Steven Heller and Gail Anderson. It's an inspiring and beautiful book. And Steven Heller's "Paul Rand". Because it's Paul Rand. I'm not into design books so much, to be honest. I try to maintain my own style and even though I am not reluctant to change and input from other peoples work and what is going around right now, I just don't want to lose my own direction.
What are some of the ways you generate ideas for projects?
As you guessed I seldom look at books. I believe that the best you can do is to analyze the problem thoroughly and once you know what you want to say, keep an open mind and be very relaxed when you work. I prefer to decide what how to illustrate the topic as late as possible in the process. For that reason I hardly ever scribble. As a matter of fact I don't do a lot of sketches at all. The exception might be if a human figure or an animal is part of the design. But even then I do the objects separately. I seldom have a fixed idea of what the image or composition will look like until very late in the process.
How did you come up with your ideas for the Barefoot park poster? Was their an element in the play you were drawn to?
The idea for the Barefoot poster was something that the agency came up with. A looong time ago I watched the cinematic version on tv and this was the only scene I remembered, so it made sense to me as well.
The plot:
It is early or possibly mid sixties. Paul Bratter is a newly married lawyer. His wife is Corrie whose main goal in life is to have fun and to have it with Paul. They have just moved in to a very small apartment in New York, located on the fifth floor of a building with no elevator. Paul spends most of his time at work while Corrie redecorating their new home. They have very little money and one day Corrie buys a bunch of flowers but she realizes that they don't own a vase so she puts the flowers in an empty paint jar.
I worked closely together with SpotCo in New York on this one and I enjoyed working with the talented team over there. Initially I wasn't supposed to do the type but it was when I saw a hand drawn comp that the designer had put together that I realized that it would be cool to capture the sixties feeling so I did a proposal where I just traced her drawing and started from there. And at the end I think that this became quite important to the overall expression.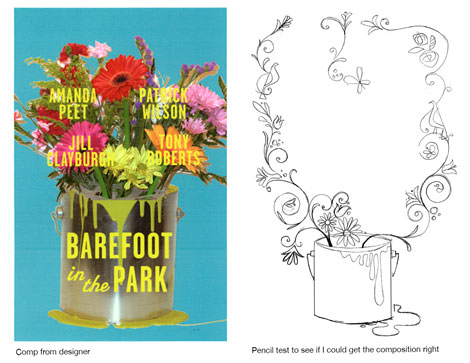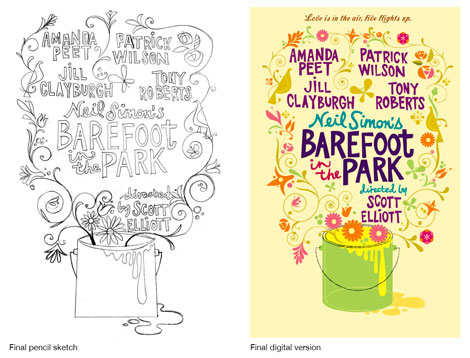 Current projects?
Some projects are secret but I am involved in an animation for a Swedish client that will be aired during the holidays. I am also doing a lot of work for Neiman Marcus and cd covers for an English record company. I have some ongoing projects for German Elle and a project for Chronicle books to mention some.
What's at the top of your want list for the Holidays?
Maybe I'm getting old – good health and some time to reflect. I am getting less and less interested in material things.
We would like to thank Bo Lundberg for taking the time to share with us. You can see more of his work at www.bolundberg.com. He has limited edition prints available in the "projects" section of his website. Stop by and pick one up before there gone!

Share on Facebook
Tagsbo-lundberg, contemporary, Designers, Illustration, Interviews, sweden
Share on Facebook