Eight Hour Day Interview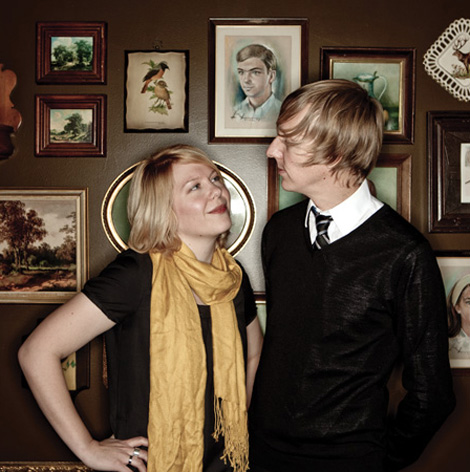 Eight Hour day is the online home and moniker of Katie Kirk and Nathan Strandberg, a husband and wife design duo based out of Minneapolis. Their client list includes The New York Times, Chronicle Books, Williams Sonoma, Random House, among others. Driven by their belief that process and collaboration should be as exciting and fun as the end result, they create work that is honest, smart and succinct. In today's interview, the 2nd part of our ongoing design in process series, Katie shares some of the challenges of working with a significant other, her workflow for a recent project and much more.
Let's start off with a little bit about your background. Where are you from? When and how did you become interested in design?
(Katie) I originally hail from the great state of Wisconsin — the land of cheese, beer and the Packers. I have always loved art, so when it came time for school I wanted to pursue an art career. My (we'll call him "practical") father talked me into trying graphic design instead. I attended the University of Minnesota in Minneapolis for Design Communications, and from the very first class I fell in love. I really enjoyed the challenge of working within the parameters that are often part of the equation with design. It was a good fit.
What was your first design gig?
(Katie)My first gig was for a small design shop in Minneapolis called rED Design. Sadly, they were affected by the dot-bomb of the early 2000s and ended up shutting their doors. Shortly after that I started at another Minneapolis studio, Design Guys. I really consider that to be my first real job. I learned a ton about design, process and business there — it also introduced me to some of my best friends to this day.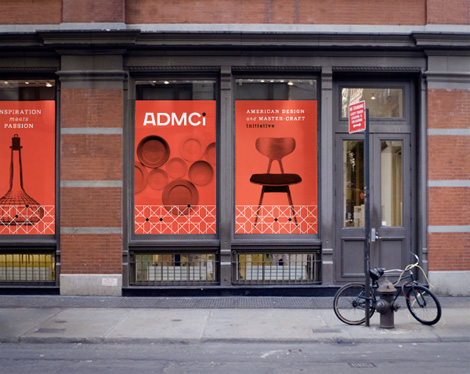 What are some of the challenges you face as a couple working together? Do you tend to work independently, or do you have a strong collaborative focus?
I think our biggest challenge in working together is always trying to keep our business life balanced with our personal life. We absolutely love what we do, but it's still a job. We try to set hard boundaries around the beginning and end of the workday, so it's not a constant in our life.
Although Nate and I focus on our own specialties at times, our process is very collaborative. We are always checking in and talking back and forth. Our branding projects are particularly collaborative.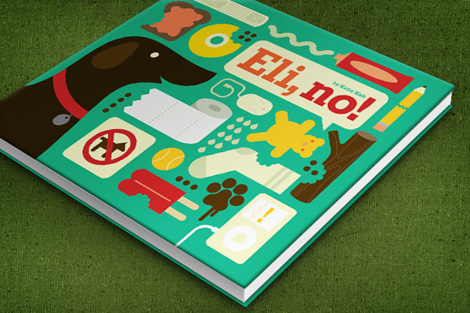 Do you maintain side projects or do you always work as a team?
We often have our own little side projects, whether it's Nate working on some lettering or me working on an art print. But even then, we check in with each other all the time, to get opinions and feedback and conversation.
Could you walk us through one of your projects? Please describe your workflow, including your tools, from pen and paper to software and devices.
Yep. Let's look at the branding and stationery system we created for Linda Engler's Minneapolis interior design studio.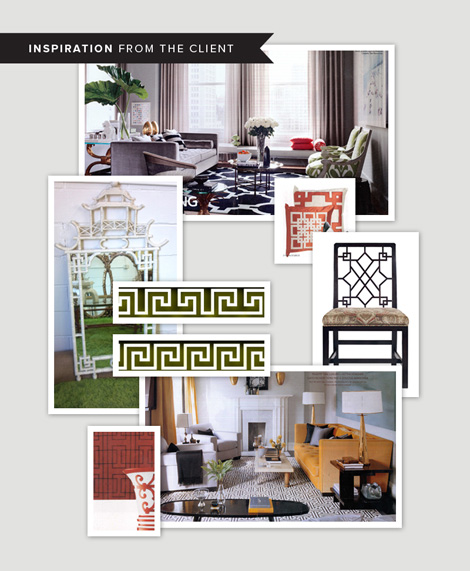 At the start of our branding projects, we often ask our clients to answer some business-related questions and to send us examples of work they've seen and liked. This helps us get inside their heads, and we feel it's important to start this visual dialogue early. The inspiration pieces Linda sent us involved a lot of patterns and colors, a mixture of classic and modern styling. You can also see that she was speaking to us in her language — interior design.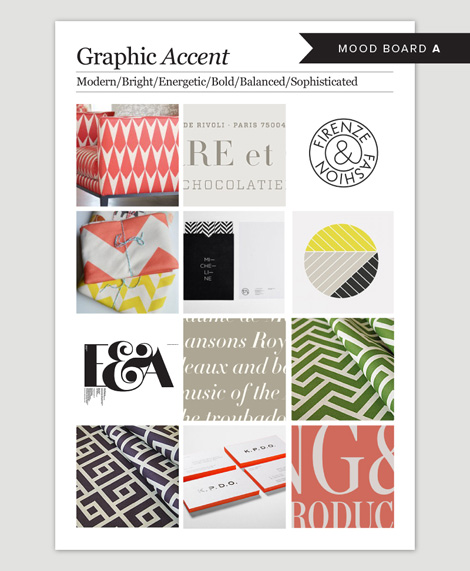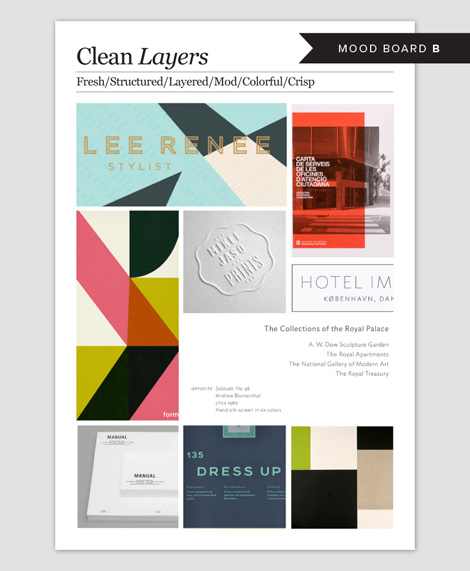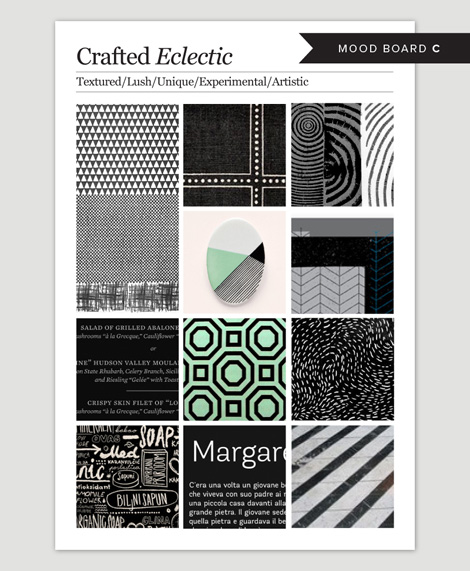 Using that information, we moved on to mood boards. We typically do three boards that span a range of styles, each with their own distinct identity. We'll spend a couple of days researching and scanning our favorite inspiration sites, going over our personal inspiration folders, and you know, digging through the rest of the Internet. It's as fun as it is exhausting—I often have crazy dreams those nights because of it. We then go through the inspiration that caught our attention, discuss, add, eliminate and ultimately sort it into our three proposed directions. We create the mood boards using Adobe InDesign and send PDFs to the client. I think a good mood board is as much about each individual image as it is the whole overall look.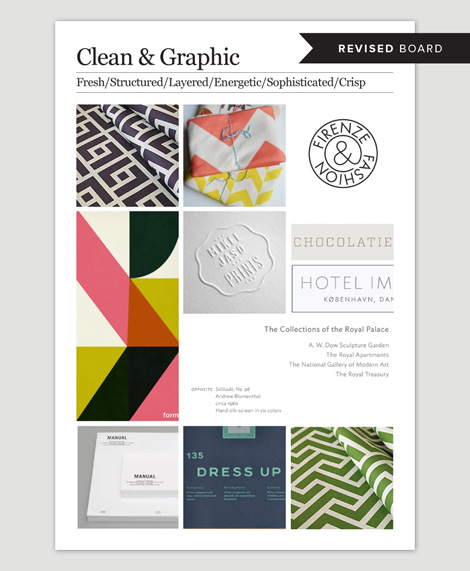 The mood-board portion of the process can be a bit abstract at times. I often feel like the more creative and visual the client is, the more they "get it." But with all our clients and projects, the mood boards are an important phase. It's where we listen and see and hear what they're responding to — and sometimes even more importantly, what they hate. After the first round, we'll revise the chosen board and move on to start the concepts. You can see that we revised the Engler Studio board to bring the bolder patterns together with the larger areas of color. It also pulls in more white space and modern typography.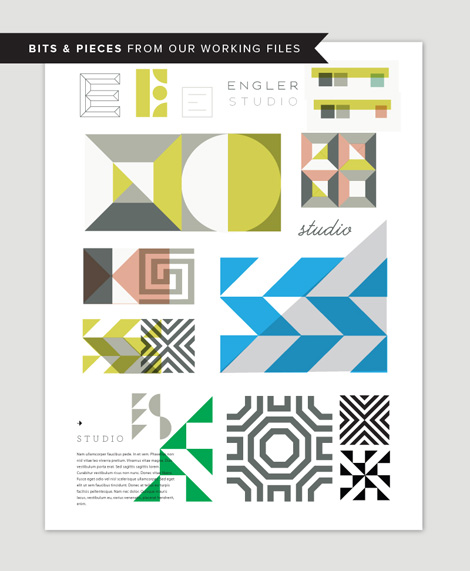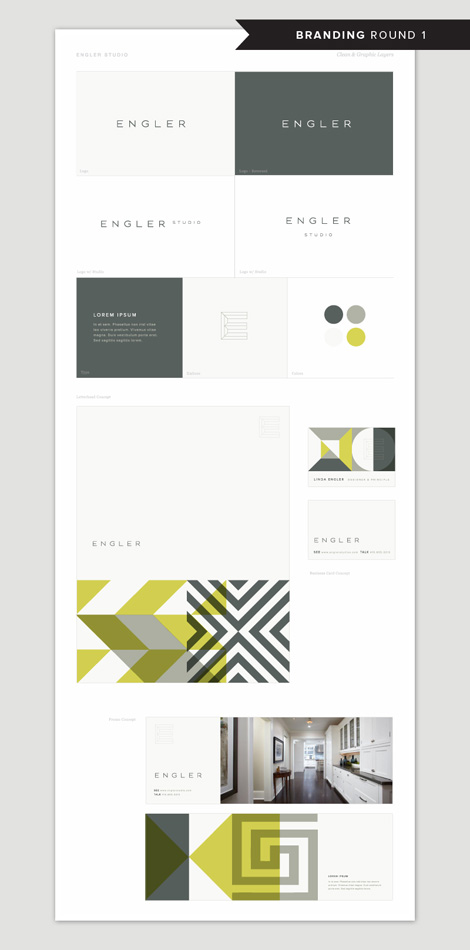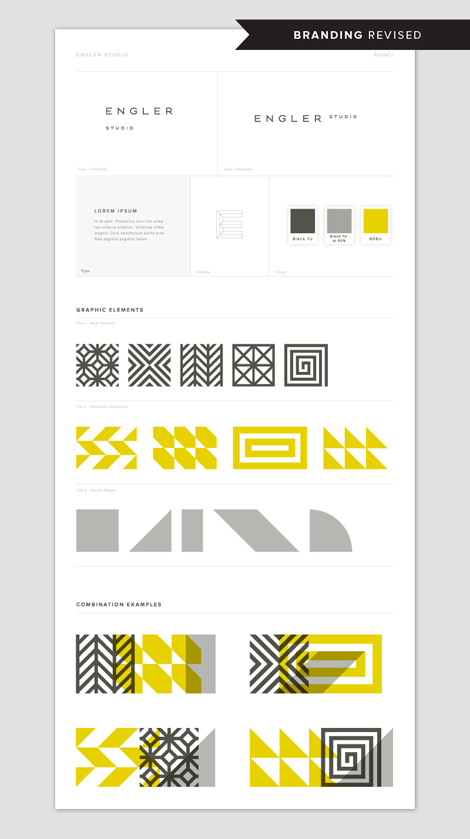 During the concept round, we start playing with typography, patterns and logo design. Most of the time, we use Adobe Illustrator or Photoshop for concepts. Early on, we create a first-round brand board to share with the client. As you can see, our first round wasn't quite there yet—it lacked some of the depth and dimension that was incorporated in the final work. The revised board is brighter and bolder, with a more constant equation. The client loved it.
All along, we knew that we wanted to create a brand for Engler Studio that highlighted and celebrated its interior design skills, as well as its individual design personality. The main element of the brand is a graphic combination of patterns that overlap each other; they represent the images and colors you might find on an interior designer's inspiration board, and also nod to the play of patterns, colors, light and shadows in a beautifully designed room. The patterns can be assembled in various combinations, depending on mood, usage, and need.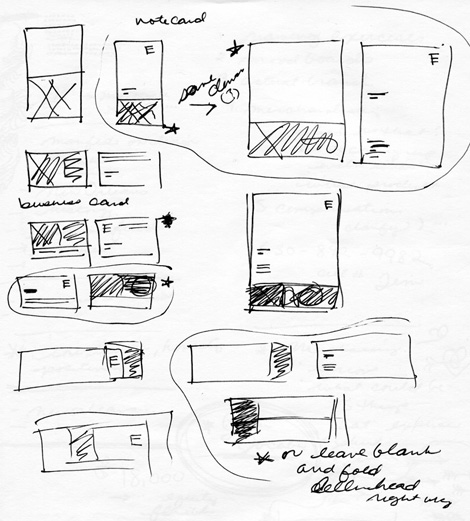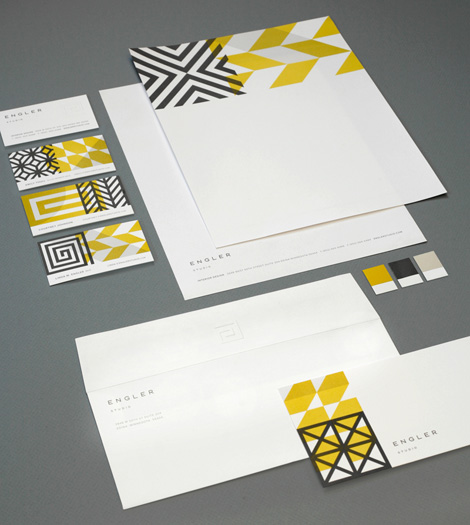 From there, we moved onto the stationery system. During that executional part of the process, we'll often sketch layout ideas in our sketchbooks.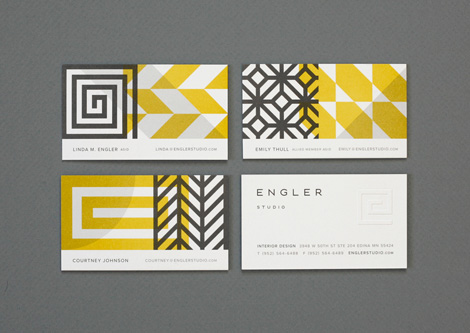 And finally, the finished identity. We often create final files for the printer using Adobe Photoshop, Illustrator or InDesign. This was a two-color job that included an embossed detail and duplexed business cards. As you can see, the "E" detail in the logomark was changed to a simpler, more representational "E," like a Greek key, which ultimately holds up better against the bold patterns.
How has your process evolved since you first started designing?
I think it's always evolving, with every project. Sometimes it depends on the client; what works for some doesn't work for others. Sometimes you figure out a better approach as you go. We almost always learn something new along the way.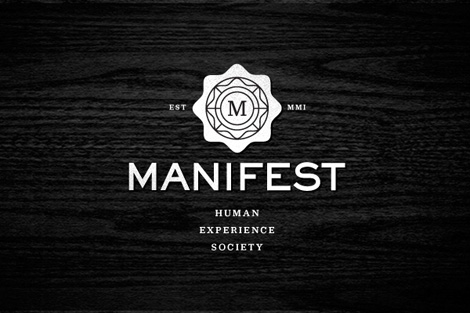 Are you a creature of habit or do you like to try new technologies, applications, and features?
Hmmm … that's a good question. I feel like, sadly, with each year I'm more of a creature of habit — but I mostly blame that on just not having the time to dig in and learn new things. That said, we try to keep up with changing treands and stay abreast of what's happening in the worlds of design and technology.
Analytical tools are now ubiquitous, and because of this designers are often asked to back up their work with data and research. With this in mind, how much of your work is based on intuition — and what role should intuition play in design today?
Super interesting question. Honestly, I think intuition has a lot to do with our work, but where do you draw the line? As designers, we're constantly looking, searching and evaluating the world around us: what's working, what isn't, how things could be better. During our initial mood-board and concept phases, these are the questions we always ask ourselves, directly or indirectly. Asking the right questions isn't the same as relying on hard numbers, but I don't feel like they are any less important. Plus, I feel if hard numbers, data spreadsheets and focus groups ran the world of design, I think it would be a pretty sad and boring place.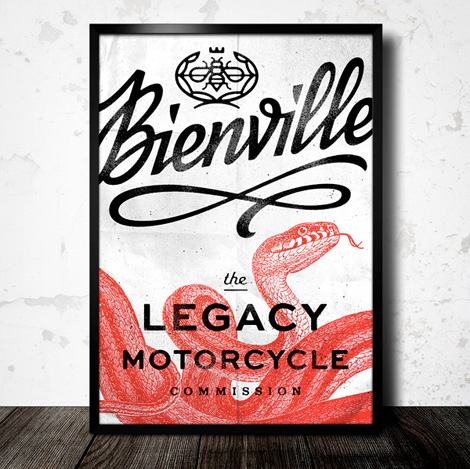 What are your passions and interests outside of design and why?
Let's see… I love movies and their ability to transport, connect and alter you emotionally. I love baking too. It feels creative in a different way than I'm used to — plus it has a delicious outcome. I think if I hadn't gone into design I probably would have been a baker.
——
We would like to thank Nate and Katie for taking time to share with us. You can see more of their work at eighthourday.com.
This interview is part of the #designinprocess series brought to you by Adobe. Read all of the interviews here and follow along on Twitter and Pinterest at #designinprocess and #newcreatives.
——
Also worth viewing…
Mike Cina Interview
Katie Kirk Illustration
Eli No!
Not signed up for the Grain Edit RSS Feed yet? Give it a try. Its free and yummy.

Share on Facebook
Share on Facebook