Afreeka! DJ OM and DJ Makossa Psych Mix and Monthly Show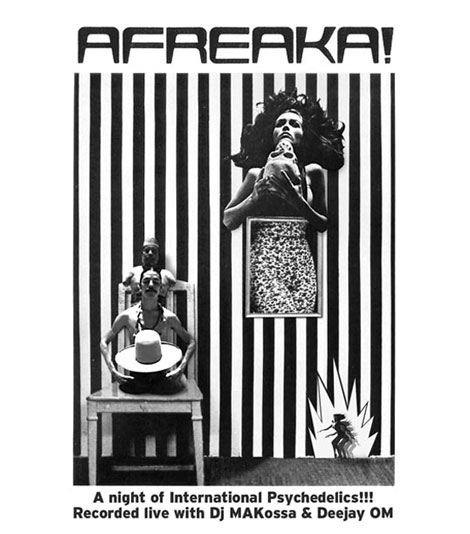 Flyer design: Mike Schofield Resource Room Productions
Deejay OM is a long time friend of mine. We used to roll around Northern California hitting busted record shacks and dirt malls while bragging about our latest private press lp scores. The man has an insane record collection. He's the guy with the Og PI-R Square 45 you wish you had. Make that 10 copies you wish you had. Every first Wednesday of the month at the Attic in the Mission district of San Francisco OM along with DJ MAKossa lay down some seriously rare grooves. For tonight's show (April 1st 2009) they will be showing the 1978 Brazilian Psychedelic horror flick Hallucinations of a deranged mind to accompany the music.
Today for grain edit readers OM and MAKossa have prepared 2 special live sets. They drop everything from raw American psych to spaced out funky electronics ala Pierre Henry. OM starts off his set with a classic psych cut by Animated Egg and eventually works into a track off his Reheated Naan and Curry lp that is so hard that it will break your face. MAKossa serves up a killer Turkish track, Jamaican chatter and drums thicker then a hippopotamus covered in maple syrup.
Get the mixes here:
Listen to Deejay OM-AFREAKA! part 1
Listen to Dj MAKossa-AFREAKA! part 2
I also asked my friend Mike Schofield of Resource Room Productions to share some of his thoughts on the design of the AFREEKA flyer.
I love working with Deejay OM on projects. He is good about coming to the table with an idea and some images that support it. I came up with a few different designs but we both felt that this early sexplotation/psychedelia black and white feel was the way to go. Because this is the first in what will be an ongoing series of live events, I liked the black and white idea so in future installments, we can start going heavier on graphics and colors. Somewhat of a progression to follow the cover art of that time. It was also a blast to be able to go through my old typography sample books and construct the AFREAKA! logotype rather than use a vector font. I love that ink-on-paper look that comes from scanning in and setting the old type samples – always worth the extra time.
———————–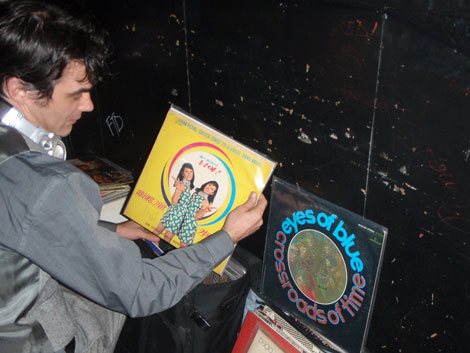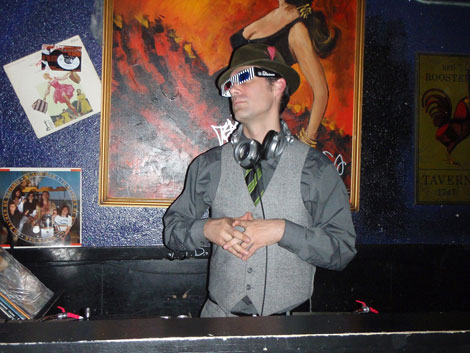 DJ Om: lover of fine hats and designer vests.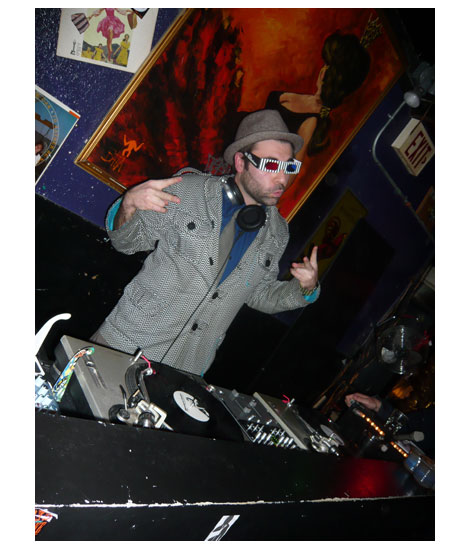 DJ Makossa spinning in 3d
———————–
AFREAKA details:
AFREAKA! is a monthly night of rare psychedelic beats and heavy grooves from around the globe combined with psychedelic cinema (often in 3D with 3D glasses provided) where DJs synchronize the music to match the visuals creating a surreal experience. AFREAKA! is free and occurs every first Wednesday of the month at the Attic in the Mission district of San Francisco. It is hosted by DJ MAKossa and Deejay OM with guests that specialize in rare psych records; a night exclusive to vinyl for an authentic psychedelic analog sound.
Start Time: Wednesday, April 1 at 10:00pm
End Time: Thursday, April 2 at 2:00am
The Attic
3336 24th St. (between Mission and Valencia)
San Francisco, CA 94110
10pm-2am
NO COVER
Deejay OM – http://www.myspace.com/deejayom DJ MAKossa – http://feeltherealness.blogspot.com/
Also check Om's well crafted  Soul and funk mix Blood From My Soul.
———————–
We'd like to thank OM, Makossa and Mike for putting together these special mixes for grain edit readers.
Enjoy the mix? Please leave a note in the comments and consider signing up for our tasty free grain edit RSS feed.
Also worth checking: Designer Music 1 + 2

Share on Facebook
Share on Facebook