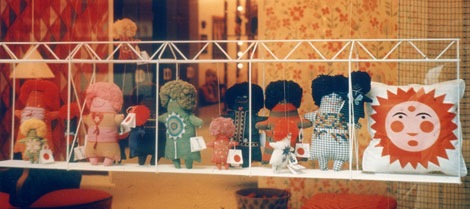 Marilyn Neuhart dolls for the Textile & Objects shop circa 1961 – photo credit Todd Webb of maXimo
The Scout has an excellent interview with Marilyn Neuhart. Marilyn along with her husband John worked as designers in the Eames Office during the late 1950s. She also worked with Alexander Girard in developing the graphics as well as a line of dolls for Girard's Textile & Objects Shop in New York City. In part of the interview, Marilyn mentions that she would drive around Los Angeles with Girard looking for toys and folk art. That must of been a blast.
Well enough of me rambling. Read the whole interview here. Check out the rest of the Scout while your there. It's a great site.

Share on Facebook
10.16.08 | Dave | Found design |
6 comments
Share on Facebook