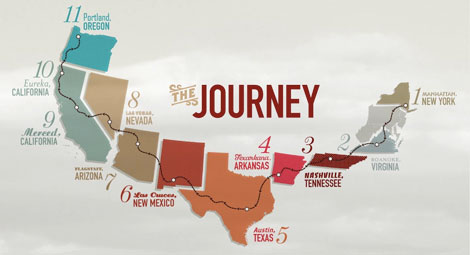 Fresh air and the open road!
The fine folks at Random Collective designed a unique website chronicling New York based singer-songwriter Orba Squara's journey across some of the United States. Commemorating his second album, Orba Squara's site boasts a beautiful visual diary complete with photos, custom maps, and neat type treatments. Its layout is a 430 ft long lateral scroll, which translates the daily findings of the trip appropriately.
Orba Squara's website is Random Collective's first project. Founded by Jose Cabaco, Random Collective is all about connecting people from different disciplines, to work on a variety of projects. As its name suggests, it can be anything; a band of 2 or 20, writers or art directors, designers or photographers, architects or webcoders…even all of the above!
Check out Orba Squara's website, and stay tuned for their website.

Share on Facebook
08.28.09 | Dave | Found design |
22 comments
Share on Facebook