Hatch interview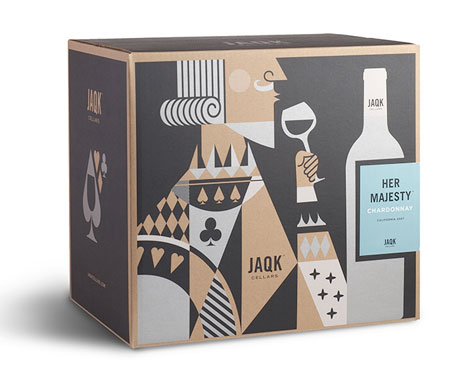 JAQK Cellars wine shippers designed by Hatch
This is part 2 of a 2 part interview. You can view part 1 at the excellent iso50.
Hatch is a San Francisco design firm founded by Joel Templin and Katie Jain. In part one of our interview, Alex spoke with Katie and Joel about the firm and their design process. In part two we take a look around the studio and talk with Katie about the packaging for JAQK cellars.
[pictobrowser 10159078@N03 72157621882657075]
Reference material and early concepts for promotional JAQK card decks.

In the first part of our interview you discuss Hatch's design process. You mention that after the initial meeting with the client you pull reference material. I assume you follow this same process for your own projects. What sort of reference material did you dig up for JAQK ?
Where to start! We have been combing antique stores, finding some incredible vintage gaming ephemera, including hand-painted 17th Century playing cards, old dice games, books on gambling, domino sets, and other incredible treasures. They provide great inspiration and will make nice displays at the JAQK winery someday!
We purchased every book on card collecting, which became inspiration for Soldiers of Fortune. We researched antique derringer decoration, which inspired the Pearl Handle label. The "Her Majesty" queen is our own, but inspired of course, from countless decks of cards we looked at for reference, etc.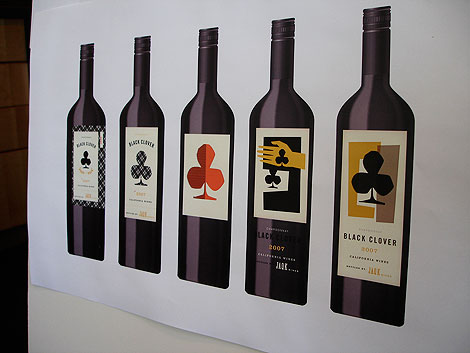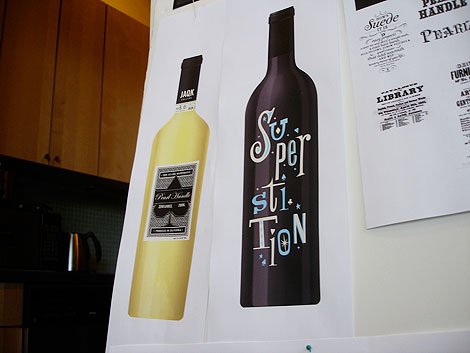 Early concepts for JAQK wines
Looking at the some of the concepts for the JAQK logo and packaging, it looks like you explored a fair amount of options. What thoughts led your decisions to head in your current direction?
In a little under two weeks worth of time, we came up with so many valid options for wine labels that Craig actually sourced additional grapes so we could create 8 labels! We had to stop there, but have kept many ideas up our sleeves for future releases…
We finally landed on the collection of 8 that you see here based on making sure we cover a broad range of style – from more fun, graphic directions like 22 Black and Her Majesty to the more serious labels like Soldiers of Fortune and Black Clover. We also tried to cover different kinds of "play," – whether craps, poker, cards, luck, etc. so that as we grow, we're set up to grow in many different directions.
You recently came back from the World Series of Poker, where JAQK Cellars was the official wine of the event. What was the general response to the wine and the packaging?
The response was through the roof! We couldn't believe how excited everyone was that we were there– people loved the quality of the packaging and that is wasn't just another cheesy "gaming" gimmick. And they couldn't believe that the wine inside the bottle exceeded the quality of the packaging.
We sold a ton of wine to the players and spectators there, which was of course great to make that many more customers and fans. We met a few of the poker celebrities there, as well… so our new friends Annie Duke, Phil Hellmuth, even Matt Damon and Ben Affleck all got to try the wine. We met with the ESPN executives as well, and they jumped on board to help get us introduced to other sporting events.
Taking a stroll down the local grocery aisle it's obvious that the wine community is one steeped in tradition. It seems like all the wineries use the same paper labels and formula for coming up with a name (furry animal + closest creek, castle or rock formation). Then along comes JAQK with it's silkscreen bottles and wine names like "Bone Dance" and "Soldiers of Fortune". Outside of the world of Poker, how has the wine and packaging been received?
The wine category is so crowded already – we did not want to come out with just another label based on the animal / creek / castle / rock formation, etc. Our goal was to create a brand that is based on a really fun lifestyle that has an interesting story.
I think everyone likes that these labels have more depth to them… they tell unique stories, are playful, and based on a part of our culture that almost anyone can relate to. Who didn't play Crazy 8's or Go Fish when they were little? And more and more people are either playing poker professionally, or just socially – if poker chip sets are a top 3 holiday gift item, that means a lot of people are enjoying the game around the table with friends…
How did you come up with the names of the wines?
We brought in our good friend Vinnie Chieco to name the wines – he did a ton of research into the history of gambling, uncovered all the terms used in poker and other card games, and then we narrowed down his nearly 300+ options to these final 8.
Can you share any of the names that didn't make the cut?
We're keeping our cards close to our chest on this one…
What are you currently working on for JAQK?
Right now, we are daydreaming and beginning to plan for the future JAQK Winery in Napa… we envision a laid-back place to play, where if you don't want to saddle up to the bar, you can hang out in the lounge area, play some board games or cards, enjoy a glass of wine. Maybe the winery has a billiards room and we host lots of fun events… we're actually starting the conversations with a couple of architects so we can start the concepting phase, and we'll be ready to pull the trigger in a couple of years. In addition, we're talking about a series of small, under-the-radar JAQK lounges in key cities across the country… stay tuned.
[pictobrowser 10159078@N03 72157622006913674]
A glimpse at the Hatch studio
——————————-
Many thanks to Katie for taking time out of her day to share with us. You can see more of Hatch's work here and the JAQK cellars website.
You can catch part one of this interview at iso50.
Also worth checking: Hatch promo Bird Mobile
——————————-
Enjoy reading this interview? Please leave a note in the comments and consider signing up for our tasty free grain edit RSS feed.

Share on Facebook
Tagscards, Design, ephemera, Illustration, Interviews
Share on Facebook