Doom Flower Print by Aesthetic Apparatus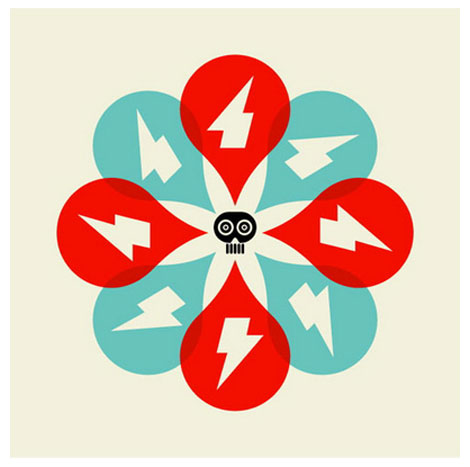 Doom Flower Mini Print by Aesthetic Apparatus – 6″ x 6″.
Many of you are familiar with the distinctive works of Aesthetic Apparatus and this week we're happy to add their 'Doom Flower' to our growing list of poster picks. This design studio continues to please us with their creative choices and prints like this. The colors used here stay true to their Doom series which is well worth browsing. The flow relies heavily on color and shape in the creation of the energetic flower pattern. The skull in the center adds an interesting balance and helps break things up a bit. I think this demonstrates great use of color and pattern. Those guys make it look so easy!
This print is available at www.postercabaret.com
——————
Also worth checking: Aesthetic Apparatus updates.
Not signed up for the Grain Edit RSS Feed yet? Give it a try. Its free and yummy.
——————

Share on Facebook
Tagscontemporary, graphic-design, Illustration, posters, prints, USA
08.20.09 in Poster Picks by Dave
Share on Facebook