Twitter List Update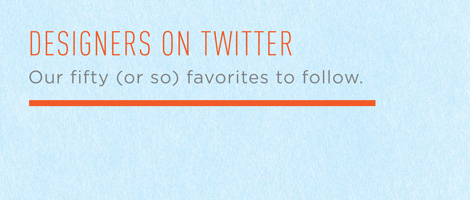 Way back in the olden days of computers, when the internet was still a small child, we highlighted some of our favorite designers using Twitter. As designers jumped on left and right, and Twitter exploded, our post evolved several times over.
Now, with well over fifty listings , we present another update to Designers On Twitter. There are lots of great designers on this latest update, including Hatch Design, Odopod, Julia Rothman, Sing Statistics, Ellen Lupton, Christopher Simmons, Hybrid Design, Brett MacFadden and Crew Design, among others.
Check out the list: Designers to Follow on Twitter.

Share on Facebook
Tagstwitter
08.13.09 in Found design by Ethan
Share on Facebook