Designers bookshelf: Sean + Nicole Flores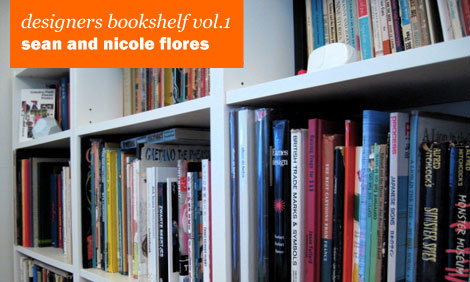 When grainedit asked us to show our book collection for their blog, we were pretty excited. Getting it done, however, was half the battle. Not that we were lazy, okay, we were a little lazy, but the hard part was figuring out what stuff we liked the most.
It's not that easy, here's how it went:
Sean: [Looking though first shelf] "Oh, I like this one, this one too, we should put this one in"
Nicole: [sighs] How many do you plan on doing? That's too many.
So here you go, a look at our bookshelf and here are some of our favorites.

[pictobrowser 10159078@N03 72157602773814065]
Captions:
1-4.
Shelves of books
5.
Everyone needs a healthy collection of Alain Gree books and a plastic green elephant bank
6-7.
more books
8-10.
November Twenty Six Nineteen Hundred Sixty Three. We stumbled across this book a couple years ago. A deadstock online shop had them for $10 so we took a chance. We were stoked when we got it. It's a tribute to JFK with hand cut type and illustrations by Ben Shahn and a Poem by Wendell Barry. The rad thing was it came with a tipped in litho and it was autographed by both authors (Shahn's signature was done in charcoal).
11.
Zdenek Miler was a czech animator that started doing work in the 50's. He's mostly known for his mole character and disney like illustrations. Honestly, we're not so big on those, but this book is a gem. Great shapes, amazing printing and color. It still has a really nice simplicity that seems to be lost in his later stuff.
12.
This has got to be one of our favorite pages from a kids book of all time. It comes from Dornröschen (sleeping beauty) by the Brother Grimm, illustrated by Herbert Leupin in 1948.
13.
Who doesn't love Abner Graboff?
14-17.
The next few pics are from the Leonore Klein book, 'Henri's Walk to Paris'. The one and only known children's book that was illustrated by Saul Bass. This one gets the japanese bidders going nuts, but it took us too long to find this book to let it go on ebay.
18-19.
We have to thank the folks at grain edit for this stack of design Gems. Like the book pushers they are, they put these things in our hot little hands. Several original brochures by Ladislav Sutnar, straight from his office. The Carr's one is the best hands down.
20.
Designs for the Printed page. This was an internal promotional piece that Leo Lionni did for the folks at Fortune. Were keeping the inside secret.
21-23.
Stig Lindberg was an amazingly creative guy. 'Nuff said.
24-25.
The Paris Libraries foundation has an amazing collection of posters. A couple of years ago they started a private press series of books. Each was dedicated to an individual artist. Savignac, Morvan, etc. You have to jump on 'em quick 'cause they go out of press overnight. The Jaques Nathan Garamond has to be our favorite. One of those guys most people have never heard of, but when you see his stuff, you wonder why.
26.
Jason Fulford has to be one of our favorite modern photographers. If William Eggleston had an illegitimate child he never told anyone about, it would be Jason. We were going to show the inside, but it's too hard to explain how rad he is with one picture, you have to see them as a collection. Jason runs a little publishing company called J&L, he puts out some really amazing books, in both content and construction.
27-29.
How can anyone say that at some point in their childhood they didn't open an Ed Emberely book and try to draw a monster, or car, or cat or something.
30-32
Keiko Minami is a recent discovery for us. Her art is amazing and she has a huge body of work. She passed away a couple of years ago but was doing stuff late into her carrier. Sorta' like the Charley Harper of Japan
33-34.
Don't ask us what this says, but it looks cool. PS, if you ever go to Tokyo, bring some empty boxes and lots of cash.
35-37.
Jim Houser is an amazing guy with a really inspirational story. If you don't own this book, buy it.
————————————————————————————————
A little more about Sean and Nicole:
Nicole Flores is a freelance designer in San Francisco. She makes/has made nice things for the likes of Coke, adidas, Target, HP, Apple and lots of others. The Tokyo Type directors, ADC, and the One Show have all had pretty nice stuff to say about her.
Sean Flores pushes corporate propaganda and works for the man. He's art directed some of America's favorite gems like adidas, ask.com, Clorox,Leica, Major League Soccer and The Boston Marathon. I'm sure someone has said something nice about him at some point.
Together, Nicole and Sean make up assemblylinecollective. You can visit their website here, but the site isn't done, but not because they are lazy.
They also have a cat name Bort. He's orange.

Share on Facebook
10.28.07 in Designers Bookshelf by Dave
Share on Facebook