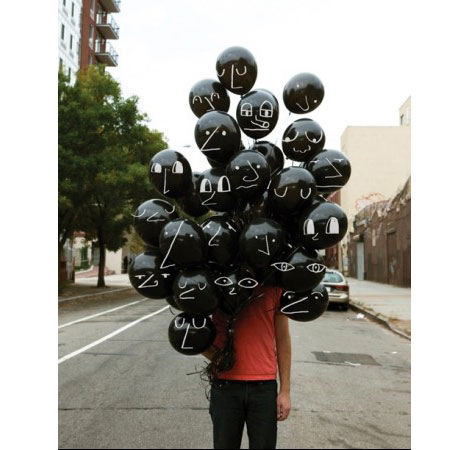 This Grain Edit interview takes us to New York's largest burough—Brooklyn—and to the office of Mike Perry! I'm sure most here are quite familiar with his work. The style is very specific; you definitely know it when you see it. With the help of the fancy-shmancy Internet, Mike's work seems often imitated, but never duplicated. There is only one Mike Perry, folks.
I became most familiar with Mike's work with the publication of his first book, Hand Job: A Catalog of Type. While still in school I preordered it, as did many of my classmates. But I had my first real hands-on looks at it over at the studio where I was interning — they had an advance copy. I remember the smell, especially, as well as the general office ogling.
One of the things that strikes me the most about Mike's work is that he can be making a zine or an object, putting on a show, or designing a typeface, or just doodling—all of his work feels consistent. With whatever he's doing, you're always entering the world of Mike Perry.
After the jump, Mike talks about various aspects of his work, his work history, and his favorite Brooklyn restaurant. Let's get into it!

Share on Facebook