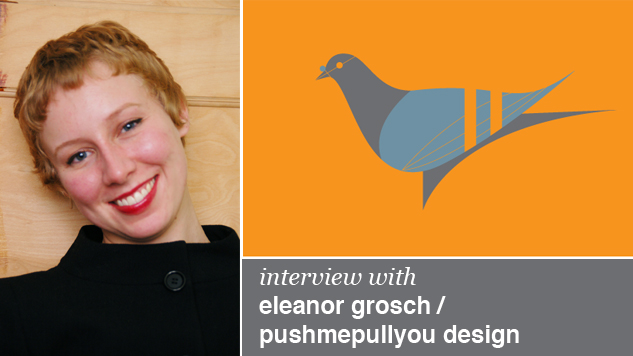 I first stumbled upon Eleanor's work while out shoe shopping a few years ago. I found a menagerie of Keds slip-on shoes with the loveliest animal patterns ever-imaginable…doves, giraffes, camels, and even cows! It was love at first sight!
Since that shopping extravaganza, I came to learn that the wonderful Ms. Grosch was behind those whimsical designs. Her work incorporates carefully chosen color palettes with geometric shapes and attentive lines, much in the style of her hero, Charley Harper.
In addition to designing for Keds, Eleanor has also designed for Alien Workshop, Urban Outfitters, and Chronicle Books. Her work diversely appears on rock posters, skateboards, apparel, and various publications. This past April, Print Magazine honored Eleanor as one of their New Visual Artists of 2008.
Before we bite into the meat of this interview, I've gathered a few nibbles and goodies of Eleanor's work from the past years:

Share on Facebook