2014 Holiday Gift Guide: Books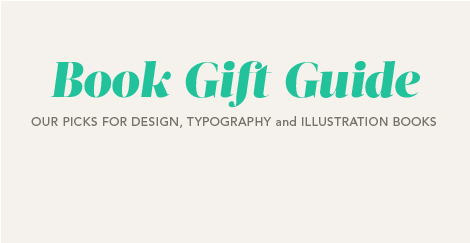 Here it is, our annual book gift guide! Below you will find over 30 titles from our favorite publishers. Included are our top picks for illustration, graphic design and typography. Enjoy!
Kid's Books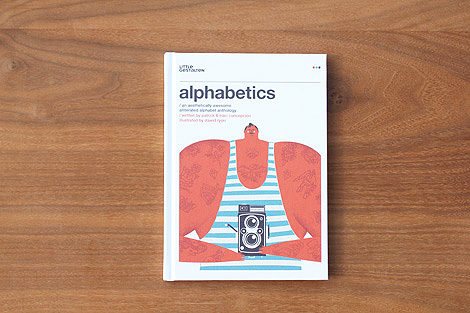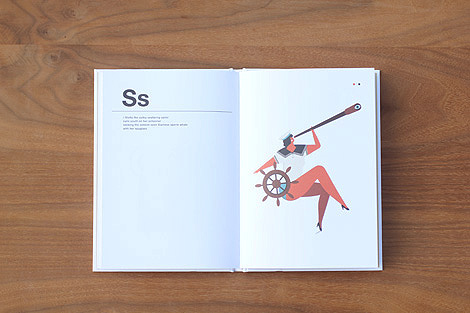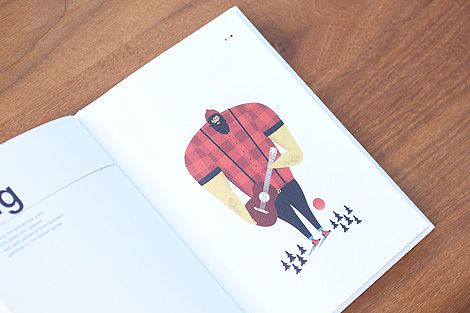 Alphabetics: An Aesthetically Awesome Alliterated Alphabet Anthology
By Patrick and Traci Concepción / Illustrations by Dawid Ryski
Published by Gestalten
64 Pages
C is for cat? D is for dog? Not in this book! Here, Colossal Cornelius captures his companions with his camera and Daisy the diver dares a death-defying dip with dinosaurs. In Alphabetics, each of the alphabet's twenty-six letters is depicted with an awesome alliteration—not to mention an illuminating illustration—that will captivate and stimulate young minds.
Available at Amazon, Gestalten and your local book shop.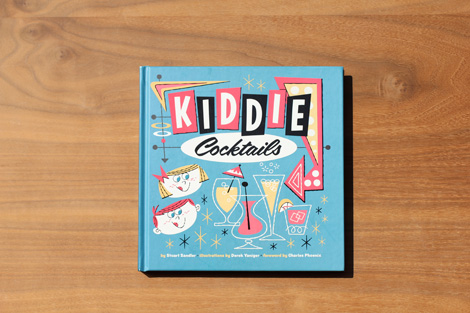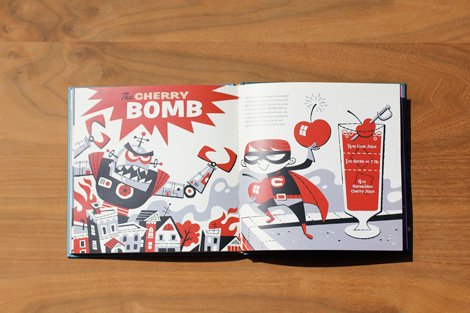 Kiddie Cocktails
By Stuart Sandler / Illustrations by Derek Yaniger /
Published by Korero
112 Pages / Hardcover
Calling all junior mixologists ! Check out the coolest-ever collection of fabulous drink recipes in every flavor and style under the sun – sharp and tangy, smooth and sweet, fizzy but never flat, crisp and fruity, or rich and creamy – all minus the hooch ! Surprise your friends with a Kosmic Kooler, get the party started with a Dream Punch, or cruise to Hawaii with a Little Pink Pearl. You'll also find tips on setting up your own kiddie cocktail bar – with advice on choosing everything you'll need to make your cocktails look as amazing as they taste ! The entire book is lavishly illustrated by the internationally renowned artist Derek Yaniger.
Available at Korero Press and Amazon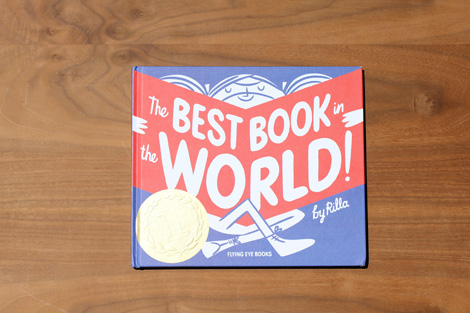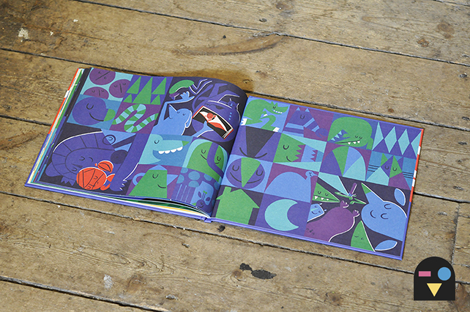 The Best Book in the World
By Rilla Alexander / Published by Flying Eye Books
If you found the best book in the world, would you stop reading? Could you stop reading? If you had homework to do, or dinner to get through, could you put the book down? On a train to the zoo or on a flight to Kalamazoo, would that break the spell? If in a forest you walked, while scary monsters stalked… would that be enough? If every animal in the land were to be led by a big band, in a grand parade in your honour made… would you put the book down?
Join Rilla Alexander for an unforgettable and magical tale that encourages children to read.
Available at Amazon, Flying Eye Books and your local book shop.
Illustration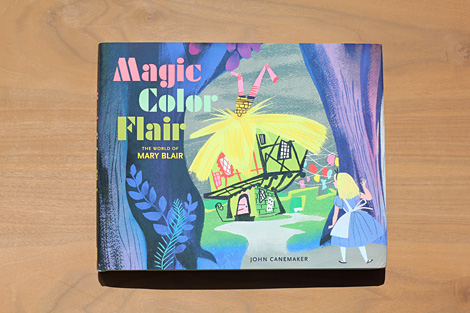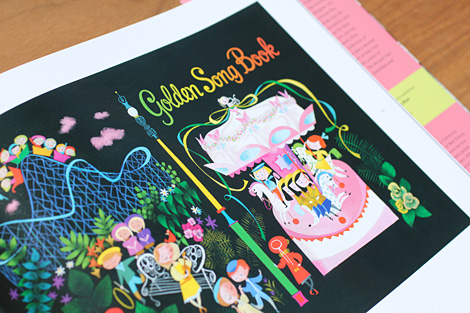 Magic, Color, Flair: The World of Mary Blair
By John Canemaker / Published by the Walt Disney Family Foundation
176 pages / Hardcover / 10″ x 12.25″
By John Canemaker, the companion catalog to The Walt Disney Family Museum's 2014 special exhibition with the same name Magic Color Flair the world of Mary Blair. The authoritative collection of Blair's lifework, including her precocious early paintings, concept art from her Disney days, and the wildly wonderful artistic innovations of her later life. With an introductory essay by exhibition curator and Academy Award-winning John Canemaker, this indispensable book is a bold, lively look into the work of an equally bold and lively artist, whose invaluable influence and keen eye helped shape some of the world's favorite Disney experiences.
Available at Amazon and The Walt Disney Family Museum Shop.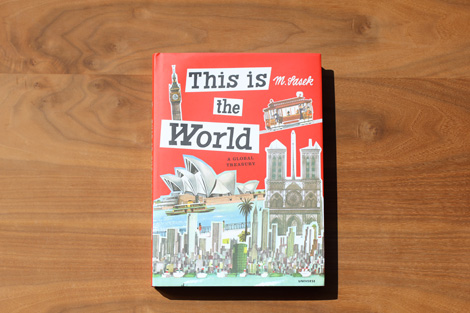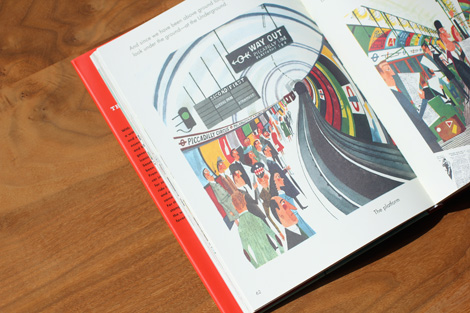 This is the World: A Global Treasury
By Miroslav Sasek / Published by Universe
 234 Pages / 9.1″x12.6″
A compilation of abridged versions of M. Sasek's most popular children's travel books. From London to Hong Kong, Sydney to San Francisco, readers will delight in this charming journey through the world's great cities. With deft strokes of his paintbrush and a witty voice to match, master illustrator and storyteller M. Sasek captured the essence of the world's major capitals and brought them to life for an entire generation of young readers. Now, more than fifty years later, those same readers are passing these stories down to their children and their children's children, and Sasek's This is series has officially reached iconic status. Collected here for the first time in one affordable volume are some of Sasek's most beloved adventures.
Pre-order at Amazon, Rizzoli and your local book shop.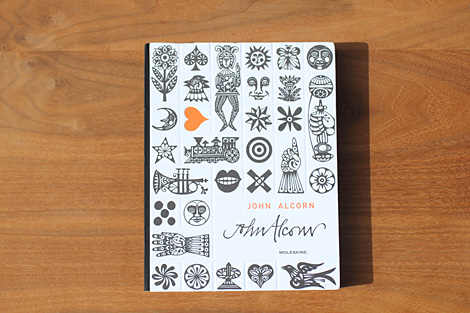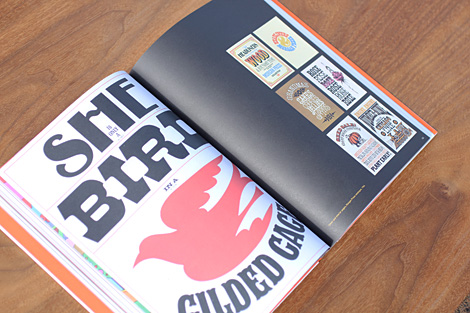 John Alcorn: Evolution by Design
By Moleskine
288 Pages / "9 x 11.5″
A never-before released overview of one of the most versatile designers of the 20th century, replete with revealing essays and several hundred images spanning over 4 decades, from the artist's formative years to his untimely death at age 56. Containing an extensive account of Alcorn's vast creative output, from posters, book illustrations, painting, advertising and design – accompanied by personal anecdotes and critical essays – the intricacy of his illustrations, the magic of his psychedelic imagery and the elegance of his execution unfold with every turn of the page.
Available at Amazon and Moleskine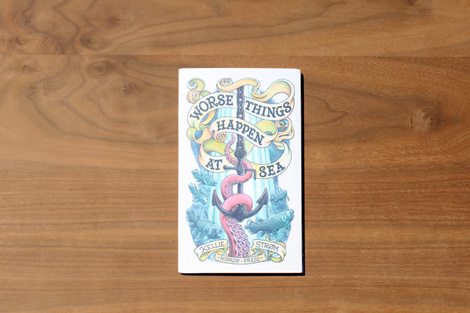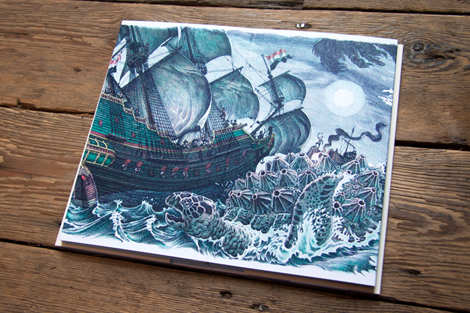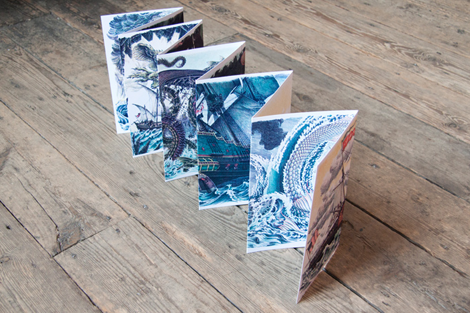 Worse Things Happen at Sea
By Kellie Strom / Published by Nobrow
20 pages / 5.6″x9.1″
Inspired by tales of mythical sea creatures and the tall stories of doomed voyages passed down from sailor to son, Strøm brings us a rich tapestry of wonderment. Historical ships are attacked, enveloped and engorged by monstrous creatures surfacing from the deepest depths of the darkest oceans. Covering 20 panels each measuring 13.8cm x 23.5cm the image unfolds in front of you like a foreboding fable from the cracked lips of an old sea captain.
Taking over two years to create, the faux engraved colour separation style used for this project has been a departure from his two previous picture books, both illustrated with full colour acrylic paintings. In both techniques Strøm wrestled with creating detailed immersive worlds while also trying to preserve some of the immediacy of the original physical art.
Available at Amazon, Nobrow and your local book shop.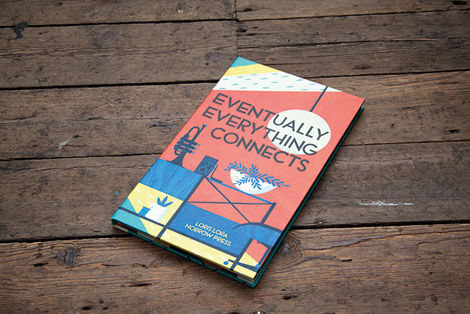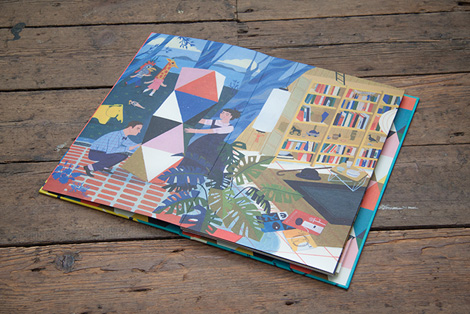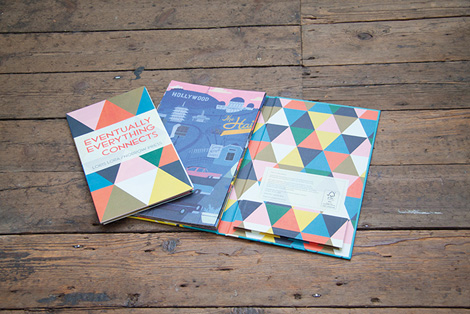 Eventually Everything Connects
By Loris Lora / Published by Nobrow Press
24 Pages
What is the link between Alfred Hitchcock and Charles and Ray Eames, or illustrator Mary Blair and actor Steve McQueen? In Eventually Everything Connects Loris Lora makes all the creative connections so you don't have to. Explore the movers, shakers, and shapers of the arts in the Californian modernist movement in Nobrow's hardback Leporello format.
Available at Amazon and Nobrow Press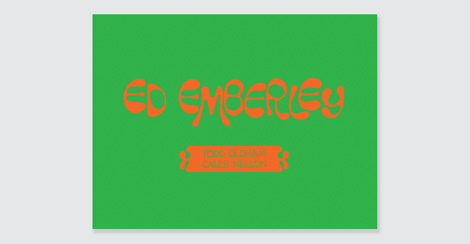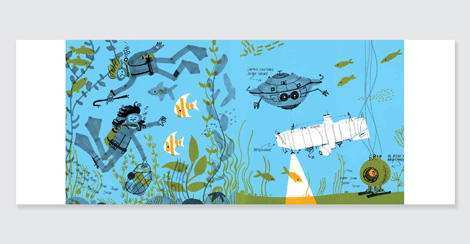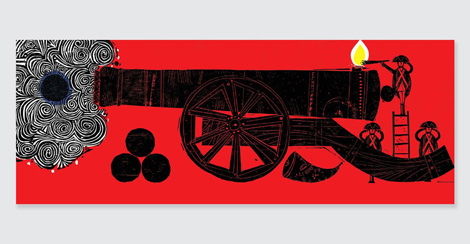 Ed Emberley
By Todd Oldham and Caleb Neelon / Published by Ammo Books
288 Pages / 12″ x9″
Ed Emberley shies away from calling himself an artist and instead likes to say that "he draws pictures for a living." Now in his eighties, Ed Emberley is a Caldecott award-winning children's book illustrator and writer who has been creating original books since the 1960s. He has written and illustrated more than 100 books and is perhaps best known for his beloved how-to-draw books for kids such as: Ed Emberley's Big Green Drawing Book, Ed Emberley's Drawing Book of Faces, and Ed Emberley's Great Thumbprint Drawing Book, and many others.
These simple and straightforward books, first published in the 1970s, have encouraged a generation of kids to take the drawing process step by step. Contemporary working artists today often cite Ed Emberley as a beloved early inspiration in their development as artists. By encouraging kids to draw using just a few simple shapes, Emberley has made drawing and creating accessible to everyone. As Emberley likes to say, "Not everyone needs to be an artist, but everyone needs to feel good about themselves."
This definitive monograph on the wide repertoire of Emberley's life's work has been beautifully put together by Todd Oldham and Caleb Neelon. Highlighting work spanning more than five decades, this gorgeous and comprehensive book celebrates the talented and prolific life of Ed Emberley.
Available at Amazon, Ammo Books and your local book shop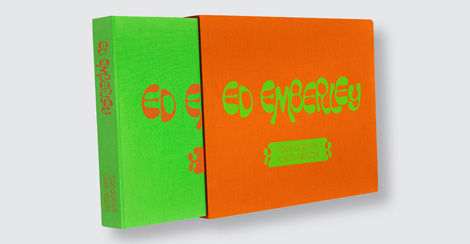 Ed Emberley Signed Limited Edition with Print
Cloth hardcover with slipcase
Available at Amazon and Ammo Books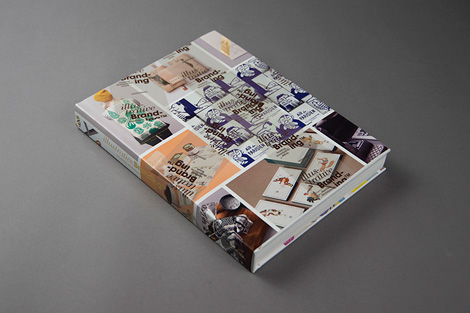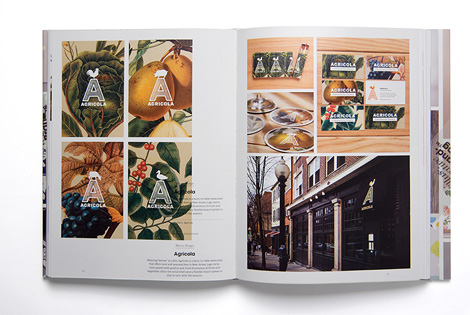 Illustrative Branding: Smashing illustrations for brands
Published by Victionary
256 Pages 
From delightful packaging, to tongue-in-cheek restaurant setting guarded by outlandish cartoons or serene naturescapes, all contributes to the whole of the brand experience, some even lure consumers into collecting tactile applications of the brand.ILLUSTRATIVE BRANDING takes you on a beguiling journey through nearly 100 stellar projects and in-depth case studies of illustrated identities conceived for eateries, fashion labels, skincare products, enterprises, and many more.
Available at  Victionary and your local book shop.
Typography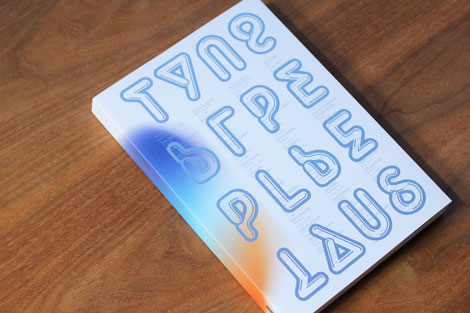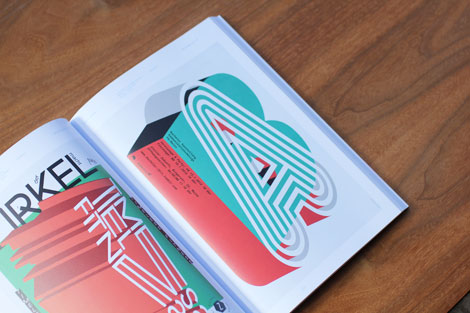 Type Plus
Edited by Adrian Shaughnessy and Tony Brook / Published by Unit Editions
320 Pages / Paperback
Type Plus investigates the practice of combining typography with images to increase effectiveness, potency and visual impact. Today, graphic designers use type in partnership with graphic elements in ways that turbo charge meaning and impact.
By focusing on a host of contemporary practitioners from around the world, Type Plus creates a picture of a new dynamism in typographic expression. The era of type as a passive, semi-invisible holder of meaning is long gone.Book includes interviews with Non-Format, TwoPoints.Net and Erik Brandt.
Available at Unit Editions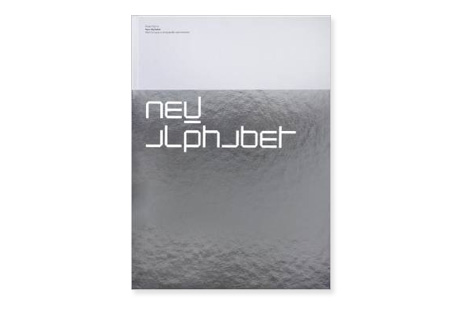 Wim Crouwel: New Alphabet
Edited by Paolo Palma. Preface by Wim Crouwel. Text by Kees Broos, Max Bruinsma, Piet Schrueders.
Published by SHS Publishing
144 Pages / 10″x13.5″
Released in 1967, Wim Crouwel's New Alphabet was a typeface inspired by the limitations of the data displays of the period. Since it uses only horizontal and vertical strokes, with 45-degree corners–Crouwels wanted to adapt typography to the new technologies, rather than vice versa–New Alphabet contains several characters that are impossible to decipher without contextual inference. Consequently, the typeface was widely deemed to be too extreme at the time, and Crouwel himself qualified it as largely a theoretical exercise–"over the top and never meant to be really used." Despite its initial controversy, which even extended to the newspapers, New Alphabet has since attained the status of a design classic, being perhaps most famously used on the cover of Joy Division's legendary single "Atmosphere" and the group's compilation Substance. In this volume, author Paolo Palma examines the history and legacy of Crouwel's typeface.
Pre-order at Amazon.com, artbooks.com and your local book shop.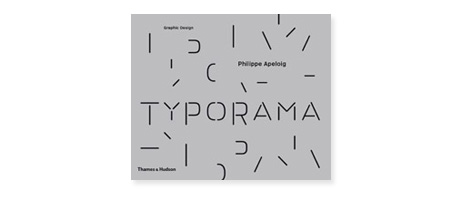 Typorama: The Graphic Work of Philippe Apeloig
By Alice Morgaine and Ellen Lupton/ Edited by Tino Grass / Published by Thames and Hudson
384 Pages
This book, published to accompany a major exhibition at the Musée des Art Décoratifs, Paris, surveys and explores the entirety of Apeloig's graphic design process and philosophy, reproducing posters, logos, visual identities, books and animations, and analysing the influences that fuel his work.
Available at Amazon, Thames and Hudson and your local book shop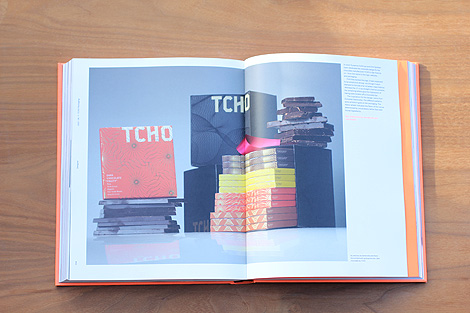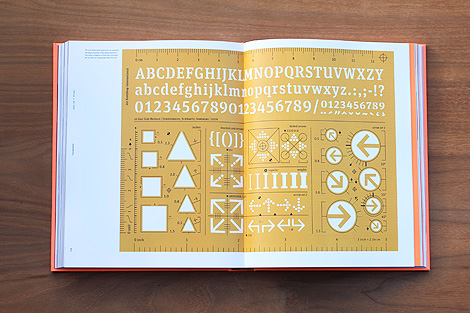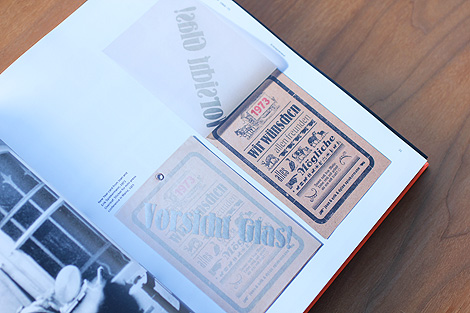 Hello, I am Erik / Erik Spiekermann: Typographer, Designer, Entrepreneur
Edited by Johannes Erler / Published by Gestalten
320 Pages / Hardcover
Erik Spiekermann is one of the best-known graphic designers in the world. He not only represents German typeface and corporate design like no other, but his work and the companies he has founded have had an unparalleled influence on contemporary graphic design around the globe. The visual biography Hello, I am Erik is the first comprehensive exploration of Spiekermann's more than 30-year career, his body of work, and his mindset. Contributions by Michael Bierut, Neville Brody, Mirko Borsche, Wally Olins, Stefan Sagmeister, Christian Schwartz, Erik van Blokland, and others round out this insightful publication.
Available at Amazon, Gestalten and your local book shop.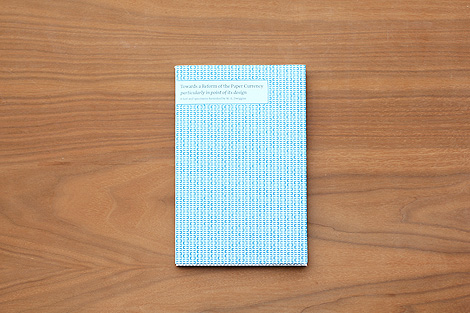 Towards a Reform of the Paper Currency – Particularly in point of its design
By W.A. Dwiggins / Published by Kat Ran Press
60 Pages
Towards a Reform of the Paper Currency particularly in point of its design is a passionate and lively little rant with lots of good design ideas for the improvement of banknotes and stamps—and just about anything else. First published in 1932 by the Limited Editions Club in an edition of 452 copies, this new edition is also printed in an edition of 452 copies—potentially doubling the number of copies in the world. In truth, the original edition is now one of WAD's less seen and more expensive books and is often selling for one hundred or more times its original publication price of $5.84. This edition is more modestly priced—and produced with the tools and methods of our time in history (as Dwiggins would have wanted it)—and comes with a new introduction by Bruce Kennett, whose forthcoming biography of Dwiggins will be published by the Letterform Archive in 2015.
Available at Kat Ran Press
Design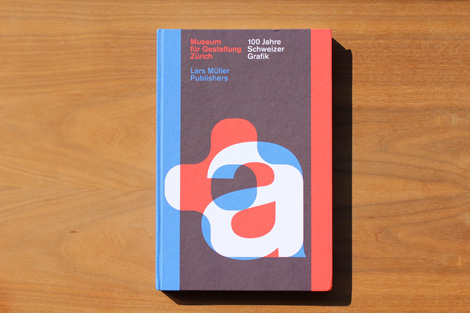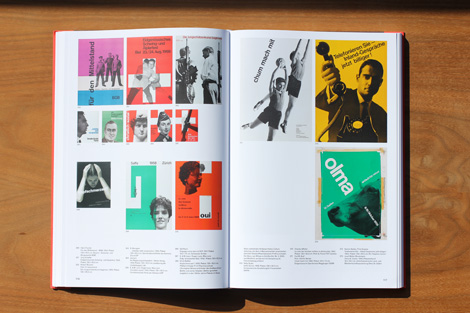 100 Years of Swiss Graphic Design
Edited by Christian Brändle, Karin Gimmi, Barbara Junod, Christina Reble, Bettina Richter, and Museum of Design Zurich
384 Pages / 8.7″x 12.9″
100 Years of Swiss Graphic Design takes a fresh look at Swiss typography and photo-graphics, posters, corporate image design, book design, journalism and typefaces over the past hundred years. With illuminating essays by prominent experts in the field and captivating illustrations, this book, designed by the Zürich studio NORM, presents the diversity of contemporary visual design while also tracing the fine lines of tradition that connect the work of different periods. The changes in generations and paradigms as manifested in their different visual languages and convictions are organized along a timeline as well as by theme.
Available at Amazon, Lars Muller, and your local book shop.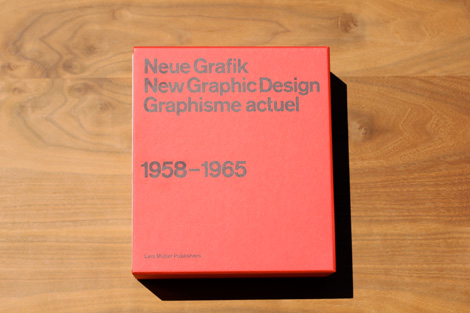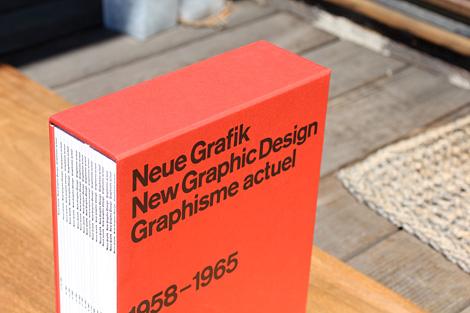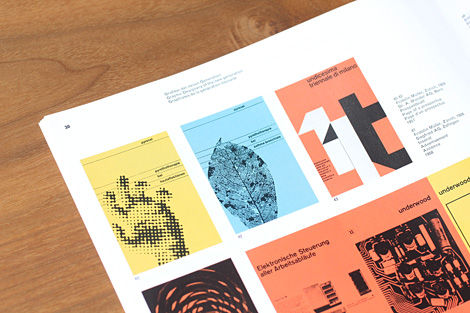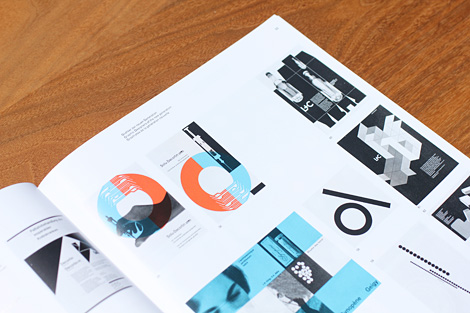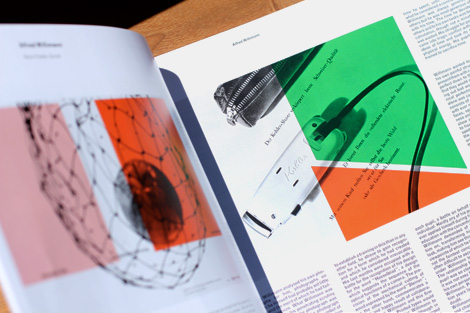 Neue Grafik/New Graphic Design/Graphisme actuel 1958–1965
Edited Lars Muller
1184 Pages / 18 paperback volumes in a slipcase
Copies are available at Lars Muller.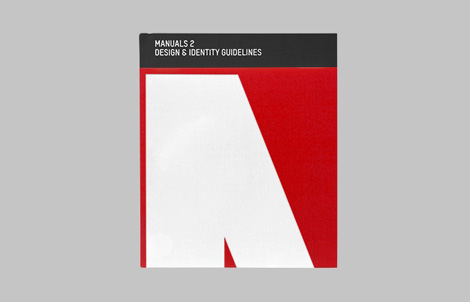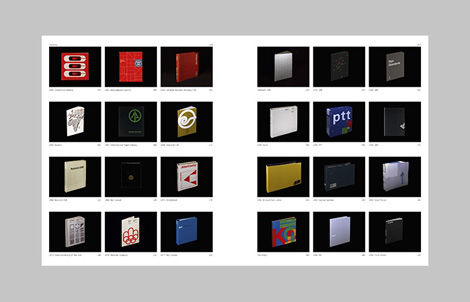 Manuals 2 
Edited by Tony Brook, Adrian Shaughnessy  / Published by Unit Editions
432 Pages
Manuals 2 features a mix of 20 outstanding American and European design manuals. Each is photographed in exquisite detail and accompanied by meticulous descriptions of their physical make-up.
Featured manuals include IBM, Westinghouse, Canadian Rail, Bell, Knoll, PTT, Montreal Olympics and Dutch Police. Manuals 2 also comes up to date, incorporating contemporary manuals for RAC and First Direct. Many of the manuals are designed by the masters of 20th-century identity design: Lester Beall, Paul Rand, Allan Fleming, Total Design, Alan Fletcher, Otl Aicher, Studio Dumbar and North.
Available at Unit Editions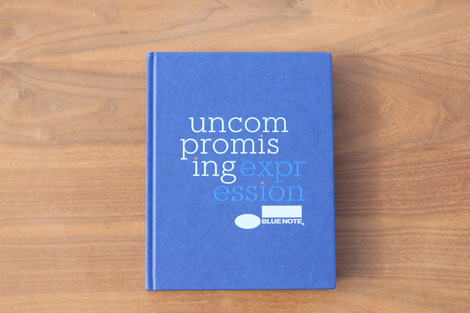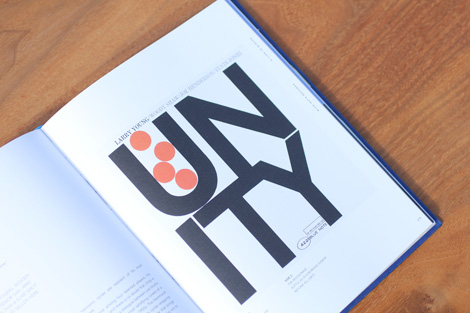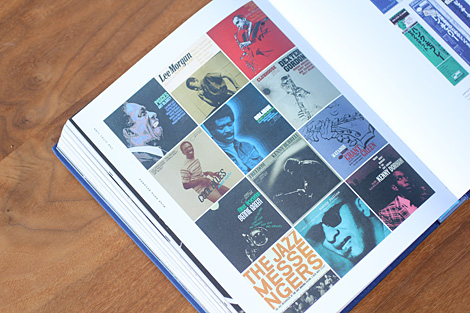 Blue Note : Uncompromising Expression
By Richard Haves / Published by Chronicle Books
400 Pages / 8.5″ x 11 7/8
Published for Blue Note's seventy-fifth anniversary, this landmark volume is the first official illustrated story of the label, from 1939 roots to its renaissance today. Featuring classic album artwork, unseen contact sheets, rare ephemera from the Blue Note Archives, commentary from some of the biggest names in jazz today, and feature reviews of seventy-five key albums, this is the definitive book on the legendary label.
Available at Amazon, Chronicle Books and your local book shop.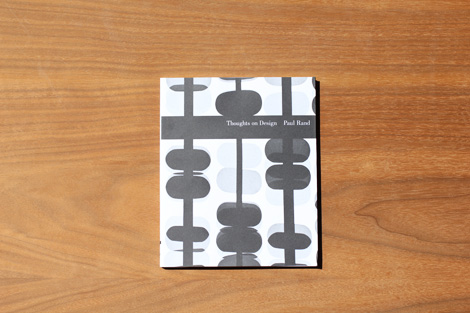 Thoughts on Design
By Paul Rand / Foreword by Michael Beirut / Published by Chronicle Books
96 Pages /  6 7/20 x 7 3/4 in
One of the seminal texts of graphic design, Paul Rand's Thoughts on Design is now back in print for the first time since the 1970s. Writing at the height of his career, Rand articulated in his slender volume the pioneering vision that all design should seamlessly integrate form and function. This facsimile edition preserves Rand's original 1947 essay with the adjustments he made to its text and imagery for a revised printing in 1970, and adds only an informative and inspiring new foreword by design luminary Michael Bierut. As relevant today as it was when first published, this classic treatise is an indispensable addition to the library of every designer.
Available at Amazon, Chronicle Books and your local book shop.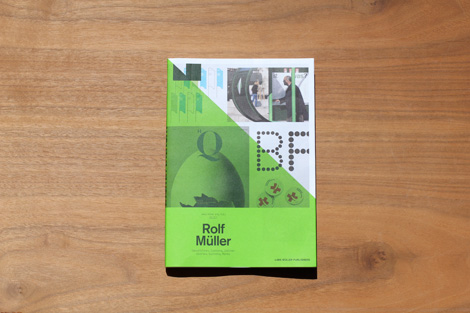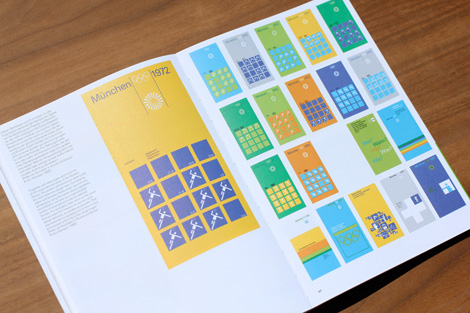 Rolf Muller: Stories, Systems, Marks
Edited by Jens Muller  / Published by Lars Muller
128 pages / 5 ¾ x 8 ¼ in
This book is the first monograph dedicated to the designer Rolf Müller who is known above all for his design of the visual identity of the Munich Olympic Games in 1972. Shortly after graduating from the famous Ulm School of Design, his former professor Otl Aicher entrusted him with this work, which set new standards in international design. In parallel, he established his design firm Büro Rolf Müller in Munich. On the basis of selected projects, the book attempts to sketch the mentality and methods of his design
Available at Amazon, Lars Muller and your local book shop.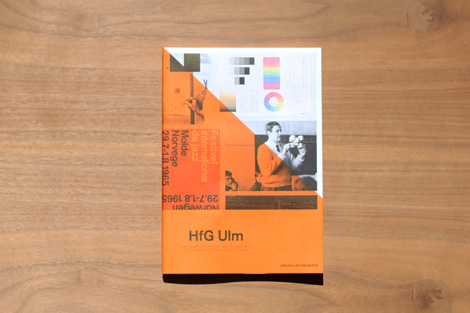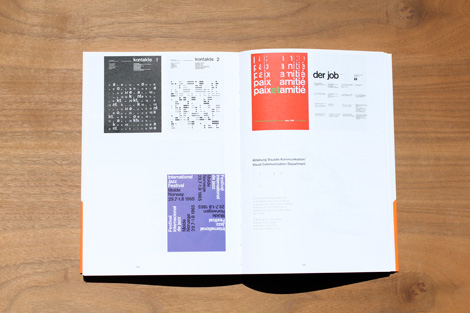 HfG Ulm: Concise History of the Ulm School of Design
Edited by Jens Muller / Published by Lars Muller
128 Pages / 5 ¾ x 8 ¼ in
The Ulm School of Design (HfG Ulm) ranks among the world's most important institutions of the 20th century in modernist design. Its founders Inge Aicher-Scholl, Otl Aicher and Max Bill wanted to contribute to the shaping of a new and better world after the terrible experiences of the Nazi regime and the Second World War. The meaning of design today cannot be understood without considering the developments at HfG. That applies not only to the design of appliances and communications, but also to the profession of designer, design education, methodology and design theory—ranging from the relationship between design and science up to the question of what relationship design should adopt with art and crafts, or business and society. This massive impact of the HfG is all the more astounding, considering that it existed for only 15 years, from 1953 to 1968. This book provides a contextual and broadly illustrated history of the HfG Ulm.
Available at Amazon, Lars Muller and your local book shop.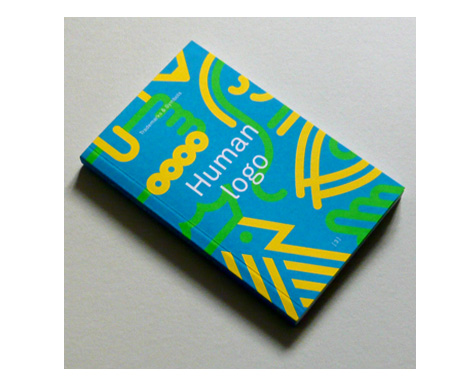 Human Logo
Published by Counter-Print
132 Pages
'Human Logo' is a collection of people-based logos categorised in sections such as bodies, hands, hearts, eyes and faces. The book contains over 300 logos from some of the world's leading design companies such as; Wolff Olins, Pushpin Group, Hey, Chermayeff & Geismar, Berger & Föhr and many more.
Available at Counter-Print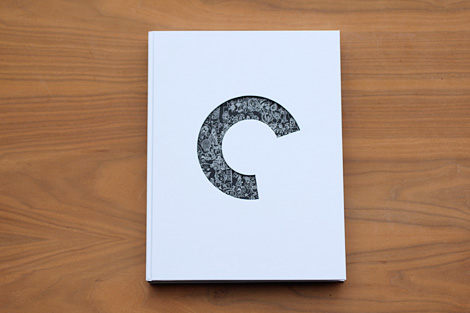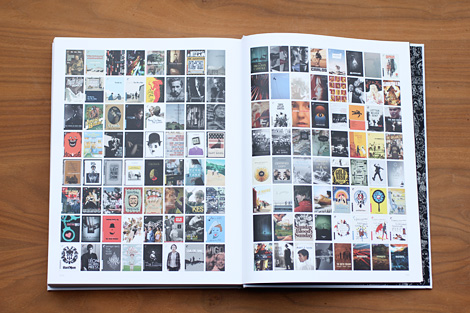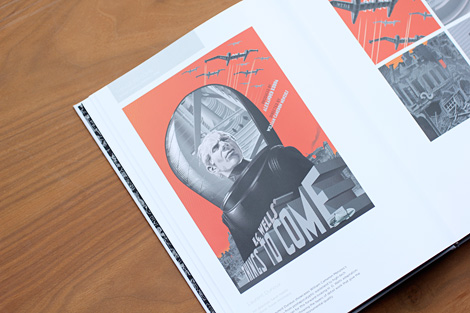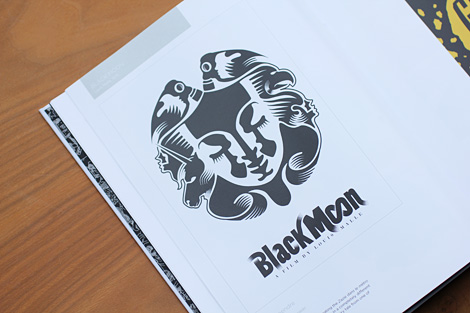 Criterion Designs
By Eric Skillman / Published by Criterion
306 Pages / 10″x13″
The most exciting names in design and illustration today apply their talents to some of the most important and influential films of all time. This volume gathers highlights from designs commissioned by the Criterion Collection, featuring covers, supplemental art, and never-before-seen sketches and concept art plus a gallery of every Criterion cover since the collection's first laserdisc in 1984. From avant-garde experiments to big-budget blockbusters, cult favorites to the towering classics of world cinema, the depth and breadth of what film can be is on display in these striking images. Whether painstakingly faithful re-creations or bold re-imaginings, the stunningly diverse designs collected here offer new ways for cinephiles and design aficionados alike to engage with the world's greatest filmmakers.
Available at Amazon, Criterion and your local book shop.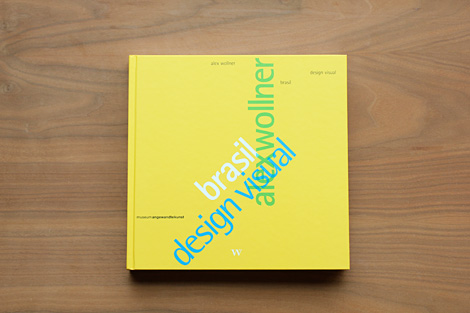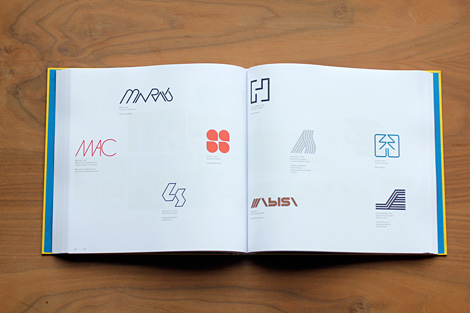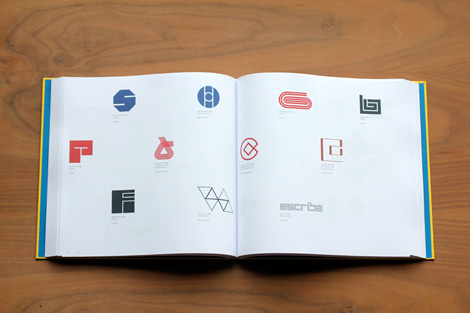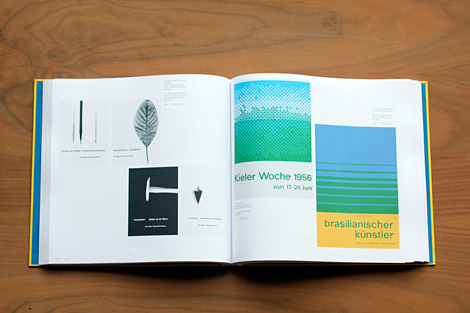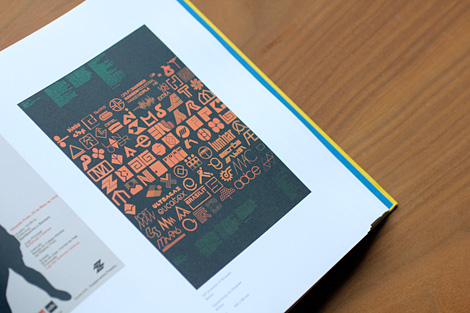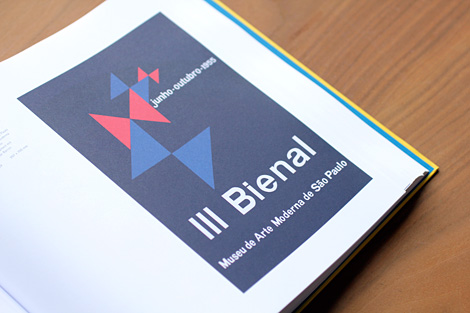 Alex Wollner: Brasil Design Visual
Edited by Klaus Klemp, Julia Koch, Matthias Wagner K. Foreword by Antonio Grassi, Marta Suplicy, Matthias Wagner K. Text by Klaus Klemp, Julia Koch, Malou von Muralt, René Spitz, André Stolarski, Alexandre Wollner.
Published by Wasmuth
324 Pages / 10.5″x10.25″
Alexandre Wollner (born 1928) is one of the most important and successful graphic designers of the second half of the twentieth century. He played a prominent role in the artistic, cultural and economic foundation of postwar Brazilian design and is today one of South America's most acclaimed figures in graphic design. Upon returning to Brazil from his studies in Europe, together with Geraldo de Barros and others he inaugurated Form-Inform, the first design consultancy in the country. Despite his great influence and popularity in South America, Wollner remains relatively unknown abroad. Alex Wollner: Brasil Design Visual remedies this oversight, presenting an extensive catalogue of the designer's oeuvre. This handsome book showcases more than 100 works by the artist and focuses on the strong influence of the Ulm School of Design where Wollner studied between 1954 and 1958.
Available at Amazon, Artbooks.com and your local book shop.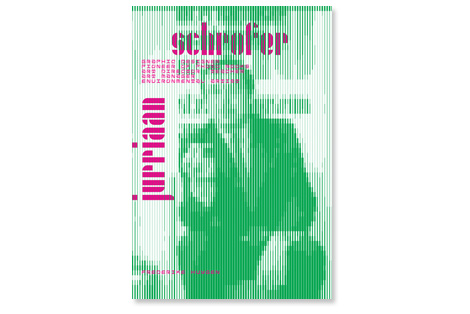 Jurriaan Schrofer: Graphic Designer, Pioneer of Photo Books, Art Director, Teacher, Art Manager, Environmental Artist
By Frederike Huygen. Edited by Jaap van Triest, Karel Martens
Published by Valiz
424 Pages
The Dutch designer and polymath Jurriaan Schrofer (1926–1990) was one of the defining figures in European graphic design in the 1950s–70s. Working across all genres, from public relations brochures to interior design, and from magazines to advertising and alphabets, Schrofer is particularly regarded as a pioneer in the field of photo books and experimental typography. During the 1970s, he also became involved with government art policy and environmental art, and was an especially active force at the Association of Graphic Designers. The design historian Frederike Huygen describes his work as "research into perception, visual effects and the optical illusion of perspective: or the interplay of letterform, pattern and meaning." This monograph tracks Schrofer's career through a set of thematic chapters: his public relations brochures for various corporations; the photo book designs; his work as a cultural ambassador; advertising design; interior design; art policy and education; typographic experiments; and his art works. This monograph provides a full survey of Schrofer's career.
Available at Amazon, Artbook.com and your local book shop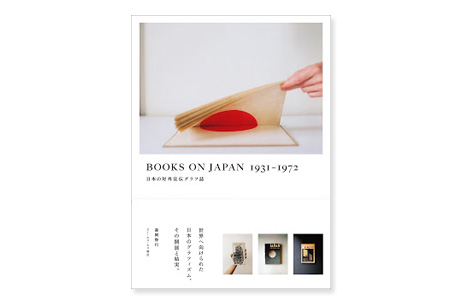 Books on Japan 1931-1972
By Yoshiyuki Morioka / Published by BNN
208 Pages
In this book 100 propaganda magazines, published between 1931 to 1972, are introduced. The front cover and middle page of each magazine is introduced by year along with a brief overview. By "propaganda magazines" we mean such magazines promoting political, military and cultural ideas as is represented by the magazines NIPPON (Nihon Kobou) and FRONT (Tohosha). Also included in these 100 magazines is tourist guides, export product catalogues, world fair catalogues and Olympic brochures. In such "propaganda magazines" published by the government or large companies generous budgets were provided for such publications. Accordingly, many persons who have contributed greatly to the history of Japanese photography and graphic design are introduced. (For example in NIPPON such persons as; Yonosuke Natori, Takashi Kono, Fumio Yamana, Yusaku Kamekura, Goro Kumada, Ken Domon and Shihachi Fujimoto. In FRONT such persons as; Tatsuo Hayashi, Hiromu Hara, Seiichi Tagawa, Ihei Kimura, Yoshio Watanabe and Hiroshi Hamaya). As a result, by looking at the graphics in these magazines one can see how the world currents in graphics have been arranged to form a unique Japanese modernism. A look at the news photos and advertisements in these magazines vividly illustrates Japan's evolution over this time span. The people who lived, the cities that existed and the thoughts that were prevalent at that time are all extensively recorded. Even though time has passed the vitality of these times can still be felt.
Available at Amazon, Stout Books and your local book shop.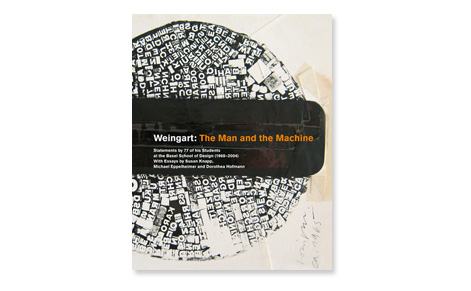 Weingart: The Man and the Machine
By Susan Knapp, Michael Eppelheimer, Dorothea Hofmann / Published by Karografik
96 Pages
The Advanced Class (Weiterbildungsklasse) was a post-graduate program for graphic design, first launched in April 1968 at the Basel School of Design in Switzerland. In 1999 the program was removed from the school's curriculum, as it did not meet the requirements of the new European university system. For over 30 years, more than 420 students from 35 countries refined their skills and developed a network of designers, artists and teachers.
Wolfgang Weingart was one of the reasons why many design students came to study in Basel. He lectured about the program all over the world and his posters became well-known throughout the design community. Allowing his students to unfold in their own way, he proved to be a master in taking so many different individuals and cultures under his wing. Mr. Weingart's work as a teacher and visiting lecturer has not only strengthened his students as graphic designers, but has also played a decisive role in modern typography and design.
The collection of 77 statements is boldly illustrated with photos of Mr. Weingart, portraits of the individual students and work from his teaching. And for the first time ever published, an essay by Dorothea Hofmann explains how the Advanced Class came into being at the Basel School of Design. The establishment of the program in 1968 was preceded by nearly two decades of continuous refinement of an educational model developed by Armin Hofmann, with support from Emil Ruder and the City of Basel's Department of Education.
Available at Stout Books and Karografik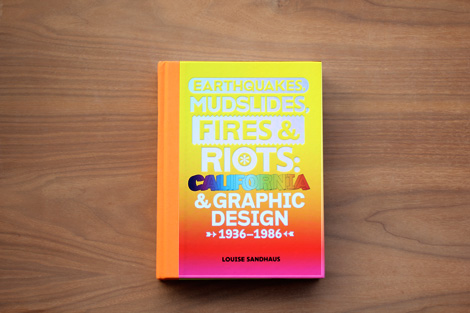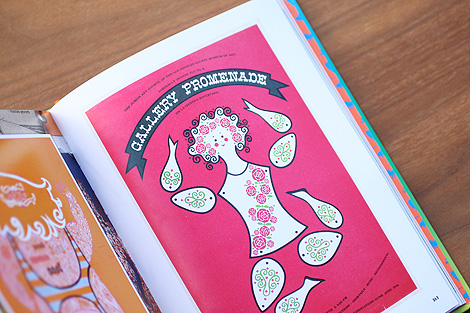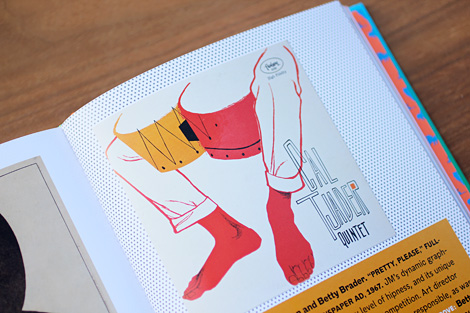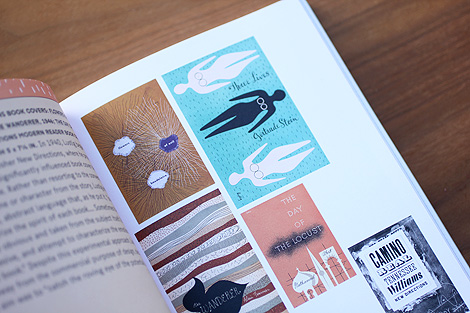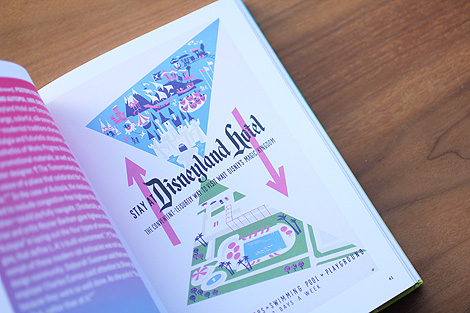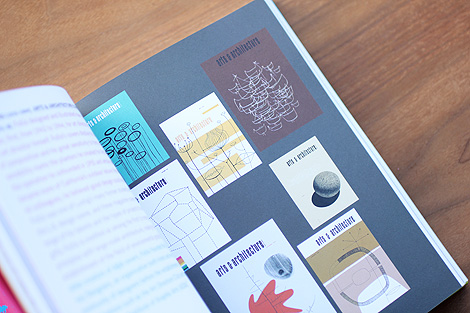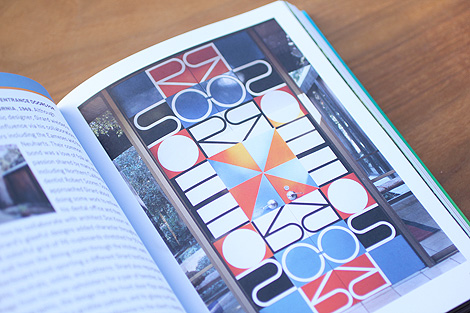 Earthquakes, Mudslides, Fires & Riots: California and Graphic Design, 1936-1986
By Louise Sandhaus with contributions by Lorraine Wild, Denise Gonzales Crisp, Michael Worthington
Published by Metropolis Books
432 Pages / Hardcover
Earthquakes, Mudslides, Fires & Riots is the first publication to capture the enormous body of distinctive and visually ecstatic graphic design that emanated from this great state throughout most of the twentieth century. Edited and designed by graphic designer Louise Sandhaus, this raucous gathering of smart, offbeat, groundbreaking graphic design from the "Left Coast" will amaze readers with its breadth and richness. The fruit of more than a decade of research, the volume is arranged in four sections: "Sunbaked Modernism," "Industry and the Indies," "60s Alt 60s" and "California Girls." Included are books and magazines designed by Merle Armitage, Alvin Lustig, Herbert Matter and Sheila Levrant DeBretteville; posters for Disneyland, Cream and Herman Miller; Marget Larsen's print ads for Joseph Magnin; title cards or title sequences for Lassie, The Smothers Brothers and other hit TV shows; title sequences for films from Taxi Driver to Tron; motion graphics from the earliest animated abstractions to the classic 7-Up "Bubbles" ad and Atari video games; immersive live shows of Bill Ham and Single Wing Turquoise Bird; architectural supergraphics by Barbara Stauffacher Solomon and Alexander Girard; print and environmental designs by Gere Kavanaugh and Deborah Sussman; and much, much more.
Available at Amazon, Artbook.com and your local book shop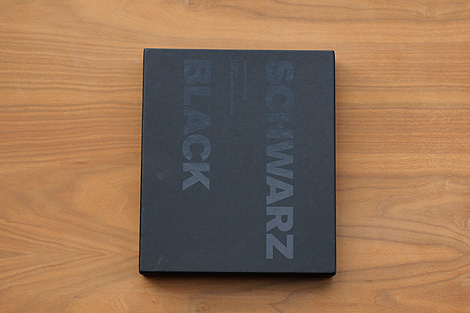 Schwarz Black
By Katrin Trautwein / Published by Lars Muller
64 pages plus 24 color charts / Hardcover in slipcase
In this publication, color expert Katrin Trautwein allows subtle differences in a "black palette" to be experienced by means of 24 high-quality screenprints. Made using genuine, water-based pigment paints, the screenprints show how rich and sensual black can be. They are accompanied by eight essays that place the topic in its creative, linguistic, architectural, and cultural contexts. Black is shown to be not the absence of light, but the means by which the elements of white architecture are rendered most visible.
Pre-order at Amazon, Lars Muller and your local book shop
Modernism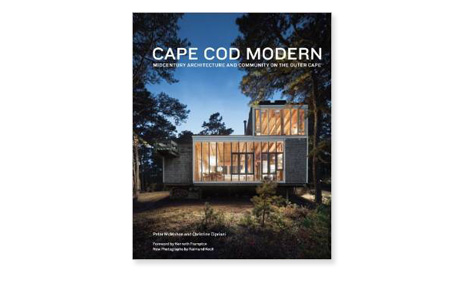 Cape Cod Modern: Midcentury Architecture and Community on the Outer Cape
By Peter McMahon, Christine Cipriani and forward by Kenneth Frampton
Photos by Raimund Koch / Published by Metropolis Books
272 Pages
Available at Amazon, Artbook.com and your local book shop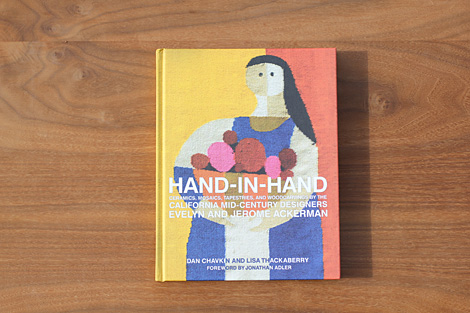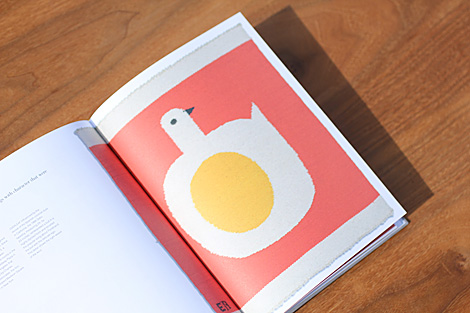 Hand-in-Hand: Ceramics, Mosaics, Tapestries, and Woodcarvings by the California Mid-Century Designers Evelyn and Jerome Ackerman
By Dan Chavkin and Lisa Thackaberry / Published by Pointed Leaf Press
240 Pages
Hand-In-Hand: Ceramics, Mosaics, Tapestries, Woodcarvings by the California Mid-Century Designers Evelyn & Jerome Ackerman is the first monograph of the artists whose oeuvre was critically influential and is now seen as the epitome of California mid-century modernism. With a preface by Jonathan Adler, the book tracks the couple's careers in the decorative arts from their beginnings to the creation of Jenev Design Studio and its eventual shift to ERA Industries, as well as their involvement in every prestigious California Design exhibition from 1954 to 1976.
Available at Amazon, Pointed Leaf Press and your local book shop.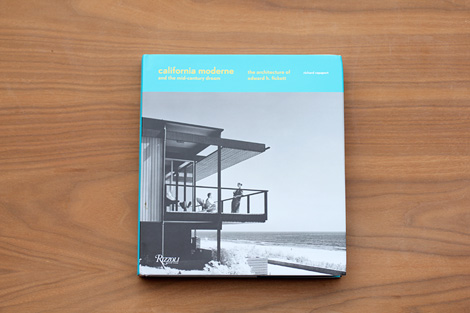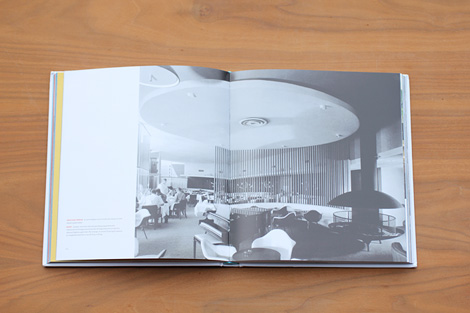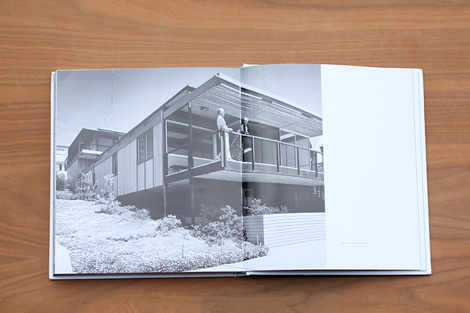 California Moderne and the Mid-Century Dream – The Architecture of Edward H. Fickett
By Richard Rapaport / Published by Rizzoli
272 Pages
A dazzling presentation of the mid-century modern California style, offering a fresh perspective on the work of this influential yet widely unknown figure.
Available at Amazon and Rizzoli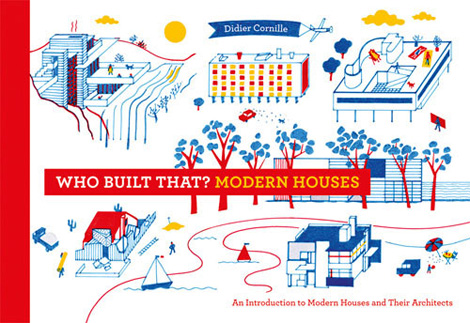 Who Built that? Modern Houses: An introduction to Modern Houses and their Architects
By Didier Cornille / Published by Princeton Architectural Press
84 Pages
Who Built That? Modern Houses takes readers on a fun-filled tour through ten of the most important houses by the greatest architects of the twentieth and twenty-first centuries. Beginning with a brief biographical sketch of each architect, illustrator Didier Cornille uses a light touch to depict the various stages of construction, paying special attention to key design innovations and signature details.
Available at Amazon, PA Press and your local book shop.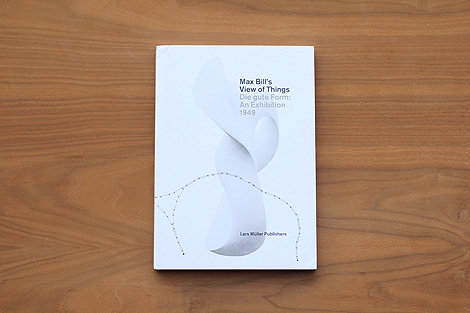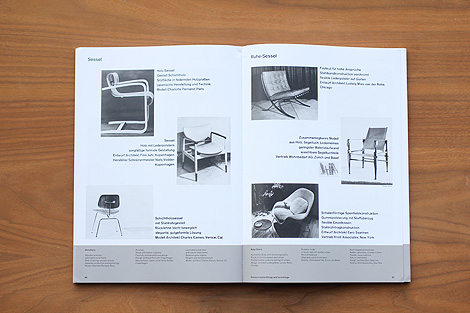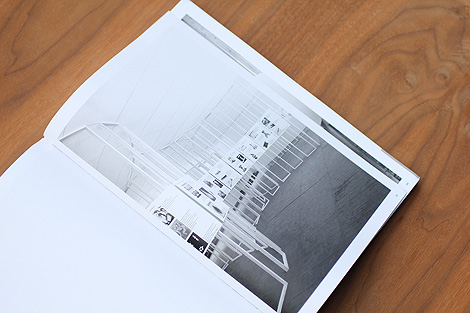 Max Bill's View of Things / Die gute Form: An Exhibition 1949
Edited by Lars Müller in collaboration with the Museum für Gestaltung Zürich
Published by Lars Muller
160 Pages / Hardcover
The international touring exhibition Die gute Form was conceived by Max Bill on behalf of the Swiss Werkbund and was shown for the first time in 1949 at the Basel Mustermesse trade fair. The exhibition consisted of 80 display panels, designed by Bill, presenting a selection of consumer goods from all over the world, chosen by Bill as examples of good design. The show caused some upset in Switzerland and fuelled heated debates abroad. But it also exerted a wide-reaching influence – for example, upon the way in which consumer goods were perceived.
This publication documents Bill's initiative in reproductions of the original display panels and layout plans for the venues visited by the exhibition, and places Die gute Form in a theoretical context that considers its reception and impact within the history of design.
Available at Amazon, Lars Muller and your local book shop.
Business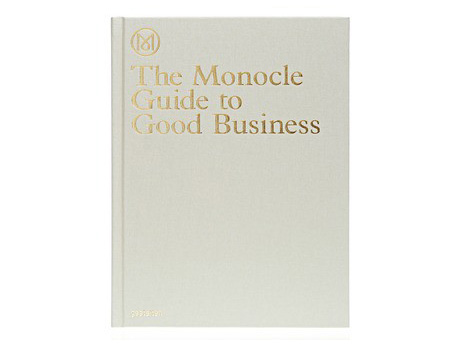 The Monocle Guide to Good Business
By Monocle / Published by Gestalten
304 Pages
The Monocle Guide to Good Business is a book for would-be business leaders, start-ups, and established companies that feel it's time for some new ideas. It's a book made to be used. Write in its margins and turn over the corners of its pages. But don't expect management speak or miracles for untold riches. This is not a book about staging a revolution. Rather, this is a book about doing things well—from how you run the show to the pens you buy. And even about taking your dog to work.
Available at Amazon, Gestalten and your local book shop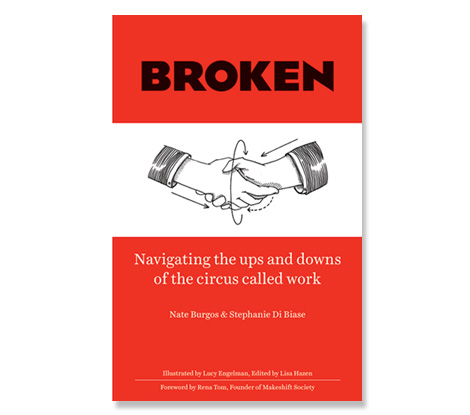 Broken: Navigating the ups and downs of the circus called work
By Nate Burgos and Stephanie Di Biase
This book addresses the challenges of toxic work environments and other barriers to getting things done.
Available at Design Feast
Disclosure: Some of the links in the post above are "affiliate links." This means if you click on the link and purchase the item, we will receive an affiliate commission. Regardless, we only recommend products or services we use personally and believe will add value to our readers.
——————–
Also worth viewing…
Recently Received Books: Oct
Recently Received Books: Sept
Recently Received Books: August
Follow us on RSS, Instagram, Pinterest, Wanelo,
——————–


Share on Facebook
11.25.14 in Off Our Bookshelves by Dave
Share on Facebook