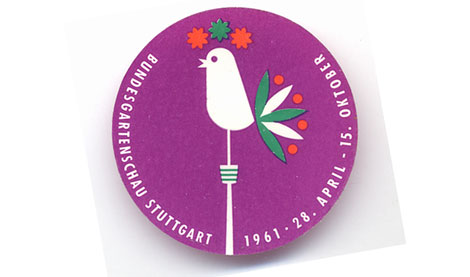 Sticker for Bundesgartenschau Stuttgart – 1961
The post earlier today was inspired by a sticker (seen above) I found over the weekend. I wasn't sure what to make of this sticker when I first saw it. It looks like a giant albino bird sitting on top of the Toronto Needle. After researching the event (Bundesgartenschau) I now believe its an illustration of a weathervane. Since Bundesgartenschau is a garden/ landscaping show it would make sense that the bird's tail feathers are flowers.
Visit the previous post (Get your Bundesgartenschau on!) for more information regarding this garden show and the graphics behind it.

Share on Facebook