Bike Stamps from Italy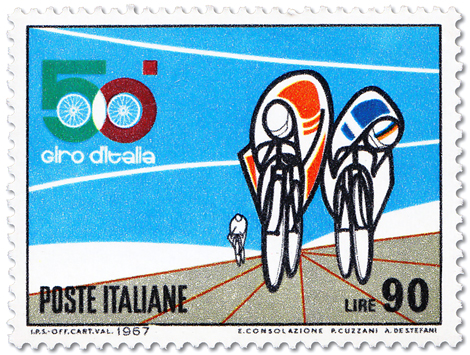 Italian postage stamps designed by E. Consolazione, R. Cuzzani, and A. de Stefani in 1967 to commemorate the 50th anniversary of the Giro d'Italia cycling championship.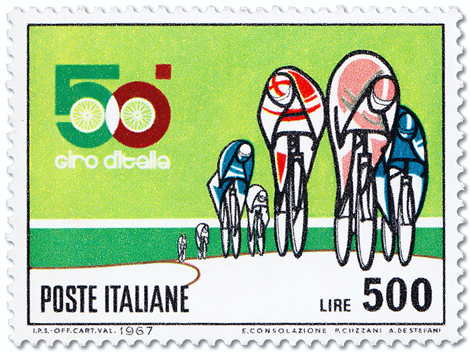 Ciclisti in volata – Racing cyclists in the general classification of the Giro. The overall winner of the Giro d'Italia wears the maglia rosa ("pink jersey")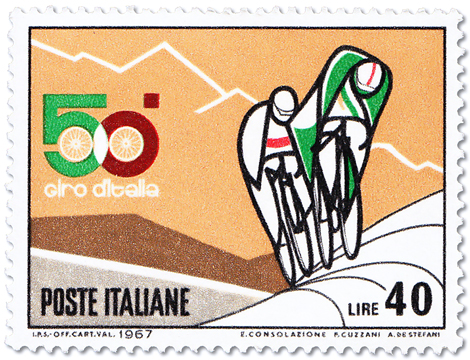 Ciclisti in salita – Cyclists climbing uphill in the mountains classification of the Giro. The best climber in the mountain stages wears the maglia verde ("green jersey").
*Huge thanks to Wes for the scans!
Also worth viewing…
1962 Denmark Christmas Seals
Portugal 1981 Census Stamps
Hong Kong Festivals 1975 Stamps

Like what you see?
Sign up for our Grain Edit RSS feed. It's free and yummy! YUM!

Share on Facebook
09.06.11 in Off Our Bookshelves by Dave
Share on Facebook