Eleanor Grosch interview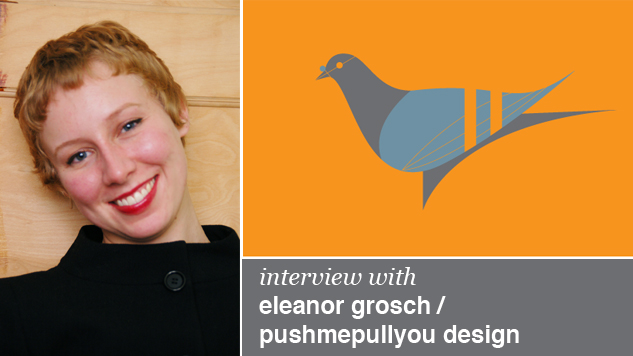 I first stumbled upon Eleanor's work while out shoe shopping a few years ago. I found a menagerie of Keds slip-on shoes with the loveliest animal patterns ever-imaginable…doves, giraffes, camels, and even cows! It was love at first sight!
Since that shopping extravaganza, I came to learn that the wonderful Ms. Grosch was behind those whimsical designs. Her work incorporates carefully chosen color palettes with geometric shapes and attentive lines, much in the style of her hero, Charley Harper.
In addition to designing for Keds, Eleanor has also designed for Alien Workshop, Urban Outfitters, and Chronicle Books. Her work diversely appears on rock posters, skateboards, apparel, and various publications. This past April, Print Magazine honored Eleanor as one of their New Visual Artists of 2008.
Before we bite into the meat of this interview, I've gathered a few nibbles and goodies of Eleanor's work from the past years:
[pictobrowser 10159078@N03 72157610920035879]
Where are you from originally?
I'm from Tampa, FL originally.  I grew up there and went to the University of South Florida for Fine Art.

What made you move all the way from Florida to Philadelphia & how do you like it there? I've never been!
I wanted some adventure!  My best friend Jenny and I had just visited NYC for the first time and we fell in love with it.  We were both 23 and really naive.  We went back a year later with the intention to move and realized that we just weren't a good fit for the big city.  So, a bit defeated, we returned to Florida and took a look at visiting some other cities that maybe wouldn't be just so fast-paced.  Eventually we visited Philly and it felt right so we moved a month later.  I love Philadelphia so much!  It's perfect for me.  I love to ride a bike around, and it's a small enough city to allow that easily.  Also, it's pretty cheap to live here.  Everything is laid-back and cool here.
How about some background info on "Pushmepullyou Design?" Where did the name come from?
I had always liked Dr.Doolittle, and the name came from his two-headed llama, the pushmepullyou.
When did you first become interested in illustration/graphic design?
When I was born! I think once my parents saw that I loved to draw they encouraged that in me. I've always wanted to be an illustrator. When I saw Gigposters.com, I knew the design part was for me also.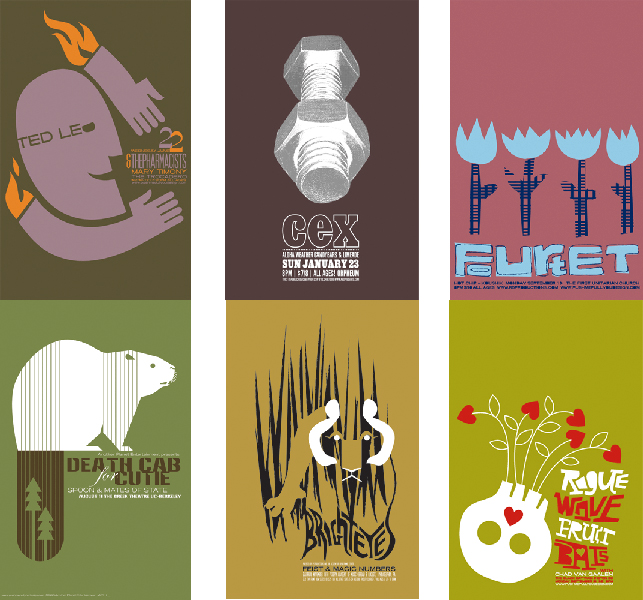 That's great that your parents were so encouraging. Were they always supportive of your decision in becoming an illustrator?
To a degree, they were supportive. They always wanted me to do what I love and to be happy, but they were concerned about the money side of things. That's why they wanted me to go to a state university so that my loans would be low or non-existent. It worked out okay! My Parents are pretty relieved I think!
What was the first drawing you remember making and how old were you?
That would definitely be the "famous" (in my family, anyway!!) picture of me as a potato-shaped person falling off my chair and my potato-shaped mom coming to rescue me. I think I was 2 and a half or so.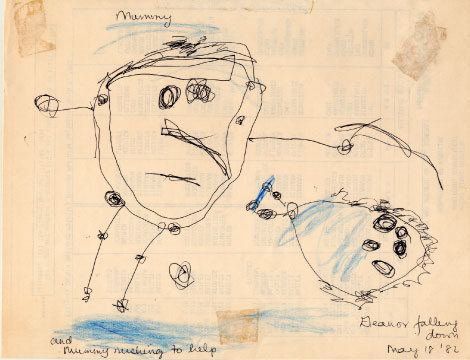 That drawing is fantastic! Thanks for sharing it!
How did you like art school?
I loved college. I went to a state school with a very general Fine Art program, so I got exposed to a lot of different types of art making. I took a ceramics class and a sculpture class along with traditional drawing and then even some electronic media. It was great!
It sounds like a lot of fun! What drew you to screenprinting?
I had taken a class on Printmaking and we covered screenprinting in that class. I liked it okay, but it seemed like a lot of work! I later realized that I could do it pretty easily at home and that the work was worth it because once set up, the edition could be as big as I wanted. I think the largely shape-based quality of my work lends itself well to screenprinting.
What was your first design gig?
A poster for Fin Fang Foom (a band) through the Orpheum in Tampa, FL. I used to dance there on a Saturday and I remember seeing my poster up for the first time! What a thrill!!
The geometry, lines, and animals in your work remind me a lot of one of my favorite illustrators, Charley Harper. When/how were you introduced to his work?
I love Charley too! He's the master. I was introduced to his work through my projects with Alien Workshop. The guys at AWS are all big fans of his too!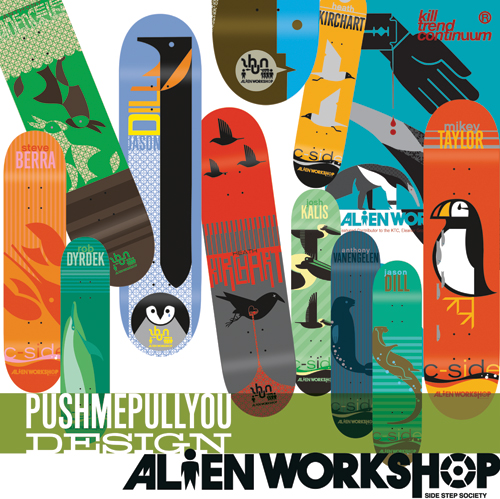 Who are some current artists that you admire?
I love Dirk Fowler, Methane Studios, Tim Gough, Jason Munn, and Kevin Mercer. They're great!!
Who/what else inspires you?
I try to be open to inspiration every day. You never know when a color-scheme or a shape might catch your eye.
What is a typical day for you like?
I love to work out, so I start my day with breakfast (bear naked granola – yum!) and a run or a spinning class. Then I come home, shower, and turn on the TV. Then I start to draw or design and usually either stay at that or interrupt to screenprint downstairs. I always take a break for lunch and then again for dinner, and I sometimes even get a chance to meet a friend for coffee or a drawing break. It's a great life!
Eleanor was kind enough to show us around her home and studio.
[pictobrowser 10159078@N03 72157610919175157]
How fun! I remember being first introduced to your work via the designs you made for Keds. Did you ever imagine your work would be on the feet of people walking around the world? How did you land that gig?
Absolutely not! It was the most amazing thing! I got set up with Keds through an interview in NYLON, which I had gotten through being at Flatstock. I later found out that Jason Munn had recommended me to the writer who was asking around for new artists (Thank you, Jason!!)
How would you describe your creative process?
I turn on the TV and start messing around on the computer. I'd love to pin it down more, but it's pretty crappy and simple, really. I think a lot of people might be disappointed to find out that someone's creative process is so normal.
I asked Eleanor to show us the steps she takes in drawing an animal. For this exercise, I had her draw an animal she hasn't drawn before…a sloth
1. I start by doing a simple Google search for the animal I'm about to draw. Then I paste the pic into Illustrator so I can begin work.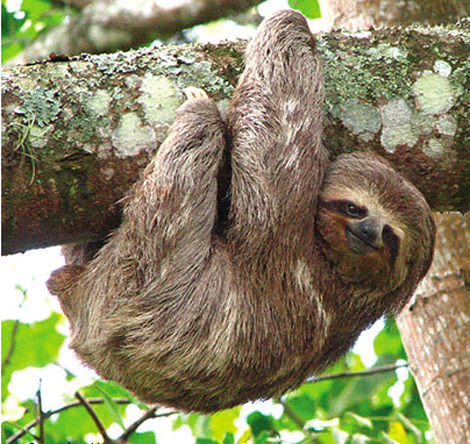 2. I create the few basic shapes with the shape tool in Illustrator so that I have my basis to start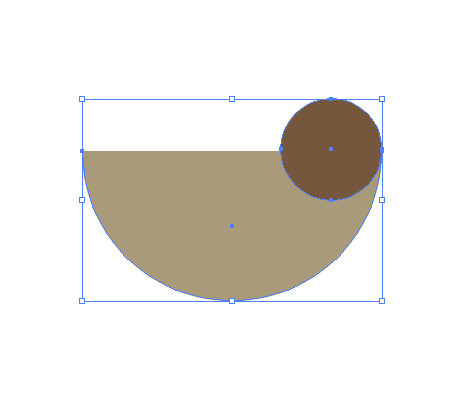 3. After that, I adjust the points to create a bit more accuracy in the shapes if necessary.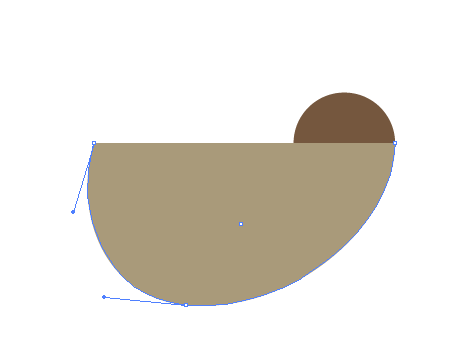 4. Then I create the appendages and a few details to add to the animal.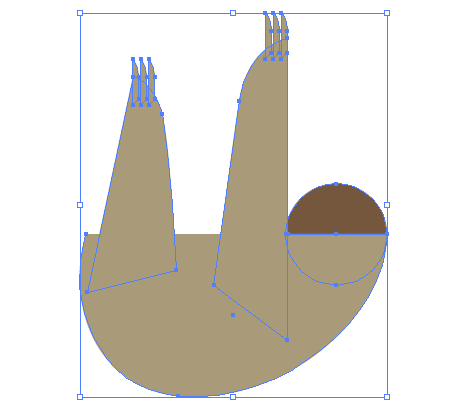 5. For this sloth illustration, I created some long hair strands because the shape of a sloth's body is so basic that a few hairs really add a lot.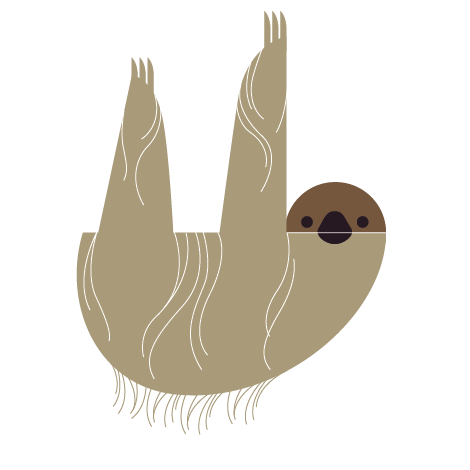 6. Usually if I'm making lines like these, I'll create a set and then "drag copy" the group in Illustrator to save me time and work. (Notice the same group used about 4 times at different angles on the back)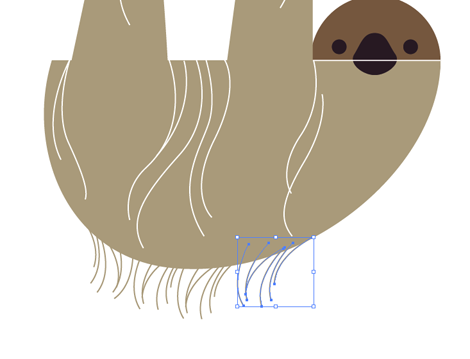 7. Adding more detail to the head is accomplished by using two shapes and dividing them with the Pathfinder palette's "divide" feature.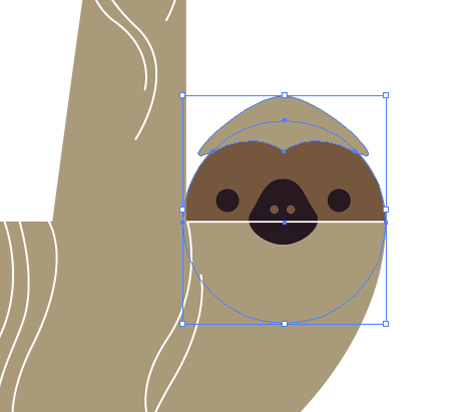 8. Then I add more detail to the face and copy the eye area and reflect it to create the other side.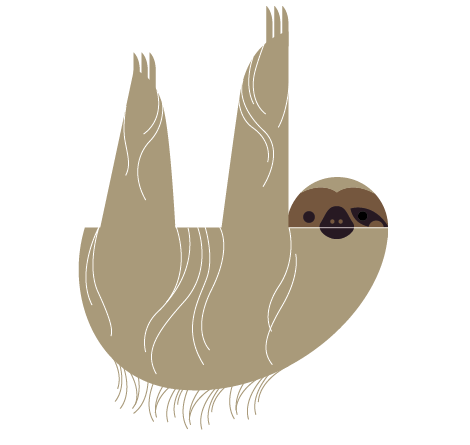 9. Two more strands of hair complete the drawing.  Done!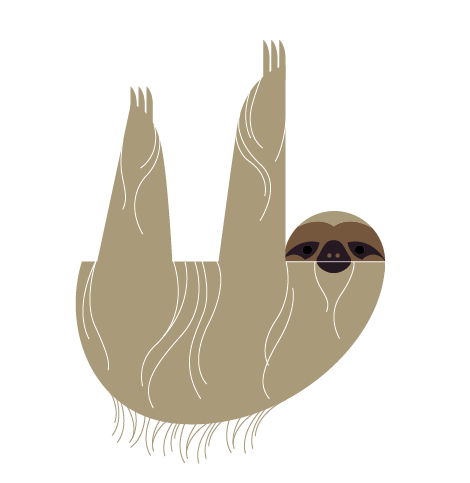 ---
Recently, Print Magazine chose you as one of their picks for New Visual Artists of 2008. That's pretty monumental. What was your initial reaction when you found out?
Yes, that was totally awesome!  I couldn't believe that I got through to the final 30.  I was jump-up-and-down happy when I found out that I made it!!
Has much changed for you since that point?
Not much has changed for me since then, unfortunately.  I did get to work with Pentagram, though, so that was great.
You've designed everything from posters, pillows, skateboards, shoes, and accessories. What do you hope will be next?
I'm hoping to get into designing bedding and bike graphics.  That would be so great!!
What projects are you currently working on?
I'm working on a lot of products at the moment.  There will be some bike stuff coming out next year!
If you could recommend two books to another designer, what would they be?
[ Non-design ]
The Road by Cormac McCarthy (Loved it!!!!)
[ Design ]
A History of Graphic Design by Phillip Meggs – a great overview of where things came from
Anything about Soviet Design
And finally, what's one thing your fans & most people don't know about you?
Here's one that's pretty cool: I'm a trapeze artist!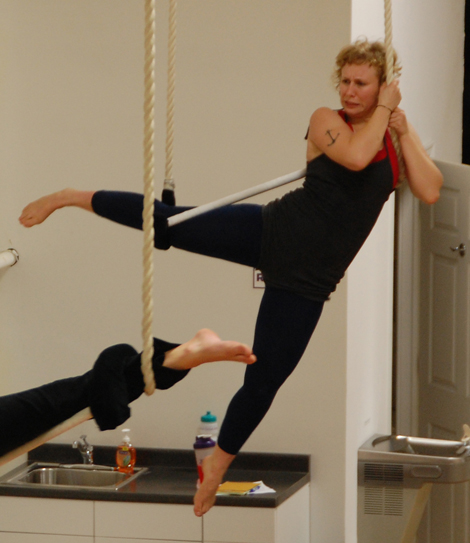 We would like to thank Eleanor for taking the time to share with us. You can see the rest of her work, and keep up-to-date with her shows and happenings on her website. Eleanor is represented by Agency Rush (Brighton, England).
You can purchase original prints, posters, and t-shirts from Eleanor at her shop.
---
Enjoy reading this interview? Please leave a note in the comments and consider signing up for the grain edit RSS feed.

Share on Facebook
TagsART, contemporary, Eleanor Grosch, graphic-design, Illustration, posters, USA
12.10.08 in Features by Grace Danico
Share on Facebook