Lou Dorfsman Exhibition at Kemistry Gallery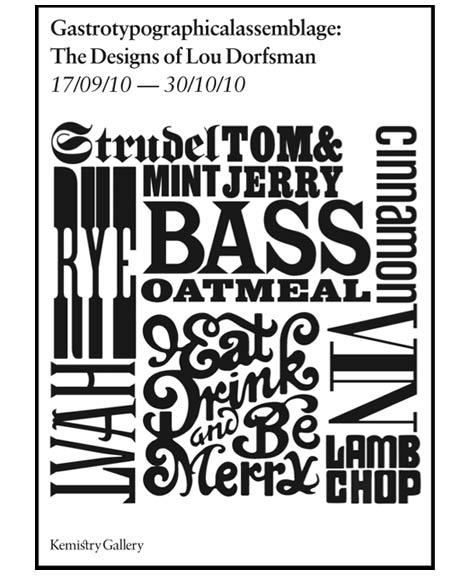 Kemistry Gallery is celebrating the work of legendary designer Lou Dorfsman, art director for the CBS network.
The exhibition centres on his most notable creation, the 11-metre wide handmade wooden typographic wall that he named Gastrotypographicalassemblage. Created during an era when designers were both artisans and well-trained communicators, the wall is the largest modern typographic artefact in existence, described by Michael Bierut as 'an irreplaceable piece of design history.' With custom type created by Herb Lubalin and Tom Carnase, the wall contains almost 1500 individual characters.
"There are few pieces that represent the typographic and design spirit that illuminated that moment of history, and certainly none on a scale as ambitious." Milton Glaser.
The gallery has been working directly with the saviours and restorers of the wall, designer and Dorfsman colleague Nicholas Fasciano, and Executive Director of the Center for Design Study, Rick Anwyl.
With over sixty original examples of Lou's art-directed work for CBS, featuring contributions from Al Hirschfeld and Milton Glaser, the exhibition serves to demonstrate Lou Dorfsman's skill in defining a brand to over 200 million people. Featuring historically significant print spreads and a half-scale two-dimensional reproduction of the wall, Kemistry Gallery have also commissioned parts of the wall to be reproduced for purchase along with a limited edition print.
(via Swiss Legacy)
—–
Related Books: Dorfsman & CBS
Also available for your viewing pleasure: Lubalin Now Exhibition

Enjoy this post?  Sign up for our tasty free grain edit RSS feed.
—–

Share on Facebook
TagsEvents
Share on Facebook