Jessica Hische Studio Visit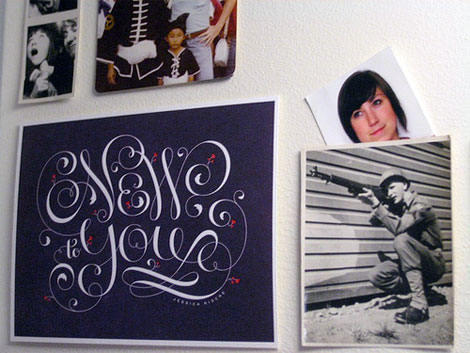 During a recent trip to New York, I had the pleasure of visiting the illustrious designer, Jessica Hische. In addition to creating wonderfully precise type, such as her Daily Drop Cap series, Jess carefully curates her incredible studio / home that I'm proud to feature on the site today. In today's studio visit, she gives us advice on collecting furniture, and has a pretty awesome surprise at the end! Take a peep…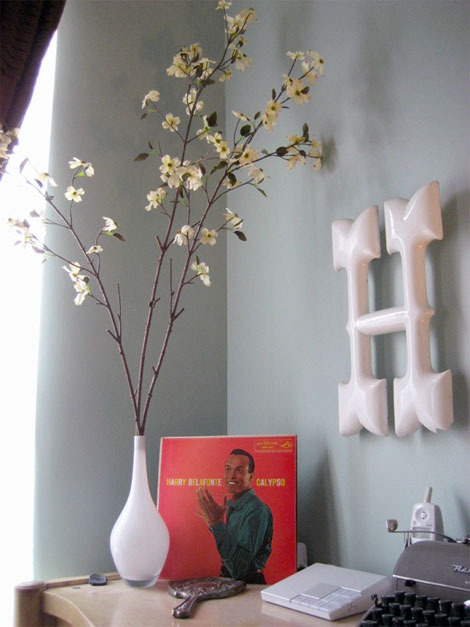 How long have you had your studio for?
[Since] November 2008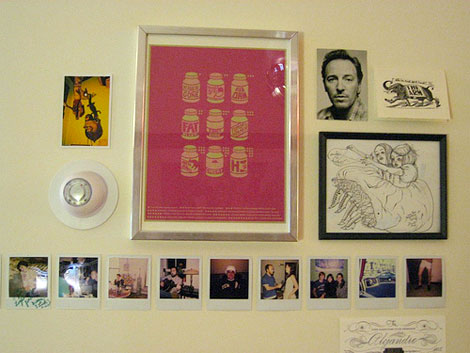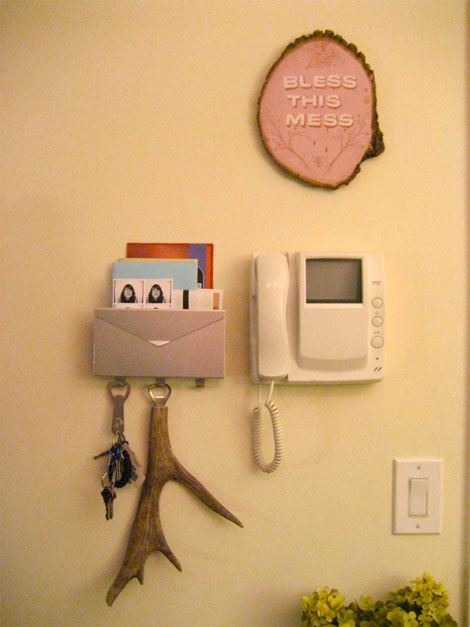 What do you like most about your space?
It feels warm. Because I did most of my decorating and painting last winter, everything is really bold and richly colored instead of light and airy. The color palette for the space is pretty much exactly the same as the color palette I use in my illustration work.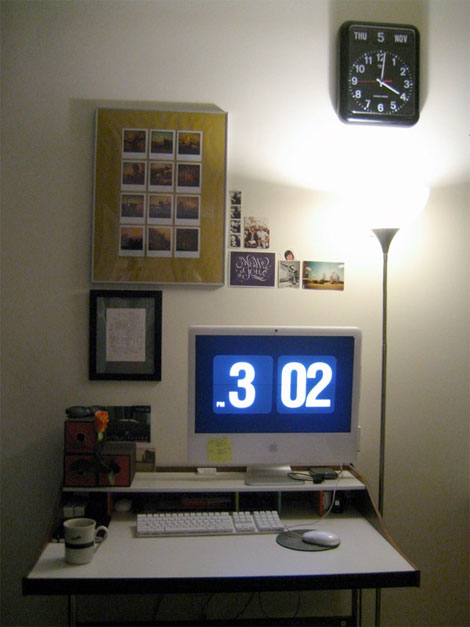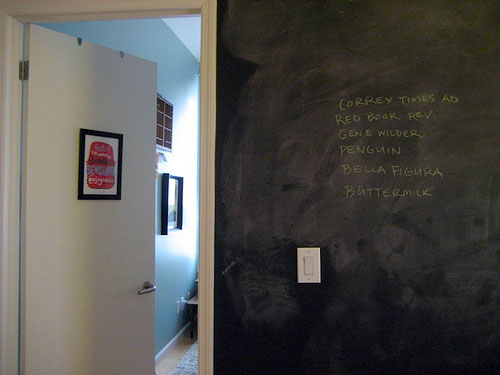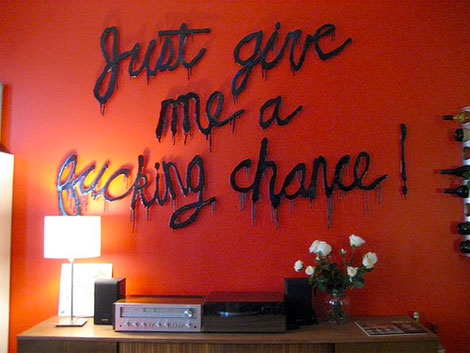 What are some of your favorite objects?
My Alex DaCorte piece "Just give me a fucking chance!," the intense 70's / 80's record collection I inherited from my mom (think "Meatloaf" not "New Order,") and the awesome artyporny framed photo my boyfriend took in college.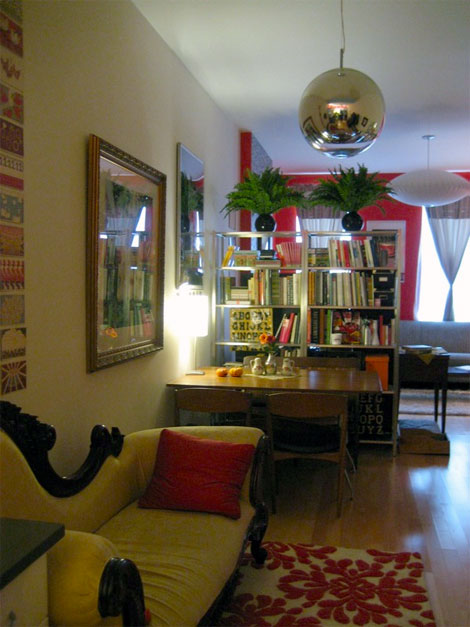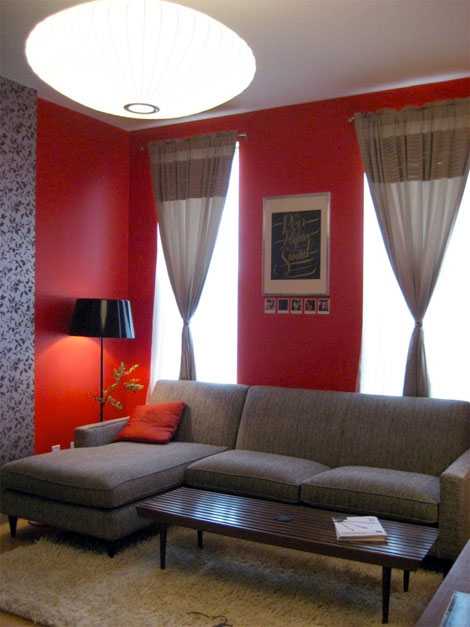 You have an amazing array of Mid-century modern furniture. How long has it taken you to collect your pieces? Do you have any tips on organizing and collecting?
It's taken me about a year to collect everything (except for my chaise lounge which I bought 4 years ago in Philadelphia). Tips: Buy a new, good sofa. Older sofas might look nice but they won't be as comfortable unless you do some major reupholstering and re-foaming. Buy mid-century or other good furniture one piece at a time, don't rush to furnish your apartment immediately. You'll find better pieces if you take your time and shop around. If it's part of a matching set, buy one of the other pieces too. You'll end up wishing you did or going back and buying it anyway later.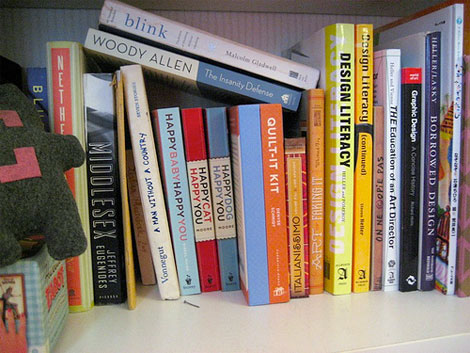 What are some of your favorite books?
Outliers by Malcolm Gladwell, A Brief History of Nearly Everything by Bill Bryson, and Eurostyle from Louise Fili and Steven Heller.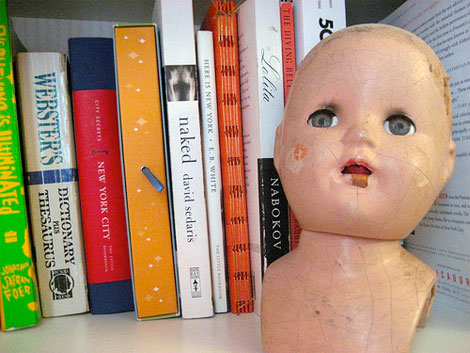 What's the story with the creepy baby head?
I worked for Louise Fili for a few years. One spring she was doing a big clean out of Steve's library and she brought the doll head into the studio along with a pile of other stuff that she wanted to get rid of (it was featured in a book with other dolls). I took most of it home just because I'd figure someone would want it. I'm not even really a fan of the doll head I just have been too lazy to find a new home for it!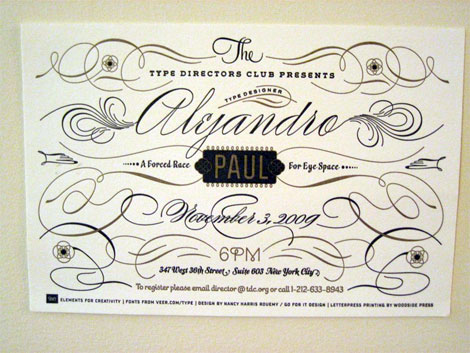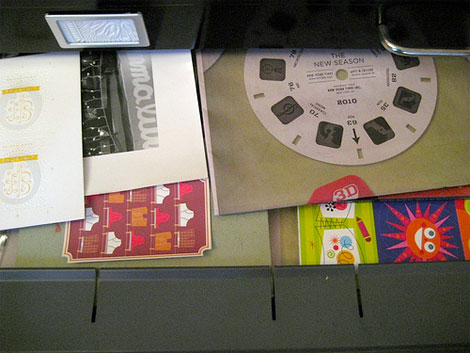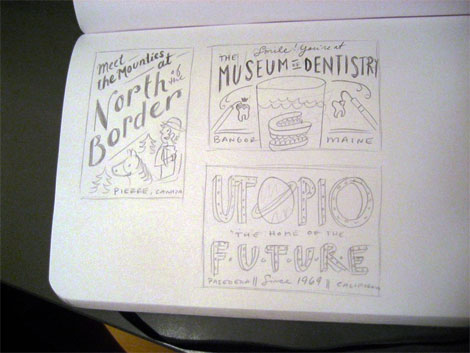 What are you currently working on? Do you have any exciting projects or happenings you'd like to share?
Currently, a gift card proposal for Target, prepping for a talk in Mississippi, putting together a notepads full of Day-Ruining Invoice's and an awesome letterpress print of the first set of Daily Drop Caps.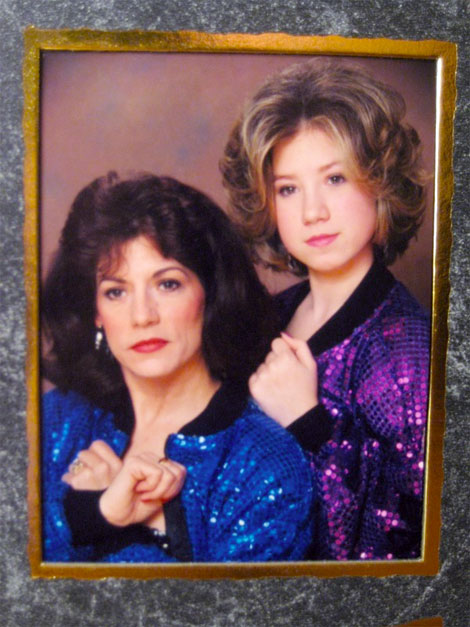 If you had to choose one artist or designer to take glamour shots with, who would it be?
Probably my friend Jason Kernevich (who is 1/2 of The Heads of State duo) because he would NEVER do it. And it would be hilarious to see a bearded dude in a sequined jacket.
A huge thanks to Jess for letting us take a gander at her studio!
——
Fonts by Jessica Hische: Buttermilk / Snowflake
Also worth checking: Lubalin Now Exhibition at Cooper Union & Herb Lubalin Archives.
Not signed up for the Grain Edit RSS Feed yet? Give it a try. Its free and yummy.
——

Share on Facebook
Tagsaccessories, Books, contemporary, graphic-design, Illustration, studios, Typography, USA
01.27.10 in Features by Grace Danico
Share on Facebook