Limited Edition Grain Edit T-Shirt Now Available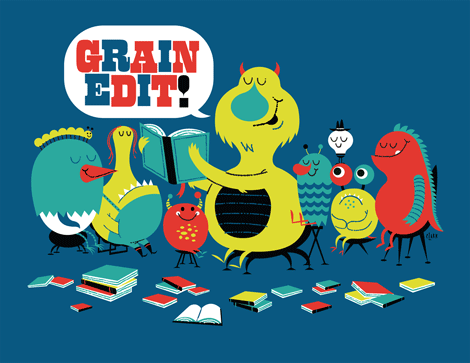 Grain Edition #01 – Limited Edition Grain Edit T-Shirt designed by Invisible Creature
We are excited to announce the Limited Edition Galaxy Blue Grain Edit T-Shirt is now available. The shirt was designed by Seattle's own Invisible Creature. We love the design and hope you do too! The 5 color t-shirt features a gaggle of cool creatures sitting down for story time (my favorite is the little guy with the red and blue eyes). Each shirt is lovingly screen-printed by the guys and gals over at Blue Collar Press right here in the good ole USA.
You can order the Limited Edition Galaxy Blue Grain Edit Shirt here.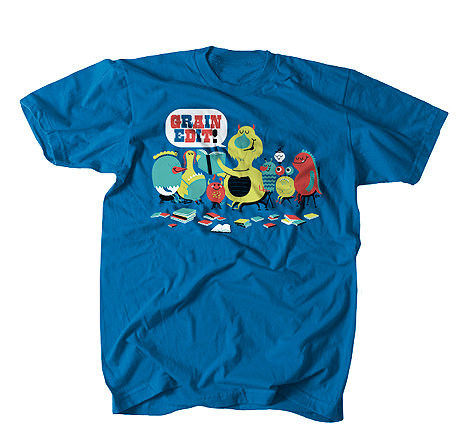 For More Details:
———
DETAILS:
5 color illustration screen-printed onto an American Apparel 2001 organic galaxy blue t-shirt.
-100% Organic Cottom
-available only at the grain edit etsy shop
-custom tags
-Made in the USA y'all
———
AVAILABLE SIZES:
Small / Medium / Large /
+++YOUR SIZE SHOULD BE SPECIFIED IN THE "Notes to seller" SECTION DURING CHECKOUT. +++
Extra Large coming soon (  please email me if you would like XL – use the contact button on right side of the ETSY shop, under grain edit info.)
———
AMERICAN APPAREL MENS SHIRT SIZING:
SMALL: chest 34-36″ waist 30-32″
MEDIUM: chest 38-40″ waist 32-33″
LARGE: chest 42-44″ waist 33-34″
XL: chest 46-48″ waist 36-38″
XXL: chest 48-50″ waist 40-42″
You can order the Limited Edition Galaxy Blue Grain Edit Shirt at our Etsy shop.
Thanks to everyone that pre-ordered a shirt. We mailed all the pre-orders out at the beg. of January. If your shirt is failed to arrive, please contact us through the contact button in the right column of our Etsy shop.

Share on Facebook
Tagscontemporary, t-shirts
01.26.10 in Grain Edit News by Dave
Share on Facebook