2009 Holiday Wish Lists (UPDATED)

Dear Santa, Hanukkah Harry, and Kwanzaa Ken:
Searching high and low across the vast realm of the interwebs, we've collectively compiled probably one of the hugest lists imaginable with some of our favorite artists! We've all been on our best behavior, assisting elderly ladies and gents across the street and working our fannies off. Please take a moment to give this list a good read, and say you'll bring some of these things our way!
Sincerely,
Grain Edit & Friends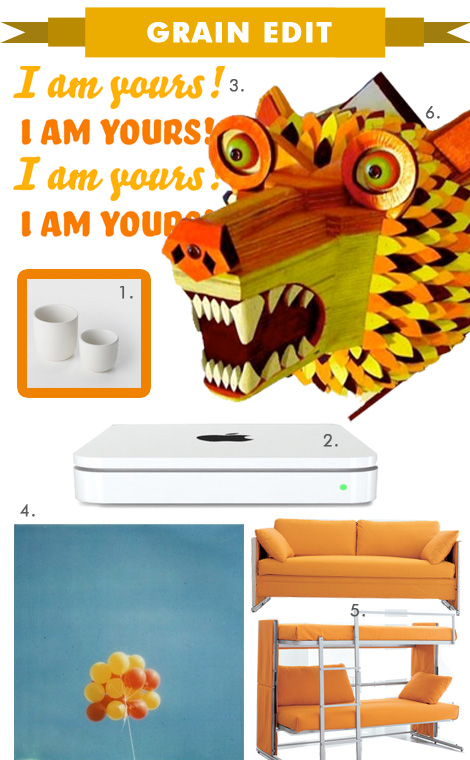 Dave
1. Heath ceramic cups
2. An Apple 1TB hard drive
Ethan
3. Bello typeface. It's big, bold, and beautiful. I want it. Bello? Will you be mine this holiday season?
4. Hula Seventy was one of the first photographers I really, really liked. I love all of her work, but this balloon photo takes the cake.
Grace
5. The DOC space saving sofa from Resource Furniture. If only my current sofa had these moves! It's perfect for watching movies and having overnight guests.
6. A sculpture by AJ Fosik. His creatures are mythical, colorful, and just plain mindblowing! I want to go to there.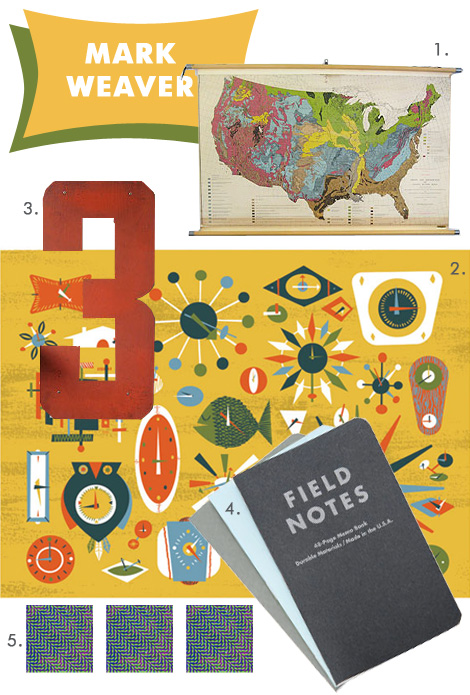 1. US Educational Map from Three Potato Four. I've always had a thing for vintage school maps and this is one of the best I've ever seen.
2. Invisible Creature "Time Will Tell" print. Someone tweeted a link to this recently and I fell in love with it. Mid-century eye candy!
3. Huge Wooden No. 3 from Three Potato Four. Any designer would want this hanging on their wall. I mean its a huge, red, condensed #3—what's not to love?
4. Field Notes "Just Below Zero." I will go on record and say that these are THE best pocket-sized notebooks around.  You can't lose when you combine Futura Bold with grid paper. And they're cheap as hell! I never leave home without one.
5. Animal Collective Merriweather Post Pavilion LP. I can't tell you how many times I've listen to this album in the past year, which is why I need it on vinyl.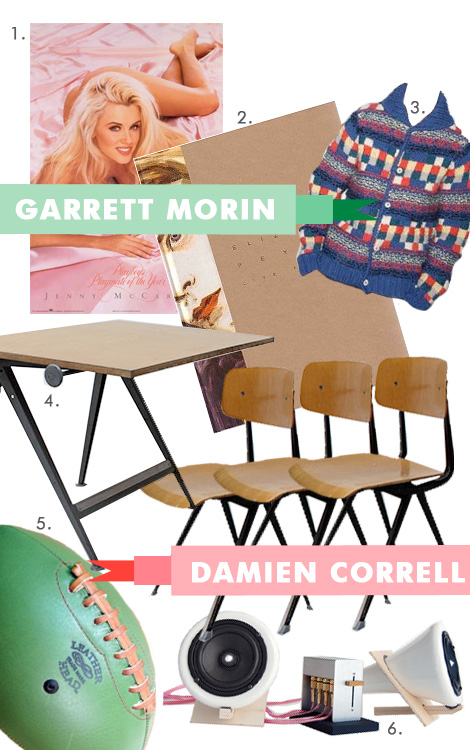 Part & Parcel
Garrett Morin
1. Jenny McCarthy Playmate of the Year poster. Had this poster when I was 13. Was on the back of my door so my mom couldn't see it. Bought it at Newbury Comics.
2. Book Elizabeth Peyton: Live Forever. I missed the show of the same name at the new museum last year but recently saw a piece in the drawing exhibition at Moma. Blew me away not to mention her subjects. Roll with it.
3. Folk Sweater. Folk is definitely in my "Top Sites" right behind Jenny McCarthy Google image search.
Damien Correll
4. Friso Kramer Drafting Table. Not sure what isn't to love about this. I WILL own one someday.
5. LemonBall Football.  A piece of sport that I wouldn't be embarrassed to own.
6. Joey Roth's Ceramic Speakers. They look beautiful and sound amazing, or maybe that's the other way around.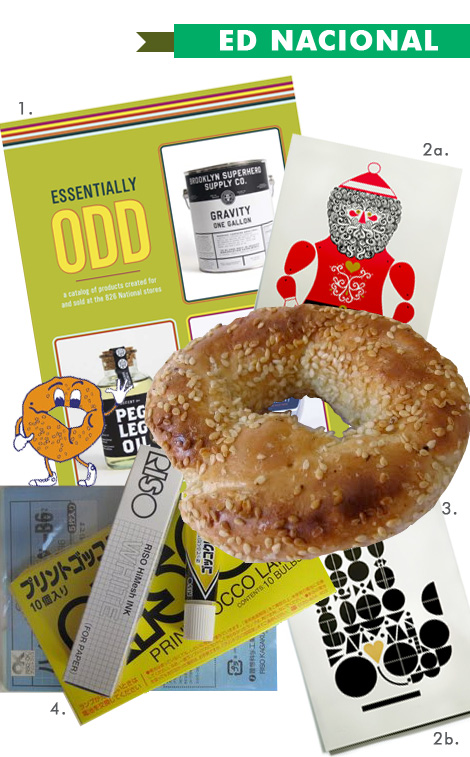 1. Essentially Odd: A Catalog of Products Created For and Sold at the 826 National stores. For two reasons: one, the design of the products are amazing and secondly I love and support the mission of 826.
2a. & 2b. One of these Marilyn Neuhart prints from House Industries. So many good choices for prints right now, it was hard to choose. Jim Datz and Lab Partners prints were close runners up.
3. I have been craving a montreal bagel lately.
4. Santa, please save Gocco. Or at least send me a healthy stack of bulbs and screens so I can get rid of the anxiety I have each time I use it.
5. Affordable Studio Space for the new year – with enough space to have a silkscreen setup (save some room for a letterpress someday too)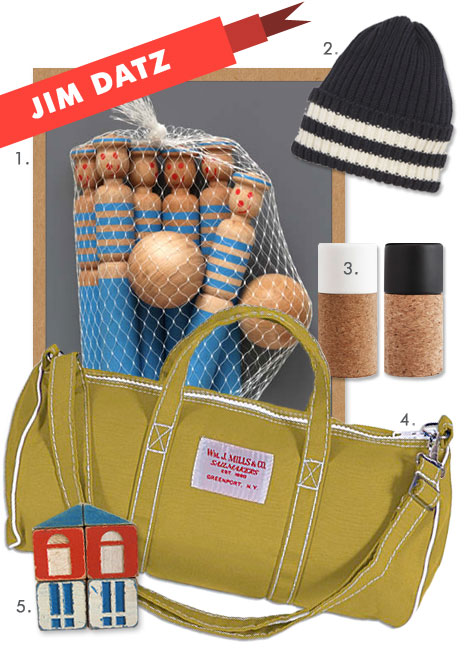 1. Sailor Skittles from Labour + Wall. In my handcrafted wood fantasy world, these good-postured French chaps live (paradoxically) in the belowmentioned wood block house. But their place is so tiny, they're forced to spend most days outdoors, trading wooden balls for gentle insults and demanding tartine de baguette.
2. British Wool Striped Bobcap from J. Press. Heritage for the head. Keeps the good ideas from floating away.
3. 58 Degree Salt + Pepper Shakers. A moment of silence for a home rapidly filling with illustrated objects. Necessary vessels reduced to their most essential, but still packed with personality.
4. The Shelter Island Duck Duffel from Wm. J. Mills & Co. I already own the Ice Block Tote. But the duffel would round out the necessary luggage for a long summer weekend-by-the-sea. PS. these things are so indestructible, you'll probably only buy one for life.
5. Scandinavian Pattern Block House from Three Potato Four. Can you believe this thing? Why would you want to live anywhere else? A happy story about the perfect home, told in six lovingly-painted hunks of weathered wood. Also helps that the bottom blocks double as exclamation points!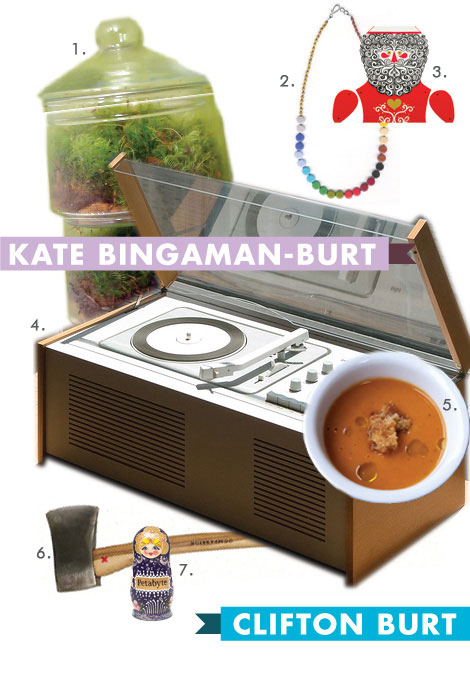 Kate Bingaman-Burt
1.Three Phases of The Moon Moss Terrarium. I want to live in Terrariums. Or at least surround my drawing table with them.
2. Ronni Kappos Rainbow Multi Disk & Black Bead Necklaces. I am not really a jewelery person, but this piece has been on my brain lately. It would be like having adobe kuler around your neck.
4. Braun SK 6 by Dieter Rams. This is totally beautiful and totally out of my reach…
5. I would love to have unlimited gift certificates to The Portland Soup Company cart which is located a block from my workspace at Portland State. I could eat their tomato soup everyday. and I usually do.
Clifton Burt
3. Mary Neuhart Santa print from House Industries. Wow, I love this print!
6. I'm obsessed with these axes. They're made by the Best Made Co which is Graeme Cameron and Peter Buchanan-Smith, the graphic designer of Wilco's A Ghost is Born among many other things.
7. Moscow's Art Ledbedev is the weirdest most awesome design firm. I totally don't get them but I love the stuff they come up with. Could their possibly be matryoshka dolls cooler than these? Nope.
8. With an unlimited membership to the Auteurs, I could and would watch every single film on there. I don't know where I'd find the time, but I would find it…somehow.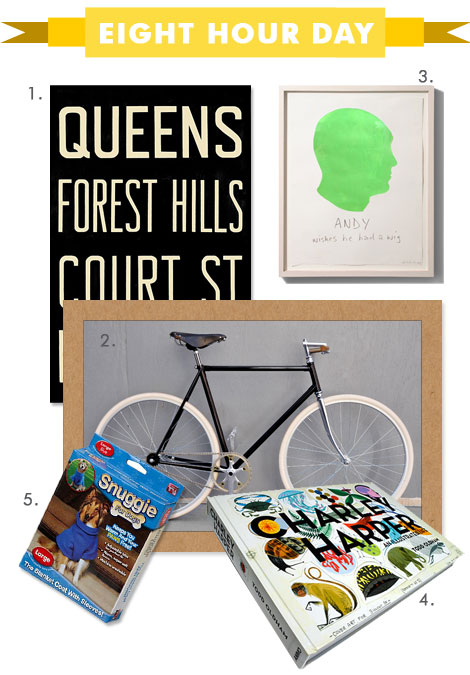 Him (Nathan Strandberg)
1. New York Subway Scrolls. After our month long stay in Brooklyn I can't stop thinking about the fantastic visual history of subway signage.
2. A Custom Bike Built By Bertelli. I'm a big fan of bikes; building them, riding them, or just drooling over them online…
Her (Katie Kirk)
3. Carter Kustera custom portraits (for Jonathan Adler). I think they are so fun and personal – I want 3, can you guess who…
4. Charley Harper: An Illustrated Life. I'm probably the last person in the design world to not have this book… I think it may be a little Christmas gift to myself.
Eli
5. Snuggie for dogs. You know, for relaxing at home and the studio.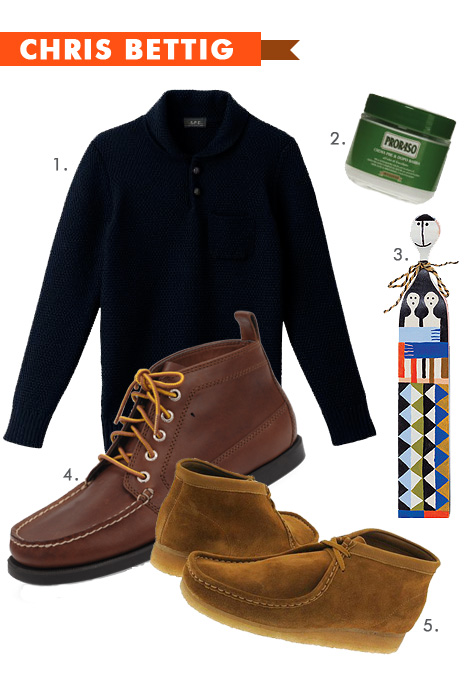 1. A P C heavyweight sailor pullover.
2. Proraso pre/post shaving cream.
3. Alexander Girard wooden doll (#5).
4. Eastland Seneca Boot.
5. Clark's Wallabee Boot – Chestnut Suede.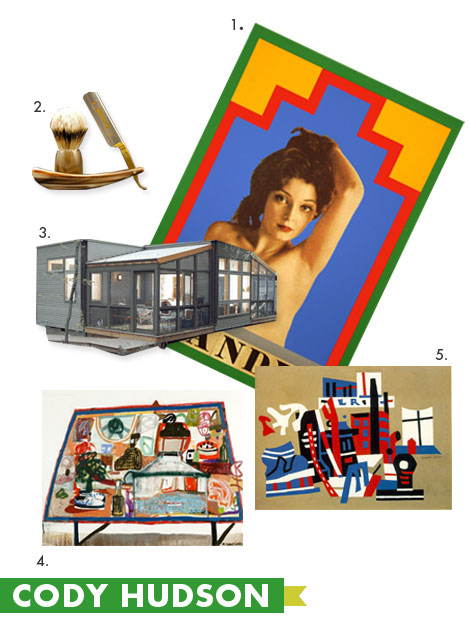 1. Sir Peter Blake – Kandy – silkscreen 455mm x 660mm. Sir Peter Blake is up there on my list of influential artists.
2. Dovo Buffalo Horn straight razor and brush set. Nothing like a straight razor shave every few months to keep things feeling mellow.
3.Summer studio at Tryon Farms in Michigan City, IN. An hour away from Chicago, a good place to spend the summer and practice my BBQ skills.
4. Eddie Martinez – Untitled painting 2008. Everyone needs one of these hanging in the living room.
5. Stuart Davis – New York Waterfront, oil on canvas, 1938. Looks good next to the Eddie Martinez.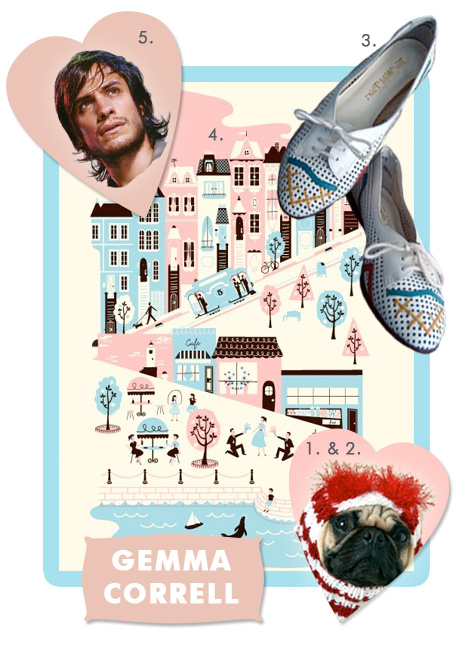 1. A Pug, obviously.
2. This hat for the Pug to wear.
3. This print by Lab Partners.
4. These shoes.
5. Gael Garcia Bernal, please.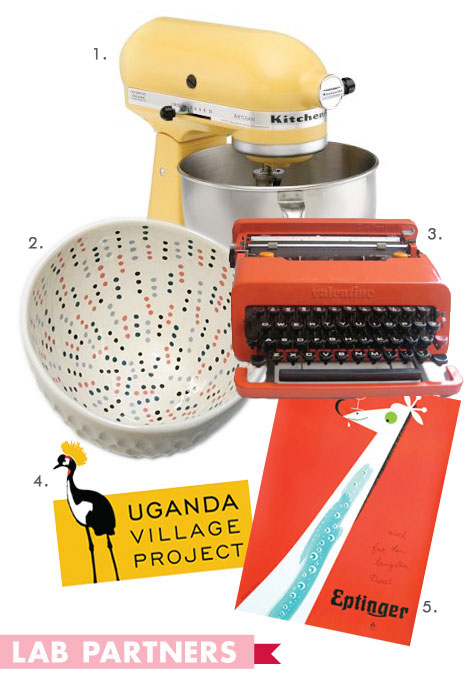 1. Kitchen Aid Mixer in yellow, please.
2. Beautiful little bowls from Rare Device.
3. A restored Olivetti typewriter from Three Potato Four.
4. A donation to Uganda Village Project, an charity organization run by a good friend of ours that address rural healthcare in Uganda.
5. This rad Herbert Leupin Poster.
1. Jim Flora – Gene Krupa. This is a link to a print, but I want the original vinyl. I've been searching for this for quite a while with no luck. Can some kindly elf hear me out there?
2. Nelson Swag Leg Desk. A real man needs a respectable place to do his work.
3. Alexander Girard wooden dolls by Vitra. I think I'm the only dude asking for dolls for Christmas. But I've been REAALLY good this year.
4. Custom Hand-lettered sign from Three Potato Four. It should probably say "Frank's Idea Fabrication Amalgamated" or some such.
5. Dave's Book Collection. Or at least a library card. Am I right?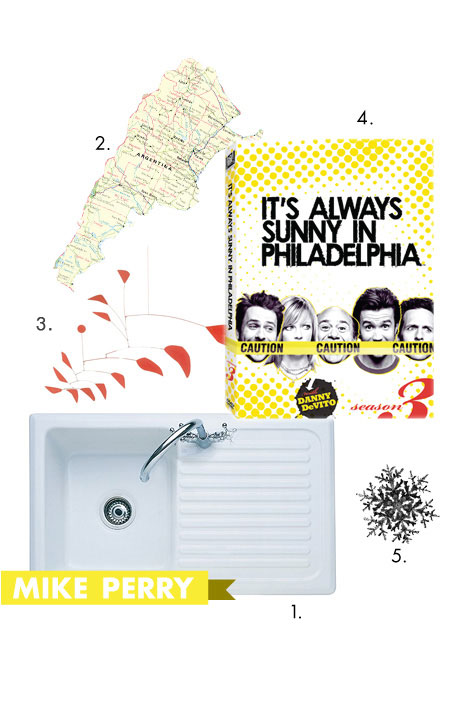 1. A new kitchen for the brown stone I just purchased.
2. A trip to Buenos Aries with friends.
3. An Alexander Calder mobile.
4. A day on the couch with all new episodes of "Its Always Sunny in Philadelphia."
5. A mild winter with a solid few days of snow.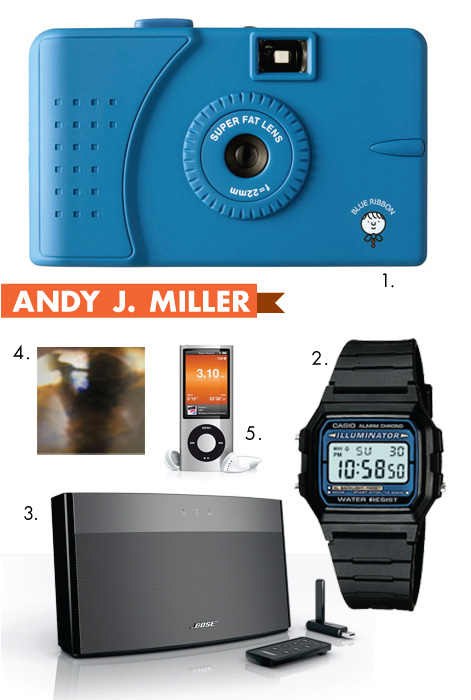 1. Blue Ribbon Wide Angle Camera from Poketo
2. Casio [F105W-1A] Watch
3. Bose Soundlink Wireless Music System
4. Animal Collective – Fall Be Kind EP
5. Nike + iPod Sports Kit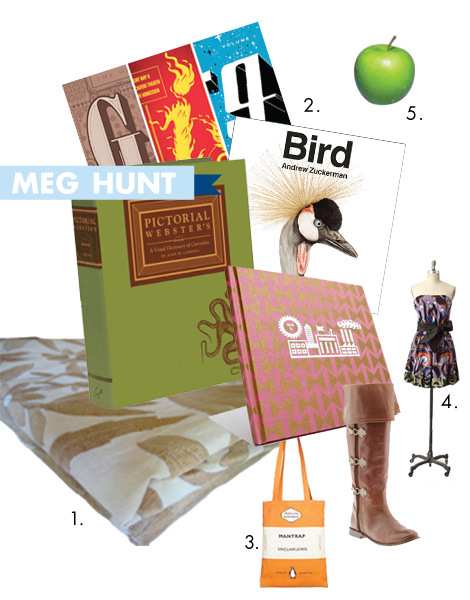 1. A Mexican Otomi bedspread, preferably in red, gold, or gray.
2. A wall-to-wall bookshelf filled with books on design, comics, treasured novels, and reference material/inspiration. Books like Bird, Pictorial Webster, Gig Posters Volume 1, the Alexander Girard book, some more Haruki Murakami and Richard Brautigan novels… way too many books I want to list!
3. This adorable Penguin Book Bag! Who doesn't want to tote a bag that looks like a lovely-designed book?
4. A fancy retro-patterned dress I wouldn't afford myself, to pair with fun opaque tights,  and while I'm at it, maybe an awesome pair of boots.
5. A share of a CSA to get local produce to cook with every week!
*And I know this isn't a specific gift, but: the best thing I could get for Xmas would be more amazing clients hiring me to do dream jobs! The opportunity to draw a children's book or design some housewares, things like that; making magic through art (to me) is really the best gift of all.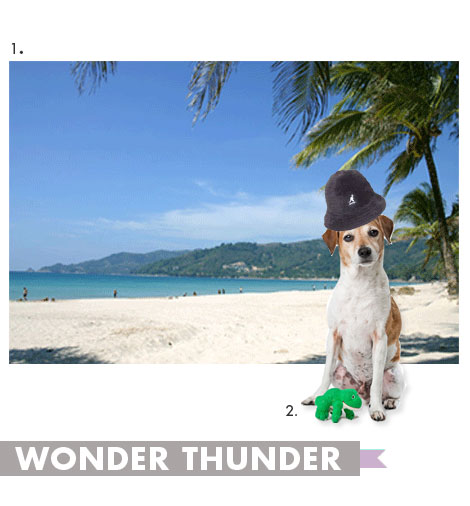 Sasha Barr + Meagan Hall
1. A vacation
2. A dog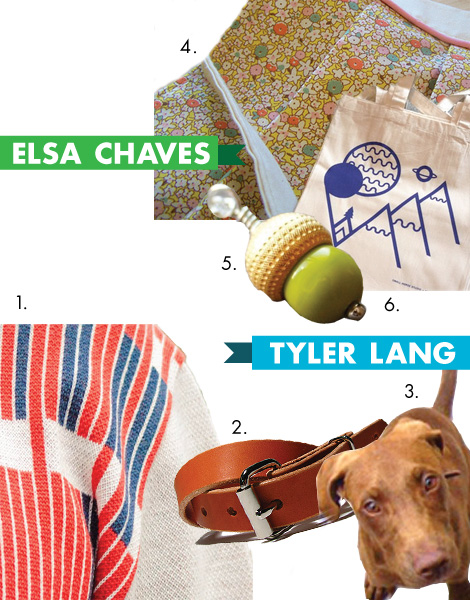 Always With Honor
Tyler Lang
1. Newsknitter is a project that produces a sweater based on days worth of new feed from the internet.
2.Tanner Goods. Local Portland leather goods, love their belts and cardholders.
3. Found My Animal. Natural rope dog leashes and other classy accessories, with focus on adopted animals.
Elsa Chaves
4. To look classy while I cook- a handmade apron from lanolyn.
5. So I remember to go outside- a green acorn necklace from Neawear.
6. To make even a trip to the grocery store epic- a Malacandra tote from Small Horse Studio.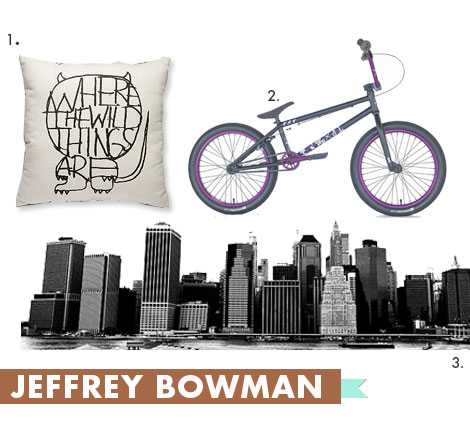 1. Where the wild things are pillow.
2. We the People Emil Kozak BMX.
3. A holiday/house in New York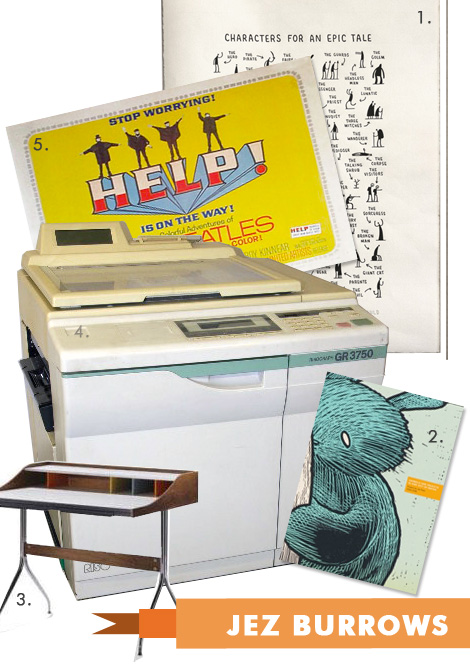 1. Tom Gauld 'Characters For An Epic Tale' letterpress print. Luckily I asked Father Christmas for this before it sold out. I love Tom Gauld's work very much indeed.
2. Jay Ryan's new book, Animals and Objects In And Out Of Water. I own no Jay Ryan prints because I can never choose just one. This new book of his is probably the best solution – a ton of his favourite work, as well as an essay by Joe Meno and an introduction by Andrew Bird. The best!
3. Herman Miller Swag Leg Desk. Probably the most beautiful desk you'll ever see. I saw this in a store in Stockholm and was close to chaining myself to it. Likelihood of me ever owning this: 4%
4. Risograph Duplicator. RISO is the company that manufactures Gocco printers, but they also make these interesting looking printers which seem half way between a photocopier and a screen-printing bed. They seem like they'd be awesome for zines or small publications and prints.
5. The Beatles – Help! (DVD, 1965). Does this need explaining? Unashamedly goofy and totally brilliant.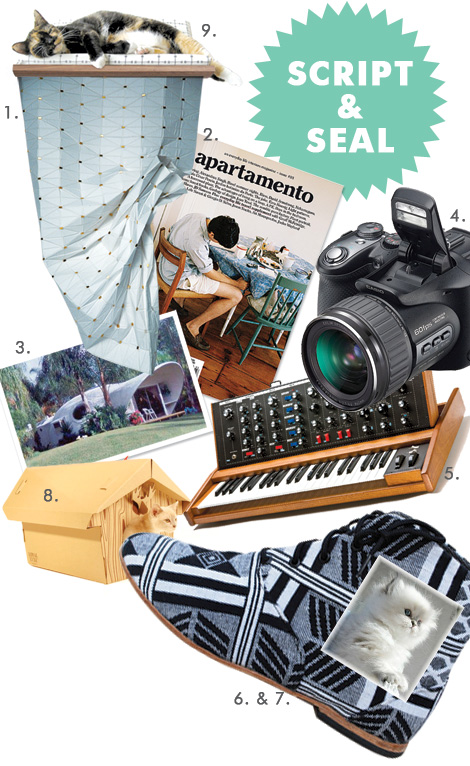 Script + Seal
Gavin Potenza
1. Magnetic Curtain by Florian Kräutli
2. A subscription to Apartamento Magazine
3. This house
Liz Meyer
4. Casio Exilim Pro EX-F1 High-Speed Digital Camera
5. Minimoog Voyager
6. Osborn Booties
Toby the Cat
7. A buddy
8. A little house (Toby loves to crawl into things)
9. Wall Mounted napping areas
——————–
A HUGE thank you and bear hug to all the artists for sharing their holiday wish lists!
We'd like to know what's on your wishlist! Let us know by leaving a comment or following us on twitter.
Also worth checking out: Grain Edit's Holiday Giveaway Bash
Not signed up for the Grain Edit RSS Feed yet? Give it a try. Its free and yummy.
——————–

Share on Facebook
TagsART, gift guide, holiday wish list 2009, merrychrismahanukwanzaaka, misc. goods
12.16.09 in Uncategorized by Grace Danico
Share on Facebook