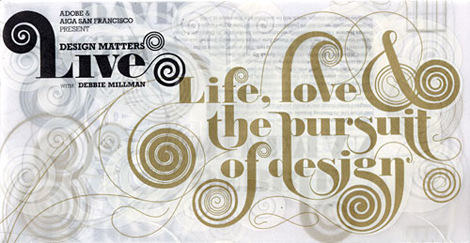 This is the last of the four part lecture series featuring Alan Dye, Creative Director with Apple's graphic design team. Alan's work has been recognized by a number of design shows and publications, he recently spoke at the AIGA's "Fresh Dialogue" event, and was also selected by Print Magazine as one of their New Visual Artists in the annual 20 under 30 issue in 2003. Event will be held at Adobe Systems Incorporated, 601 Townsend Street San Francisco.
Thursday, Nov. 8th from 6-9pm, AIGA Members: $15, Non-Members:$20
For more information please visit the official Design Matters Live website.

Share on Facebook
10.10.07 | Dave | Design Events |
1 comment
Share on Facebook