Recently Received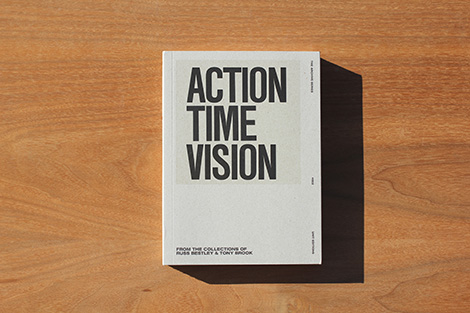 We've received some amazing items in the past few months including books from Unit Editions, Princeton Architectural Press, Flying Eye, and more. If you're looking for gift ideas, there's plenty to choose from in here.  See the complete collection after the jump.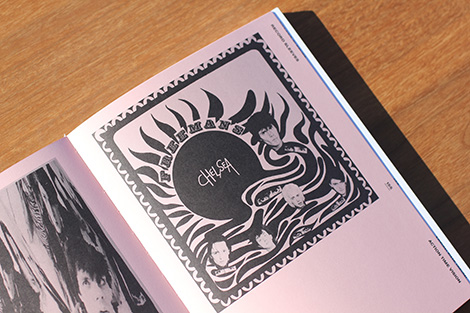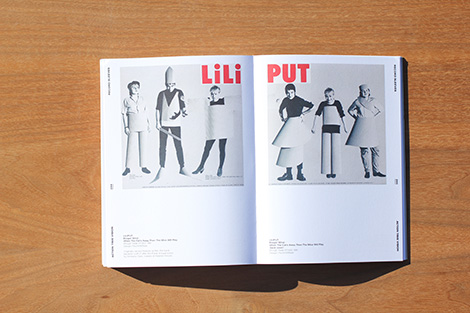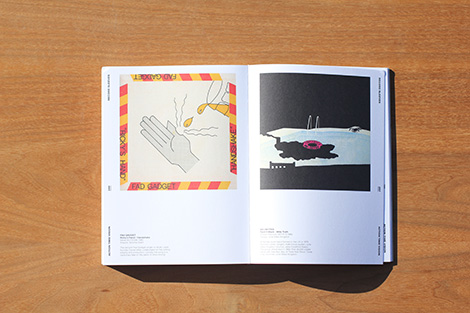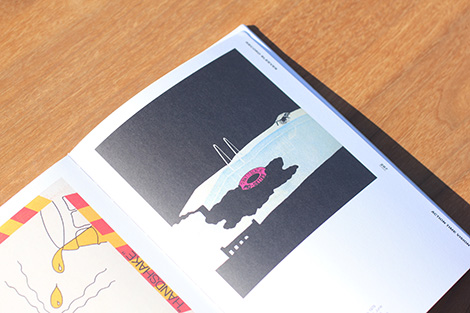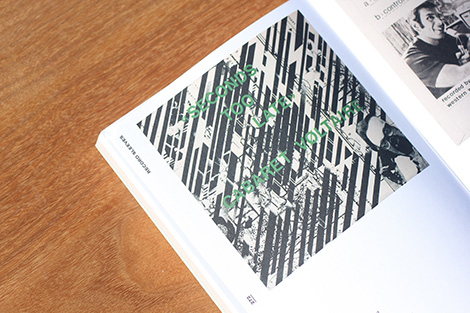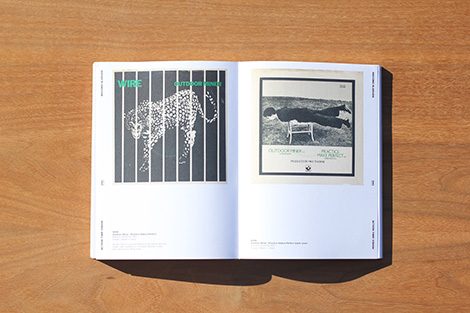 Action Time Vision
Editors: Tony Brook & Adrian Shaughnessy
Consultant Editor: Russ Bestley
Published by Unit Editions
320 pages
Action Time Vision: Punk & Post-Punk 7″ Record Sleeves [Unit 26] is a celebration of DIY graphics from the punk and post-punk eras. You might call it outsider graphic design.
Few of the sleeves showcased here are beautiful in the normal sense of the word. But they all have an urgency and an exhilarating disregard for design conventions that makes them exceptional. They are all clarion calls for independence and freedom from pop industry norms.
The work in this book is culled from the record collections of designer (and Unit Editions co-founder) Tony Brook, and leading punk scholar Russ Bestley. As one of the world's leading authorities on punk and post-punk music, Russ has contributed an insightful essay to the book.
Available at Unit Editions and your local bookshop.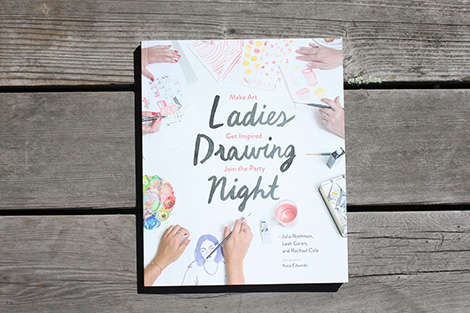 Ladies Drawing Night
By Julia Rothman, Leah Goren, and Rachael Cole / Photography Kate Edwards
Published by Chronicle Books
160 pages
Speaking directly to today's explosion of creativity, Ladies Drawing Night is for women looking to deepen their creative connections and expressions. Join rock star illustrators Julia Rothman, Leah Goren, and Rachael Cole for ten evenings of fun and art-making. Each night is led by a talented guest artist and themed around a particular topic, from large-scale ink painting to making art with kids. Samantha Hahn, Mary Kate McDevitt, Joana Avillez, and many more share their expertise. Each chapter includes loads of exciting artwork, insights about drawing, and instructions for that night's project.
Available at Amazon, Chronicle Books, and your local bookshop.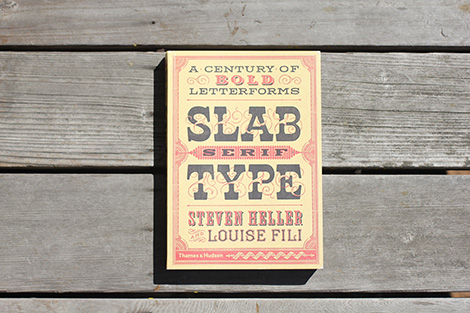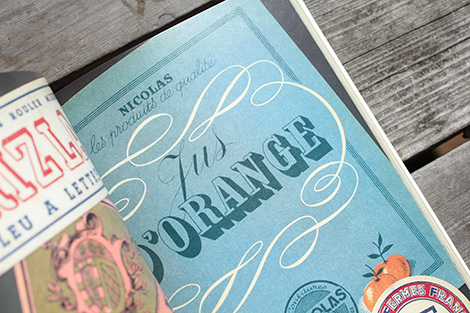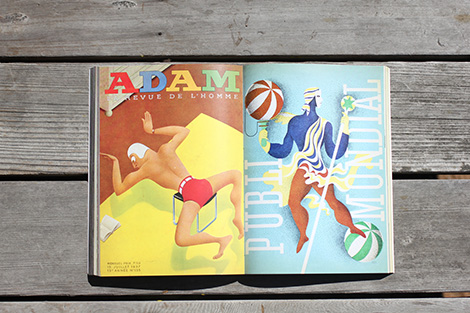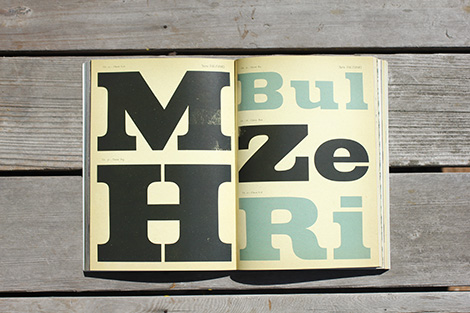 Slab Serif Type: A Century of Bold Letterforms
By Steven Heller and Louise Fili
Published by Thames & Hudson
352 pages
The slab serif typeface—in their classic form, wood types made for large-scale posters, ads, and newspapers—may not be as all-purpose as the gothic or sans serif, but it is equal, if not more powerful, in graphic appeal. Since being introduced in the nineteenth century, slabs have become ubiquitous and are today as popular as ever.
Following the cult typography volumes Scripts, Shadow Type, and Stencil Type, this new volume comprises an artfully curated selection of hundreds of international and classic examples to inspire fresh and unexpected typographic ideas.
Available at Amazon, Thames & Hudson, and your local bookshop.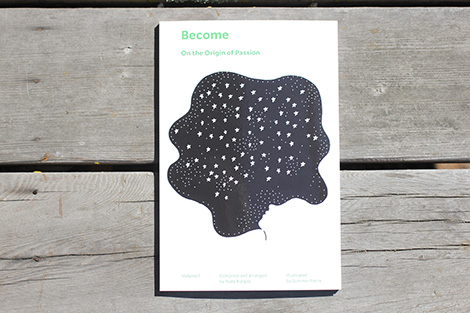 Become: On the Origin of Passion
Compiled and arranged by Nate Burgos / Illustrated by Summer Pierre
Published by Design Feast
115 pages
This collection of stories addresses the phenomenon of finding your passion. That much-mentioned drive that people want, even crave. Whether it's something you find or something that finds you, passion is an essential and necessary ingredient to a satisfying life. Passion is especially relevant when considering that life-consuming reality called work.
Available at Design Feast and your local bookshop.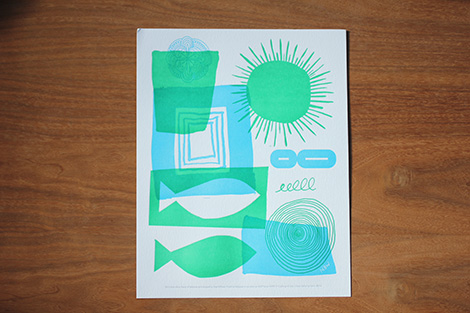 Nature is the Answer
By Nate Williams
For the second edition in the Lustig Elements Collection, illustrator Nate Williams gives you the bold, playful energy of the sun and sea to hang in your home or office, to remind you of the joy of the seashore all year long. Each edition is lovingly letterpress printed in two colors by Fabrik on The Design Collection Papers by Neenah.
Available at The Beauty of Letterpress by Neenah Paper.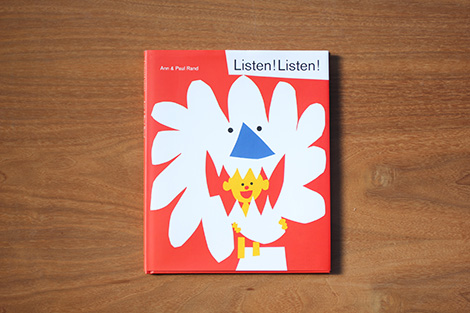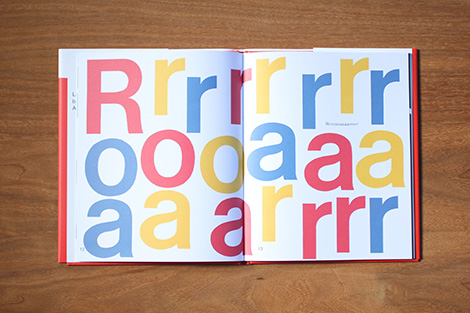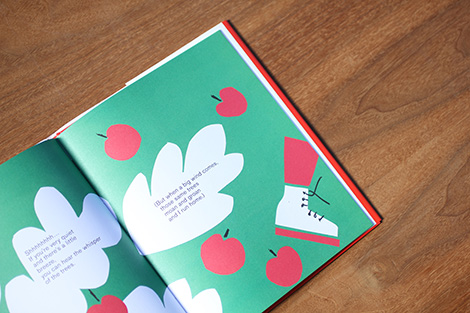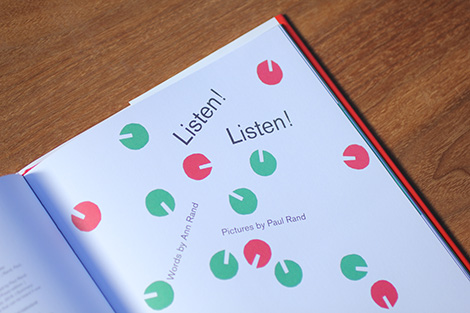 Listen! Listen!
By Ann & Paul Rand
Published by Princeton Architectural Press
32 pages
Paul Rand and his wife, Ann, wrote this book for their daughter, Catherine, to explain the interplay of sound and color. Rand's distinctive paper-cut illustrations of bold shapes and bursts of color beautifully complement Ann's rhythmic text, encouraging children to listen and repeat noises they hear every day: the "blop" of a raindrop, the "wham!" of a shutting door, the whisper of the wind in the trees, and the "crunch crunch" of buttered toast.
Available at Amazon, Princeton Architectural Press, and your local bookshop.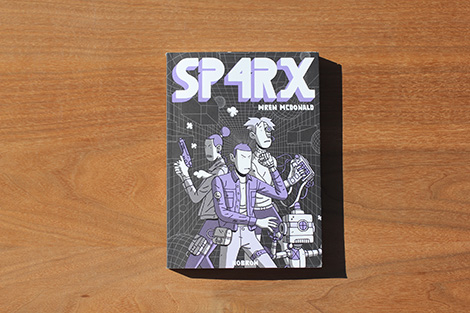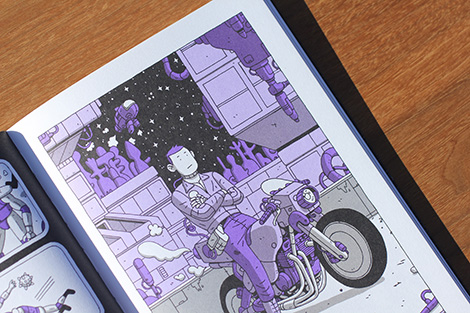 SP4RX
By Wren McDonald
Published by Nobrow Press
120 pages
SP4RX is the story of mankind clawing for survival. Set in a future where a class system has emerged, the world is divided into four levels, with the elite ruling from the extravagant top level.
SP4RX, a young hacker who lives off grid, hacks into corporations and sells stolen data to wealthy buyers on the black market – just your average thief. Mega corporation Structus Industries introduces a welfare programme called the "Elpis Program", which allows the working class to apply for Cybernetic implants to make workers more efficient. On the surface, it seems like a programme to empower the poor and allow them to rise to the ranks of the elite. But SP4RX soon discovers all is not as it seems… SP4RX and Structus are set on a collision course with the fate of humanity at stake in Wren McDonald's latest sci-fi tale of survival and corruption!
Available at Amazon, Nobrow Press, and your local bookshop.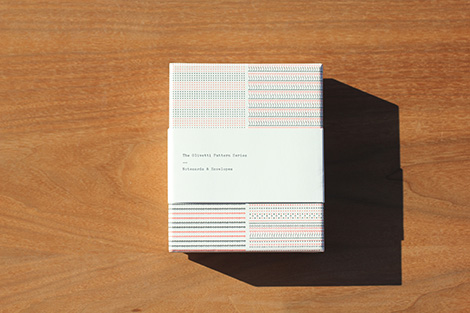 The Olivetti Pattern Series: Notecards and Envelopes
Published by Princeton Architectural Press
The Olivetti typewriter is an icon, both as a design object and as the favorite writing tool of authors as diverse as John Cheever, Leonard Cohen, and Francis Ford Coppola. This elegant notecard set features four distinctive patterns made on the beloved Olivetti Lettera 32. With classic red-and-black printing on off-white paper, these cards are the perfect all-occasion notecard for the typophile, design maven, aspiring writer, or anyone who reveres the printed page.
Available at Amazon, Princeton Architectural Press, and your local bookshop.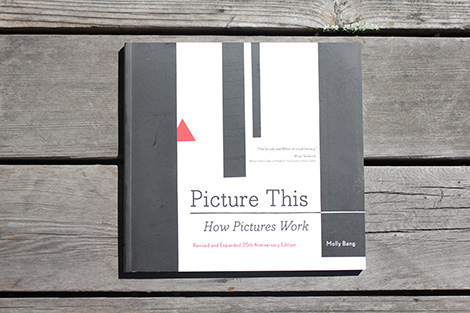 Picture This
By Molly Bang
Published by Chronicle Books
152 pages
Molly Bang's brilliant, insightful, and accessible treatise is now revised and expanded for its 25th anniversary. Bang's powerful ideas—about how the visual composition of images works to engage the emotions, and how the elements of an artwork can give it the power to tell a story—remain unparalleled in their simplicity and genius. Why are diagonals dramatic? Why are curves calming? Why does red feel hot and blue feel cold? First published in 1991, Picture This has changed the way artists, illustrators, reviewers, critics, and readers look at and understand art.
Available at Chronicle Books and your local bookshop.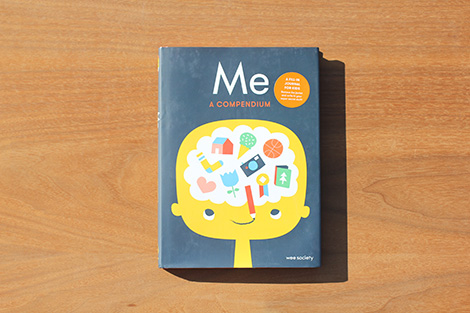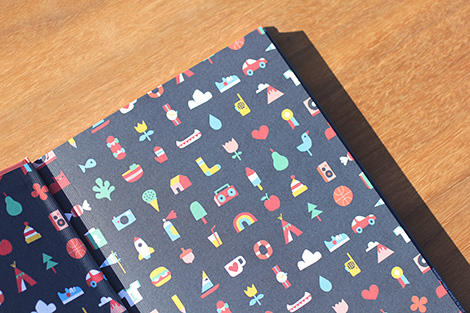 Me: A Compendium
By Wee Society
Published by Clarkson Potter
96 pages
Inventive, hilarious and joyously colorful, this fill-in journal was designed to help kids capture nearly everything that's uniquely rad about them. With design-savvy, yet completely kid-friendly illustrations, they're asked to draw or write about a bunch of interesting things — like what their hair looks like, what their band name would be, what they'd bring to outer space, and how they feel about lightning, lizards and pickles.
Available at Amazon, Penguin Random House, and your local bookshop.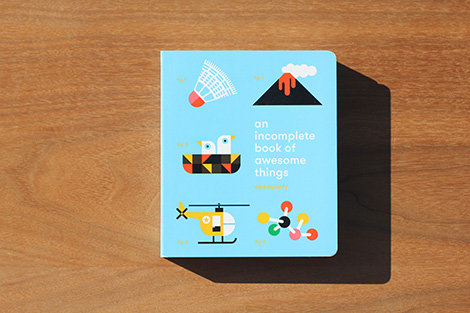 An Incomplete Book of Awesome Things
By Wee Society
Published by Clarkson Potter
38 pages
A celebration some of the world's most universally awesome (but perhaps overlooked) things: masking tape, tunnels, lava, argyle, elbows, and more. The incomplete compilation — featuring beautifully minimal, vibrant illustrations — was designed to boost kids' vocabulary, share giggles, and spark conversations.
Available at Amazon, Penguin Random House, and your local bookshop.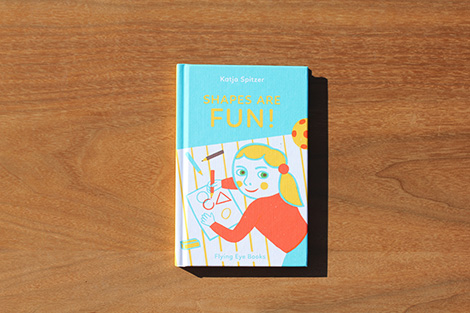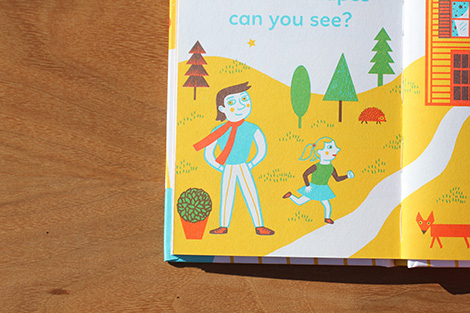 Shapes Are Fun
By Katja Spitzer
Published by Flying Eye Books
48 pages
Perfect for Small hands, this mini hard-hardback book is a gentle introduction to shapes. Katja Spitzer's vibrantly quirky illustrations encourage early learning and make this book a joy to own and read for any young child.
Available at Amazon, Flying Eye Books, and your local bookshop.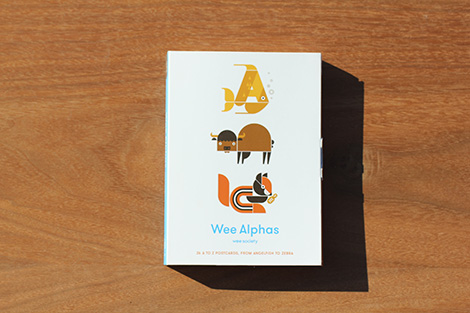 Wee Alphas: 26 A to Z Postcards, from Angelfish to Zebra
By Wee Society
Published by Clarkson Potter
26 cards
This imaginative take on the alphabet features 26 Wee Alphas postcards, each created with a "hidden letter" to find.
Based on the award-winning Wee Alphas kids' app, the postcards feature quirky illustrations of Biki the Buffalo, Ulysses the Unicorn, Yolanda the Yeti, and their furry, feathered, or finned friends. The cards are bound into a fold-out accordion format that can be displayed in its entirety, or they can be detached to separately display or share.
Available at Amazon, Penguin Random House, and your local bookshop.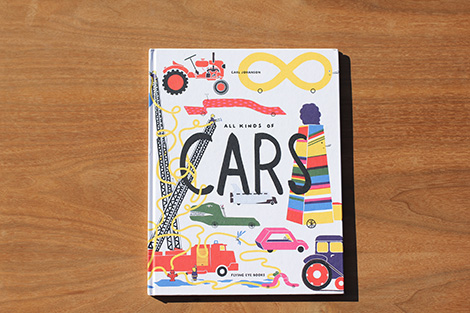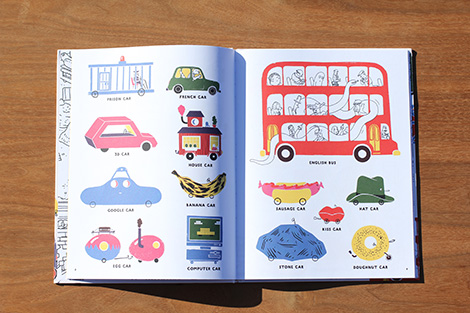 All Kinds of Cars
By Carl Johanson
Published by Flying Eye Books
40 pages
From the wonderfully imaginative mind of Swedish illustrator Carl Johanson, this partly true, partly fictitious book is a fantastic visual collection of cars and other wacky forms of transportation.
Taking the form of a catalogue, Johanson's book identifies the ordinary along with the extraordinary – from fire engines and snowploughs to galactic buses and guitar cars. All Kinds of Cars is a playful mix of existing and imaginary, creating a zany book enjoyed by adults and children alike.
Available at Amazon, Flying Eye Books, and your local bookshop.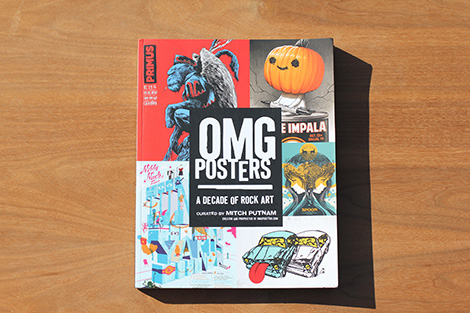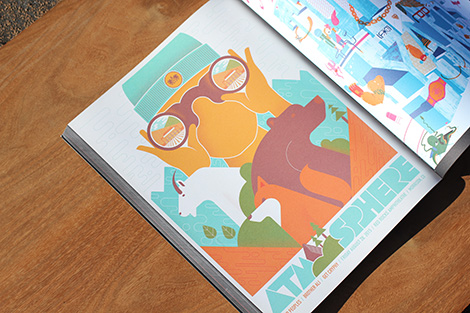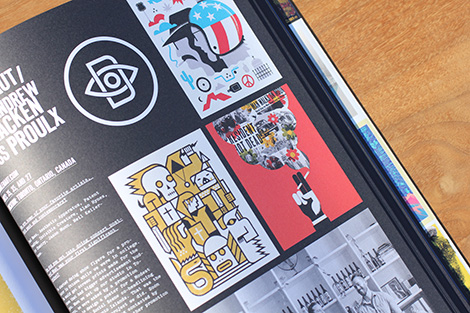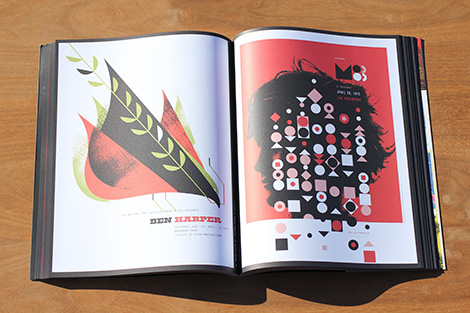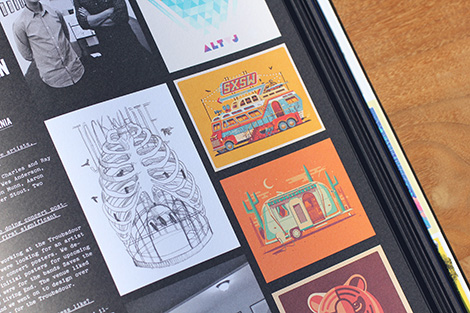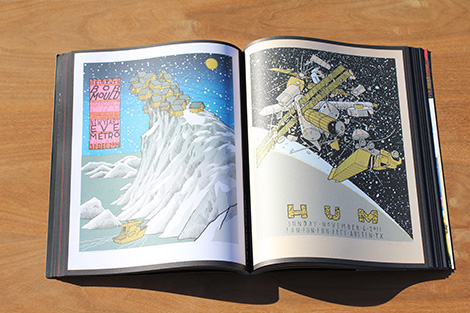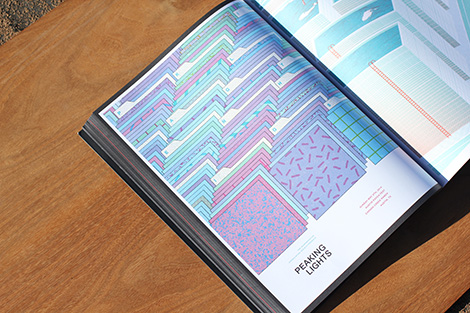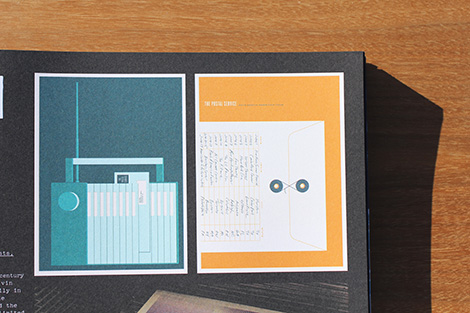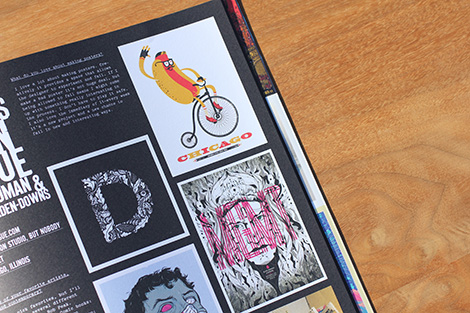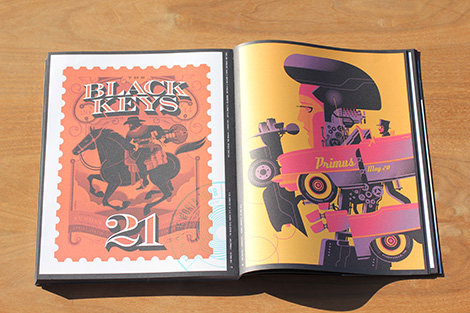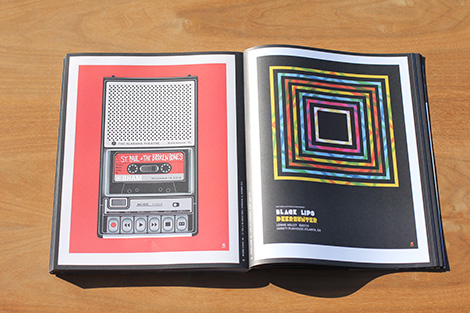 OMG Posters
By Mitch Putnam
Published by Regan Arts
208 pages
Mining the archives of OMG Posters, founder Mitch Putnam has gathered over 400 of today's most beautiful concert posters and art prints in one collection.
Available at Amazon, Regan Arts, and your local bookshop.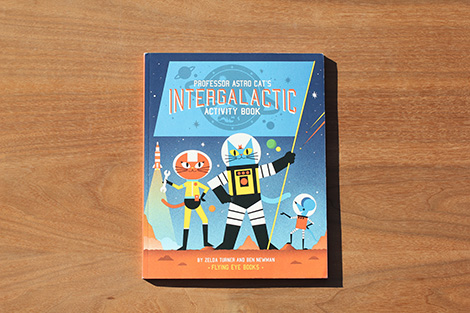 Professor Astro Cat's Intergalactic Activity Book
By Zelda Turner / Illustrated by Ben Newman
Published by Flying Eye Books
80 pages
Looking at the stars, do you dream of new worlds beyond our own? Would you like to explore distant planets, fly a rocket or try some chocolate quantum physics? Good news, Professor Astro Cat is here to help!
Packed with amazing experiments, thrilling facts and create-your-own adventures, this Intergalactic Activity Book offers a universe of excitement, and is bursting with ideas for a future at the frontiers of space!
Available at Amazon, Flying Eye Books, and your local bookshop.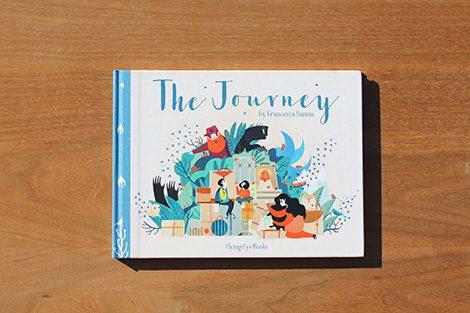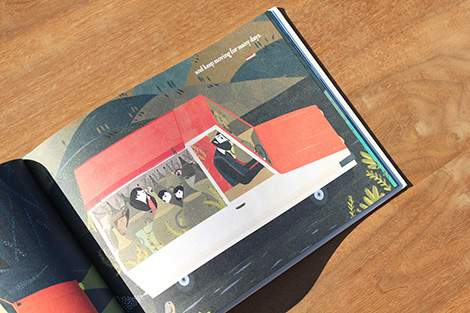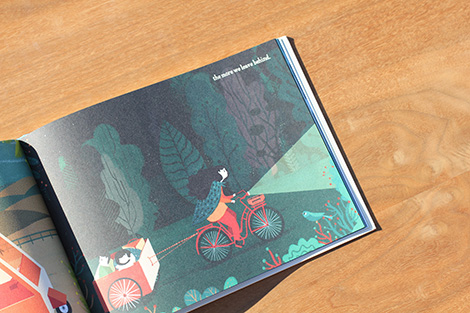 The Journey
By Francesca Sanna
Published by Flying Eye Books
48 pages
"I look up to the birds that seem to be following us. They are migrating just like us. And their journey, like ours, is very long, but they don't have to cross any borders."
What is it like to have to leave everything behind and travel many miles to somewhere unfamiliar and strange? A mother and her two children set out on such a journey; one filled with fear of the unknown, but also great hope.
Based on her interactions with people forced to seek a new home, and told from the perspective of a young child, Francesca Sanna has created a beautiful and sensitive book that is full of significance for our time.
Available at Amazon, Flying Eye Books, and your local bookshop.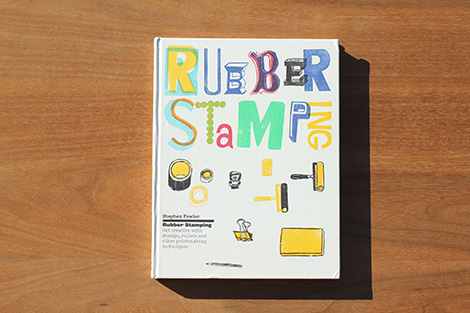 Rubber Stamping
By Stephen Fowler
Published by Laurence King Publishing
160 pages
This beautiful book provides a complete guide to printing with rubber stamps as well as a handful of alternative methods such as using rollers, plaster, or clay. Beginning with a foreword by the artist Rob Ryan and a short history of rubber stamping, it goes on to explain the technical basics: what equipment to use, how to carve your stamps, register multiple colors, and mask prints.
Available at Amazon, Laurence King Publishing, and your local bookshop.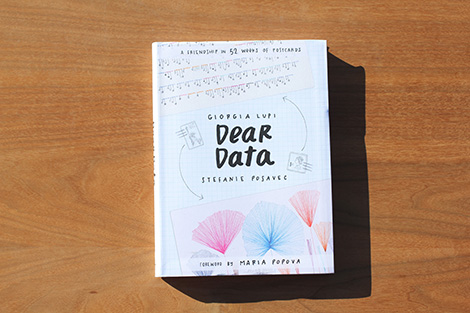 Dear Data
By Giorgia Lupi and Stefanie Posavec
Published by Princeton Architectural Press
288 pages
Equal parts mail art, data visualization, and affectionate correspondence, Dear Data celebrates "the infinitesimal, incomplete, imperfect, yet exquisitely human details of life," in the words of Maria Popova (Brain Pickings), who introduces this charming and graphically powerful book. For one year, Giorgia Lupi, an Italian living in New York, and Stefanie Posavec, an American in London, mapped the particulars of their daily lives as a series of hand-drawn postcards they exchanged via mail weekly—small portraits as full of emotion as they are data, both mundane and magical. Dear Data reproduces in pinpoint detail the full year's set of cards, front and back, providing a remarkable portrait of two artists connected by their attention to the details of their lives—including complaints, distractions, phone addictions, physical contact, and desires.
Available at Amazon, Princeton Architectural Press, and your local bookshop.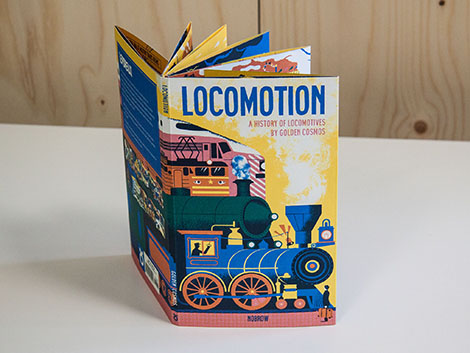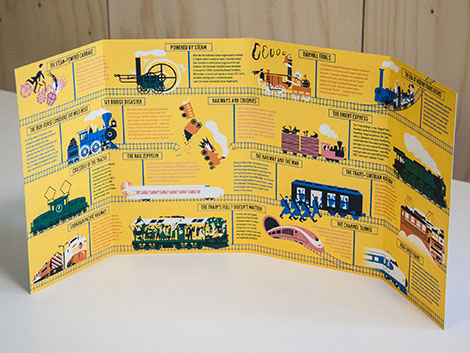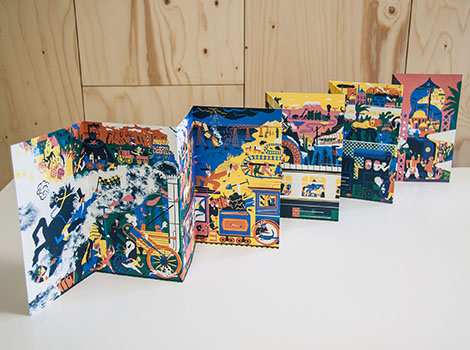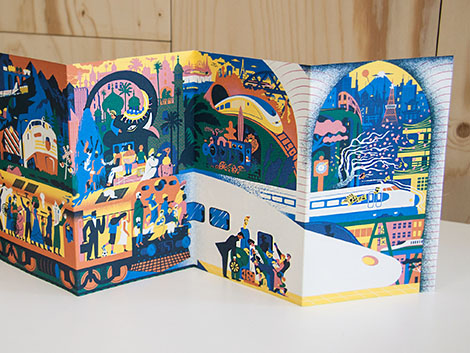 Locomotion
By Golden Cosmos
Published by Nobrow Press
20 pages
Designed by Golden Cosmos, this beautiful concertina book folds out to a stunning 139 cm panorama detailing the history of trains and locomotives. The wraparound cover also includes facts for each panel of the panorama; beginning with the very first steam engines and traveling through time to the trains we use today.
Available at Amazon, Nobrow Press, and your local bookshop.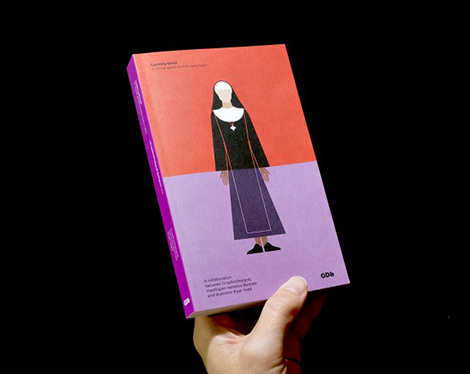 Looking Good
By GraphicDesign&, Veronica Bennett, and illustrator Ryan Todd
Published by GraphicDesign&
264 pages
From Julie Andrews in The Sound of Music to Nobel Peace Prize recipient Mother Teresa (now St Teresa of Calcutta), nuns occupy a special place in popular consciousness as figures of fondness, fun, strictness, purity and grace. Many of us identify nuns by their deceptively simple form of dress – few of us understand, however, that the habit is also a visual code.
A collaboration between GraphicDesign&, Cambridge theology graduate Veronica Bennett and graphic illustrator Ryan Todd, Looking Good: A visual guide to the nun's habit identifies and illustrates the dress of more than 40 Catholic communities of nuns and sisters. It catalogues and compares this 'extra ordinary' religious clothing, explaining its components, significance and distinguishing identifiers. The accompanying text, incorporating visions and miracles, high drama and humble beginnings, persecution and insurrection, reveals how the story of the habit is also that of the struggle between the powerful and the poor; of politics, social care and the role of women; and of the interplay between culture, fashion and faith.
In Looking Good, graphic design and illustration are employed with clarity and charm to decipher this most enduring and evocative form of visual identity – and present it for fresh appreciation at a time when it appears to be in demise.
Available at Amazon, GraphicDesign&, and your local bookshop.
——————–
Also worth viewing…
Recently Received: July
Recently Received Books: April
Recently Received Books: December
Follow us on RSS, Instagram, Pinterest, Wanelo,
——————–
Save
Save
Save

Share on Facebook
11.29.16 in Off Our Bookshelves by Sandy
Share on Facebook