Sponsor // Bo Concept Presents Mads Mikkelsen in the Call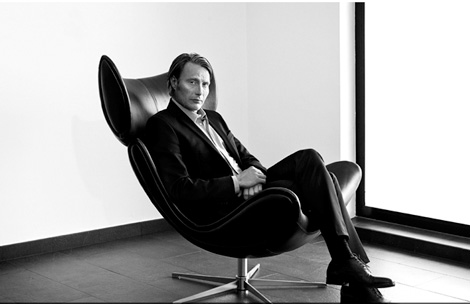 For fans of Scandinavian modern design, leading furniture retailer Bo Concept has teamed up with Mads Mikkelsen for a short film entitled The Call. Mads who is best known for his roles in Casino Royale and more recently The Hunt, plays the role of a well-to-do actor with a lust for modern furniture. Playing alongside him is Malin Buska, a Swedish actress who received the Rising Star award at the Stockholm International Film Festival in 2011. The Call is the first installment of a two-part series to be released this year.
To bring the sophisticated yet edgy drama to life, Bo Concept called upon veteran actor/director Dejan Cukic. Technical director Thomas Busk who most recently worked with Mikkelsen on the film The Salvation was also brought on board. Shot on location in Valencia, Spain at the home of BoConcept designer Morten Georgsen, the film prominently features Bo Concept's most iconic pieces including the Mezzo sofa and the Imola chair.
To coincide with the release of the film, Bo Concept has launched a special giveaway. The grand prize includes a consultation with an interior decorator and $5000 worth of Bo Concept furniture and accessories. See boconcept.com for complete details.
——————–
Also worth viewing…
Andy J Miller
Andrew Neyer
Colorcubic
——————–

Share on Facebook
Share on Facebook