Sponsor // LG UltraWide Curved IPS Display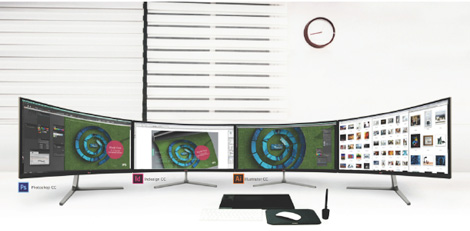 Riding on the heels of the much loved 34UM95 QHD monitor, LG has just released the 34UC97, the world's first 21:9 UltraWide curved display. Similar to the UM95 the 34UC97 features ample screen real estate and IPS technology which allows for sharp imagery at any viewing angle. This will prove to be useful to multi-taskers looking to break free from the distractions of a two monitor set-up in favor of a more unified viewing experience. Designers will be especially interested in its rendering capabilities. With coverage of over 99% of the sRGB spectrum, the 34UC97 serves up a highly accurate color profile consistent with the actual printed output. In addition, it offers multiple Thunderbolt2 ports, so you can easily daisy-chain all your Mac-compatible devices. Check out the video below to learn more about this amazing monitor.
The LG 34UC97 Ultrawide curved IPS monitor is available at lg.com
——————–
Also worth viewing:
LG34UM95 Ultrawide QHD monitor
Asatte
Takenobu Igarashi
Not signed up for the Grain Edit RSS Feed yet? Give it a try. Its free and yummy.
——————–

Share on Facebook
Share on Facebook