House Industries Photo-Lettering App
Has your instagram stream been inundated with Neutraface-laced images the past few days? If you're wondering why, it's because House Industries just launched an iPhone app. The new app allows users to create, edit and share photos with select House fonts and Photo-Lettering alphabets. Three fonts – Plinc Swiss, Bubble Gum and House Slant are included with the initial download. Additional fonts, including Neutraface, can be purchased for 99 cents. Download it for free at the iTunes store.
B/W we're on Instagram now. yeah!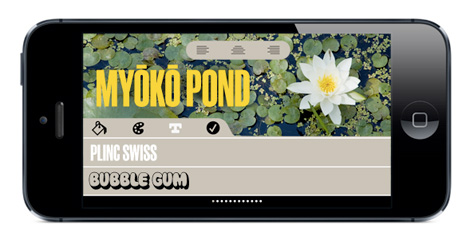 Features:
Take a picture or import one from your camera roll.
Scale, rotate and crop your photo with finger gestures.
Select your lettering style from our collection of original fonts.
Type, rotate and scale text with finger gestures.
Share or save your image directly from the app.
Even send a printed postcard.
————
Also worth viewing…
House Industries interview
House Industries & Borge Mogensen
House Industries and Heath Ceramics
Like what you see?
Sign up for our Grain Edit RSS feed. It's free an yummy!

Share on Facebook
Tagsapps
03.25.13 in Found design, Uncategorized by Dave
Share on Facebook