House Industries interview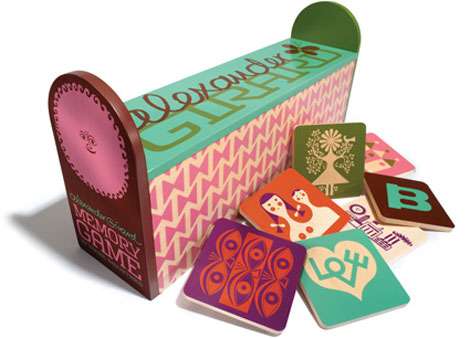 House Industries is not your typical type foundry. Unlike most foundries that strictly focus on type design, House take things one step further. Their fonts become springboards to new ideas and products that are often integrated into themed experiences complete with lush packaging and slick catalogs. A great example of this is their work on the 2004 release of Neutraface. They created a reproduction of Richard Neutra's Boomerang chair and pillows to coincide with the release of the font collection. In addition, they created limited edition packaging (with die cuts and metallic inks) to accompany the hard copy of the fonts. In an age when people more and more seek cheap and immediate goods,  I cherish these premium experiences.
House Industries most recent project pays tribute to the modernist designer Alexander Girard. In my opinion it is their most impressive collection to date. It includes a Type Family, a Nativity Set, t shirts, alphabet blocks, lettering, Marilyn Neuhart designed Casa dolls and more. We spoke with Andy Cruz (Co-owner and art director) about the research and development of the products.
[pictobrowser [email protected] 72157616118917064]
What led to your decision to create an Alexander Girard Product line?
Once you get a taste of American modernism, you can't help but keep going back for more of Girard's work. We had a hunch his lettering work would translate well to a House font collection but didn't realize that the research process would lead to one of our most ambitious product lines to date.

How long did it take to develop the whole line? Were there any complications along the way?
We've been grinding on this project for the past 4 years. Creating typefaces that were true to the spirit of Girard's artwork was the first order of business. Then, in typical House fashion, we had to "complicate" things by designing and developing new objects that went beyond digital type to help illustrate our appreciation for Girard's genius. The wood objects started with the alphabet blocks for the SF MOMA Girard exhibit. Our goals with the blocks, memory game, puzzle and nativity were to make them in the US, to use kid/pet friendly non-toxic inks and build them from replenishable locally-grown wood. Those are all very tall orders and get quite expensive. Hopefully folks can see the quality and understand we're trying to create heirlooms. Not more disposable toys produced at the lowest price point possible overseas.
The Girard fonts pull inspiration from a variety of source materials including the Herman Miller 1972 fabric designs catalog. Are these pieces in your personal collection or were you allowed access to the Girard estate?
We had all the "hits" to reference but once the Girard estate let us into Sandro's archive vault at Vitra, all bets were off. Remember the bit in Willy Wonka when Gene Wilder opened the door to the chocolate factory and the kids went nuts? That was pretty much the scene at Vitra. After leaving Germany, we hit Herman Miller in Michigan then Maximo and the Girard Family in New Mexico and finally John & Marilyn Neuhart in California.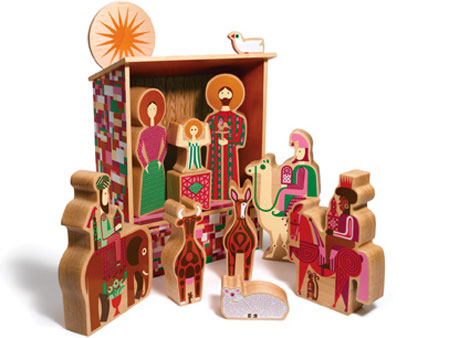 Could you talk about the original Girard illustration that hangs in his son's house and how that led to the Nativity set.
We knew Girard was passionate about the nativity and thought a 3-D interpretation would be a smart piece to help tell the Girard story. It was a great excuse to take an incredible piece of original source material and transform it into something that could be enjoyed by many. Our knowledge of wood moulding knives and CNC machine router bits was also transformed in the process.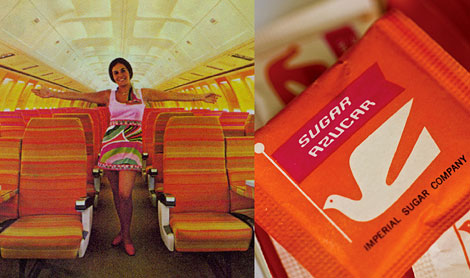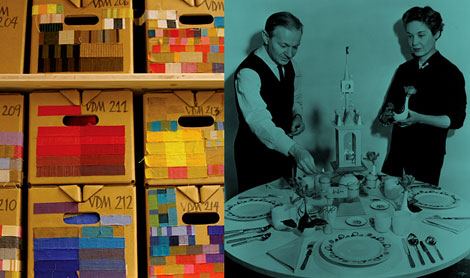 Alexander was a prolific designer. He created a huge body of work for clients including Herman Miller, Braniff and La Fonda del Sol. On top of this, both him and his wife were passionate collectors. How did you even begin to sort through all his material when researching this project?
Girard is definatey a designer's designer. It's amazing to look at work he did decades ago and see how well it's transcended fashion & design trends. Passionate is an understatement when you see the Girard folk art collection at of the International Folk Art Museum in Santa Fe.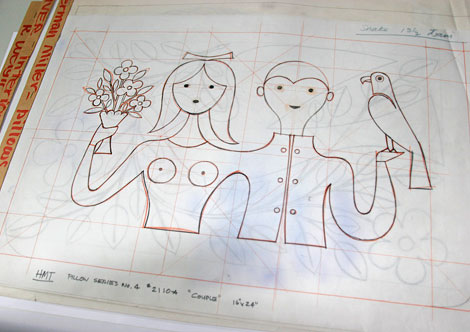 What were some of your favorite discoveries while researching this project?
Anytime we do a licensed font collection, it's normally a thinly veiled excuse to work with one of our heroes. In this case, seeing all Girard's original sketches, production artwork and gaining the trust from his estate to work with/interpret his designs was an honor. We also picked up two new heroes along the way; John & Marilyn Neuhart. Spending time with John & Marilyn and hearing them tell stories about working with Sandro during the golden era on projects like the T&O store and the Braniff Identity are the things that the design history books have yet to cover. We even roped Marilyn into doing a few new dolls, again, to help tell the tale of Girard and how he had her design and sew hundreds of dolls for his T&O store during the early 60s.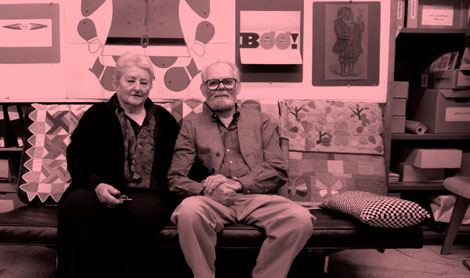 John & Marilyn Neuhart
——————————-
Many Thanks to Andy for taking time out of his day to share with us. You can see the complete Alexander Girard collection produced by House Industries here.
Also check out House Industries Fonts, Objects and Clothing.
——————————-
Enjoy reading this interview? Please leave a note in the comments and consider signing up for our tasty free grain edit RSS feed.
Don't forget to enter our  House Industries/ Alexander Girard Giveaway!

Share on Facebook
Tagsaccessories, Alexander-Girard, Books, contemporary, Interviews, midcentury, modern, Typography, USA
Share on Facebook