Recently Received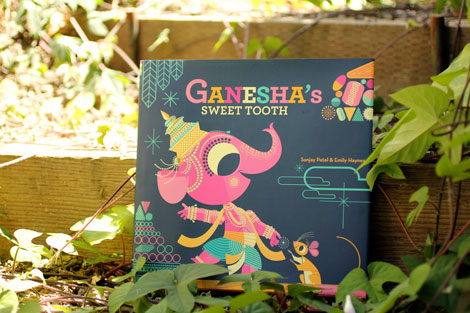 Here's the latest batch of goodies to hit our shelves! Fresh picks from Chronicle Books, Neighbourgoods and Lumadessa.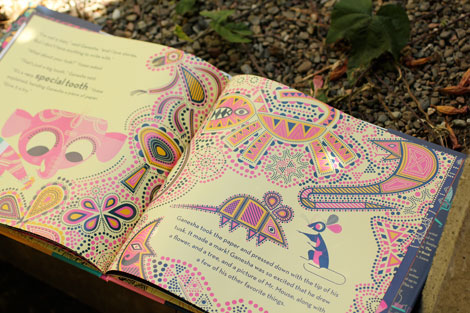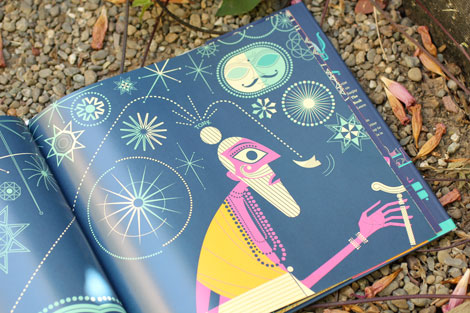 Ganesha's Sweet Tooth
Written by Emily Haynes / Illustrated by Sanjay Patel
Published by Chronicle Books
40 pages / 10″x 9-5/8″
The bold, bright colors of India leap right off the page in this fresh and funny picture book adaptation of how Ganesha came to write the epic poem of Hindu literature, theMahabharata. Ganesha is just like any other kid, except that he has the head of an elephant and rides around on a magical mouse. And he loves sweets, especially the traditional dessert laddoo. But when Ganesha insists on biting into a super jumbo jawbreaker laddoo, his tusk breaks off! Ganesha is terribly upset, but with the help of the wise poet Vyasa, he learns that what seems broken can actually be quite useful after all.
Pre-order a copy now at Amazon, Chronicle Books or your local bookstore.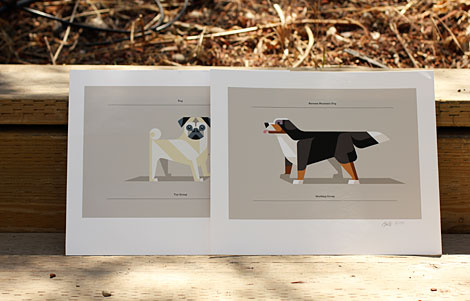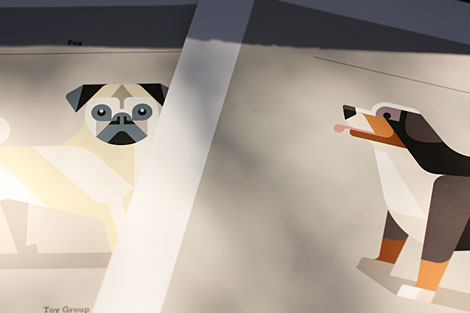 Pug and Bernese Mountain Dog prints
Part of the Canine Collection by Lumadessa
Limited edition of 100, signed and numbered by artist Josh Brill.
10″x7″  *17″x12″ option available as well
Giclée print on Hahnemuhle Photo Rag Ultra Smooth, 305 g, 100% cotton archival fine art paper.
Pick up a copy here.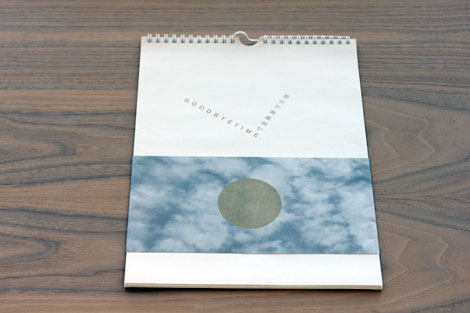 Goodbyetime by Neighbourgoods
Limited edition of 200
The Chinese for time is 光陰, light and shadow. Goodbyetime was made over the last six years from the light and shadow through the studio's various windows. It is a story about time literally vanishing. It is a lament, but it is also a celebration of every hour of the day (and night).
Each page is as long as the month it is named after, or as short as the hour – or two that its text describes. Or just seconds if you only give it a glance.  Hidden within each French fold is an image of the sky from one of our studio's windows taken at an hour of the day (or night) described in the text. You can't see the image when the pages are hurriedly flipped. And even if you pause to lift each page, it may not be possible to see the image in full. On a particularly windy day, nature may afford you a glimpse.
Available at:
– Blackmarket no.2 / #02-10, Orchard Central, Singapore 238896.
– Woods in the Books/ 58 Club Street and #02-32 Millennia Walk
– Supermama / 30a, Seah Street, Singapore 188368
or directly via Neighbourgoods/ampulets – email [email protected]
——————–
Have a book or product that you would like to promote in our "recently received" section?  Send us an email here. If we feel that it's a good fit for our audience we'll get it up on the site.
——————–
Also worth viewing:
Born Modern: Alvin Lustig
Designers Bookshelf: Sean and Nicole Flores
Recent Fonts
Not signed up for the Grain Edit RSS Feed yet? Give it a try. Its free and yummy.

Share on Facebook
08.07.12 in Off Our Bookshelves by Dave
Share on Facebook