2010 California Design Biennial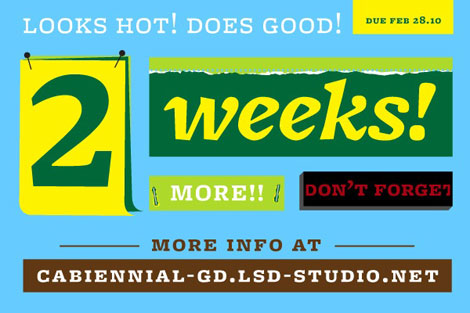 2010 California Design Biennial – Call for Entries
Between now and April 2010 Louise Sandhaus and Derrick Schultz will be seeking graphic/communications design projects to include in the 2010 California Design Biennial that will be held at the Pasadena Museum of California Art in the Summer of 2010.


Criteria for Work to be Considered:
Has visual impact (i.e. you can't stop looking at it)
AND
Designed in California
AND
Employs excellent graphic/communication design to further positive change – economic, political, environmental, or social
How to Submit Work
1. Join the Flickr Group:
http://www.flickr.com/groups/cabiennial-gd/
2. Add the projects (snapshots, screengrabs — whatever best represents the projects)
3. Add title and description info
More info is available at the project website.

Share on Facebook
TagsEvents, exhibitions, USA
Share on Facebook