Josh Brill Studio Visit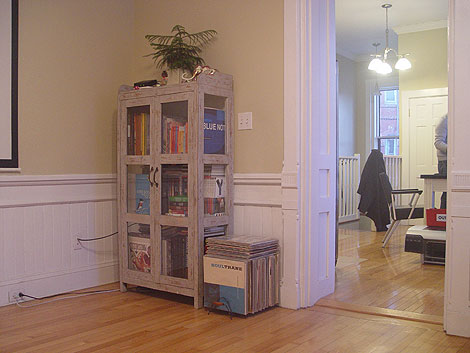 In the fall, we featured Portland, Maine based artist and designer Josh Brill's Flora Fauna series. The series included a colorful collection of bird illustrations, and was well received on grain edit as well other sites across the blogosphere. So, what's Josh been up to lately? I traveled to Portland over the Christmas break and had the chance to catch up with Josh. We talked about living in Portland, his awesome collection of records from the Blue Note label as well as projects he's currently working on.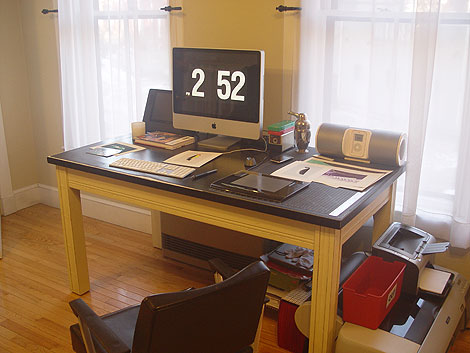 How long have you been living in Portland?
I have been living in Portland for about 14 years starting in 1996 when I began attending Maine College of Art.
How do you like living here?
Portland is a nice place to live. It has a good balance of nature through out the city. I live in walking distance to the ocean, parks, good restaurants, coffee shops, and the arts district. I also like historical Victorian brick architecture in the city. Recently, the art scene has been growing stronger. There are some talented artists in and outside of the city.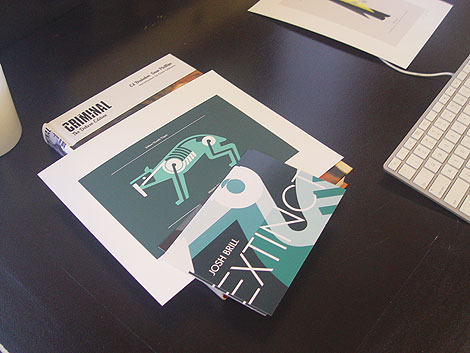 When did you first start working from home?
I've always worked from home in some form beginning when I was a teenager. It's a relaxing environment. Through that comfort, my mind is at ease and I get lost in the work. Once my mind has been quieted, the best ideas come out through this process.

Where does the name Lumadessa come from?
I was looking for a name that didn't have any direct meaning, something I could add my own to. I wanted it to feel like it was a place, some kind new world to explore. I began experimenting with amalgams of words. The key word luminosity kept coming up. Light was a good metaphor to use towards the work I make. It has many associations to color, ideas, knowledge, discovery, love and individuality. Some how the name Odessa had come to mind when joining the two words together. I liked that it sounded like a variation of the word "odyssey." So Lumadessa took form.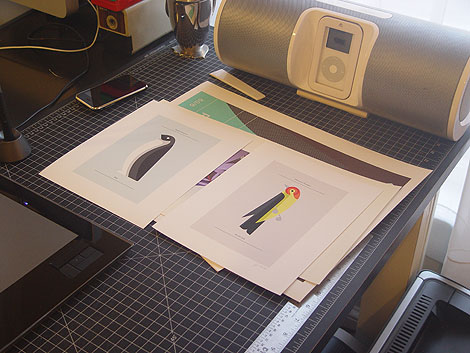 How did the flora fauna bird series come about?
I used to design fictional birds and animate them in interactive art pieces. When I started making print pieces again, they carried their way over into some of the pieces. It wasn't until I started collecting field guides that my focus opened to making referenced birds. The books got me into interested in exploring and cataloging the visual identity of plants and animals. I paired that up with a visual look that I was developing based on typography, iconography and character design.
Who/ what are some of your biggest influences?
My early influences, as a kid, are the ones that got me interested in art. They were comics, animation, skateboard graphics and in some subliminal way Nintendo. This led me into studying cartooning and animation in my first year of collage.
Later when I transferred to a fine arts school, Constructivism, Alfred Hitchcock, Saul Bass, Reid Miles, George LaRou, Matt Owens, Chris Ware, Dave Mckean and Mike Mignola were influential in my development as an artist and a designer.
After school when I became more confident as an artist, I found myself less influenced by artists and more by subjects like nature, culture and science.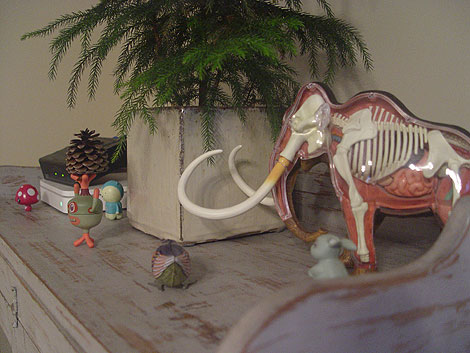 What are some of your favorite objects in your studio?
That's a hard one because it changes often. Currently, it's a copy of Monocle magazine called "Criminal Omnibus" by Ed Brubaker and Sean Phillips, "The Hunter" by Darwyn Cooke, a penguin cocktail shaker and a small pinecone resting a top of Tim Biskup Totem figure.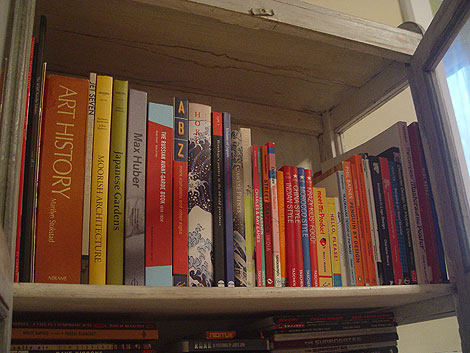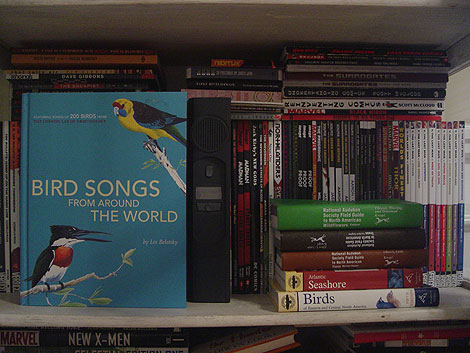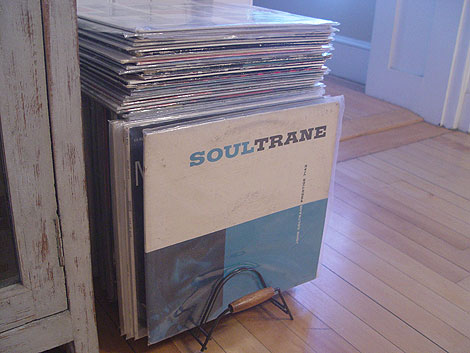 What led you to start collecting Blue Note covers?
It started when I was in art school. My uncle introduced me to jazz by giving me John Coltrane's "Giant Steps" and Miles Davis's "In a Silent Way" CDs. At the same time, my friend was getting into collecting vinyl. I would flip through jazz records while he searched for finds at Enterprise Records. One day, I bought Miles Davis's "Workin'" and Coleman Hawkins's "Night Hawk" because I liked the covers (non-Blue Note). If you never have seen the covers, they have a less inventive, similar duotone design to them, like the Blue Note ones. At the time, I didn't own a record player. My friend thought that was comical. The only way I could listen to them was on his player. Eventually, I bought a player and started going to the shop regularly. I kept my eyes opened for record covers like those. The ones that kept coming on top of my to buy pile were Blue Note.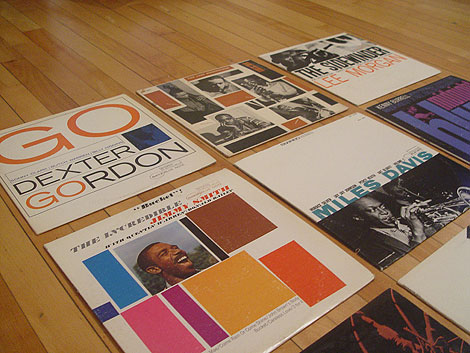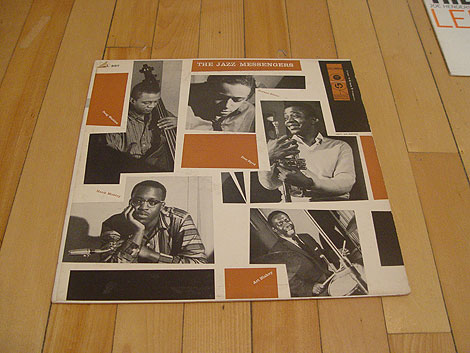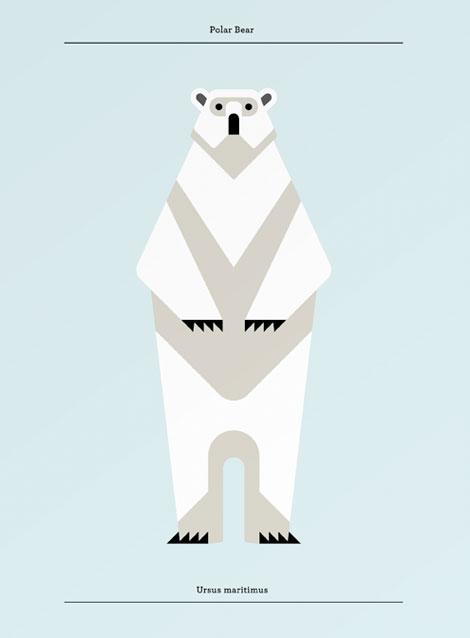 What are you currently working on?
I'm kind of pushing it past the limit right now in a good way. The Flora Fauna series has turned into a weekly edition. I make a new piece a week. The subject matter will be a bit more random, not just birds. There will also be a limited iPhone wallpaper of each piece.
Zero Station, a local Portland, Maine art gallery, has asked me to guest curate some group shows. The shows will be under the Lumadessa umbrella. The first one is titled "Pattern Recognition." It's a perspective show on the influences and uses of patterns in modern artwork. Each artist will make several pieces based on the theme. I, too, will be making a few pieces for the show. Hopefully, its something a little unexpected from what I currently do for Lumadessa. The show opening will be on May 8th. If you are not in the area, the Lumadessa site will be doing extensive coverage of it.
I also have some other projects I'm working on in the background. One is a new collection based on a mixture of 60's design, old travel posters, different cinema genres and pulp magazines. I've also designed a Lumadessa iPhone app and am slowly learning to program it. In addition, I've also been looking into licensing some of my designs for some products.
———————-
I'd like to thank Josh for taking time out of his day to share with grain edit readers. You purchase Josh's prints from the Lumadessa shop.
Iphone wall papers are available for free here.
You can also catch Josh on Twitter and Facebook.
———————-
Enjoy reading this interview? Please leave a note in the comments and consider signing up for our tasty free grain edit RSS feed.
Also worth checking: Adrian Johnson interview & Matte Stephens interview.
———————-

Share on Facebook
Tagscontemporary, Illustration, studios, USA
Share on Facebook