Lars Muller's New A5 Book Series

Celestino Piatti and dtv: The Unity of the Program – Edited by Jens Muller
I can't wait to get my hands on these books.
Lars Muller has just launched the A5 series of books. The series is intended as a growing archive on graphic design. Each volume introduces outstanding personalities and important themes from the history of international graphic design, with numerous illustrations, essays and interviews. The series kicks off with books focused on Celestino Piatti, Philips-Twen and Hans Hillmann.
I'm really excited about the Celestino Piatti book. For more than 30 years, he endowed the covers of books published by dtv with a singular look. With more than 6300 covers to his credit, amounting collectively to a total of 200 million volumes, Piatti was one of the most productive designers of all time.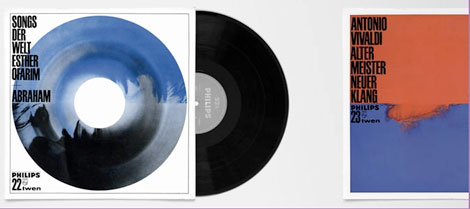 Philips-Twen: Realism is the Score – Edited by Jens Muller
Between 1961 and 1968, the magazine "Twen" produced a series of LP recordings in collaboration with the Philips record label. During this period, all editions of "Twen" were accompanied by LPs drawn from the realms of jazz, classical music, radio plays, world music, or pop. For the designs of his record covers, art director Willy Fleckhaus used Concrete Art by Karl Gerstner, Max Bill, and other dedicated graphic designers such as Heinz Edelmann and Günther Kieser. This now forgotten series, comprising around 70 disks, is a masterful instance of the conjunction of music and graphic design. In collaboration with music archives and private collections, this rare series is reunited in its entirety and documented in this publication.

Hans Hillmann: The Visual Works – Edited by Jens Muller
Born in 1925 in Nieder-Mois/Schlesien, the graphic artist Hans Hillmann is one of Germany's most important poster designers and illustrators. With his posters after the Second World War, he was one of the first to be honored with the most important graphic design awards, including the Grand-Prix-Toulouse-Lautrec / Paris. As a professor of graphic design whose teaching career spanned more than thirty years, he had a formative influence on entire generations of designers. His illustrations were used by publishers and magazines (including "F.A.Z.-Magazin") for years.
——————
Also worth checking: Corporate Diversity: Swiss Graphic Design by Geigy.
Not signed up for the Grain Edit RSS Feed yet? Give it a try. Its free and yummy.
——————

Share on Facebook
Tags1960s, Books, graphic-design
09.01.09 in Uncategorized by Dave
Share on Facebook