Designer's Bookshelf: Sam Grawe of Dwell Magazine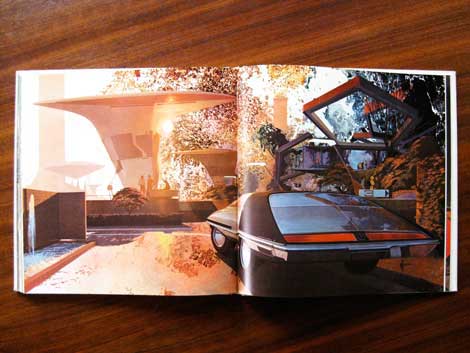 Innovations – Illustrations by Syd Mead
The last time we mentioned Sam Grawe on grain edit we were drooling over his collection of ceramic owls. Sam is the Editor-in-Chief of Dwell and member of the ultra cool nu balearic cosmic disco band Windsurf. Here for grain edit readers Sam shares pictures of some of his favorite books and the stories behind his finds. Enjoy!
[pictobrowser 10159078@N03 72157619442936431]
01. Structure Space Mankind EXPO70
I bought this book at an amazing architectural bookstore in Milan, which on subsequent trips I have—rather idiotically—not been able to locate. I'm pretty much a sucker for all things EXPO70-related but this book takes the cake. The turquoise volume contains full bleed photographs of the expo grounds while the orange booklet features plans, elevations, and technical data for each of the pavilions. If the wildly disparate architecture of EXPO70 can be categorized, it seems that a sort of space-age optimism percolates throughout everything. If I could travel in time it would be one of my first destinations.

02. 100 Posters of Tadanori Yokoo
The title pretty much lets you know what to expect here. Tadanori Yokoo is one of those artists whose work looks like it could have been done last week, or forty years ago. I love how he can effortlessly combine Christian, Indian, and Japanese iconographic imagery into one wildly baked collage and the resulting final image manages to transcend all the parts. I just got into his work recently, but I then realized I had tons of record album covers by him—Santana, Miles Davis, Haruomi Hosono, and so on.
03. Paul Rudolph: Architectural Drawings
I studied art history at Colgate University, and all of my classes were held in a Paul Rudolph building which I adored. It must have had 50 or 60 different levels within its 4 or 5 stories, and you could seemingly never get from point A to point B the same way twice. Needless to say, I adored that building, and it cemented (pun intended) my love for Rudolph's work. This book features his wonderful line drawings and includes a number of both finished and unfinished projects, giving the reader a wonderful sense of the scope and bearing of his career. While he studied under Gropius at Harvard and certainly picks up on elements of Le Corbusier, Rudolph's architecture strikes me as quintessentially American it its form and organization. He was a great designer that is owed more attention than he gets.

04. Ten by Warren Platner
While we're on the subject of unsung American architects let's turn our attention to Warren Platner. People mostly know him for the very beautiful series of welded sculptural furniture he did for Knoll, but much less so for his architecture and interiors, which as this book proves, are really fantastic—in a sort of yarn art, conversation pit, hanging ferns kind of way. I'm particularly fond of his design for the American restaurant in Kansas City (which should immediately be restored to the original design before its too late) and the images here of his own home (which has this insanely tasteful 1970s American opulence to it). This one gets a lot of thumbing through on rainy Sundays.
05. The Magic of a People
Alexander Girard is a little too everywhere for my tastes these days (not that it's a bad thing, but there is too much of a good thing), but all the same, I went to Santa Fe last year on a bit of a Girard pilgrimage. Of course the essential stop is the Girard wing of the Museum of International Folk Art which features the installation he designed toward the end of his life of about 10% (which is mind-numbing) of his 100,000+ piece collection of folk art. It's really one of the most amazing places/things/experiences I can recommend you do in your lifetime. Whether or not you're a fan of folk art, or have ever even thought about folk art, you can't not leave that exhibit without the sense that you are human. This digestible little volume predates the museum (its from 1968), and is a great appetizer-sized portion from Girard's vast collection.
06. Innovations – Illustrations by Syd Mead
I got these Syd Mead illustrated books by the US Steel company when my old boss decided to retire and close up shop. He let his employees pick over the remnants of the company library like wild vultures and even though at the time I had no idea who Syd Mead was, I knew these books were damn cool. Not much to say that hasn't been said elsewhere, other than I really wish that more people were working toward making the future look this appealing.

07. The Hokusai Sketch-Books
When my grandmother was a young woman she bought a basket of mixed yarns at a yard sale somewhere in New England, and lo, when she got home and took out all the yarn at the bottom of the basket were a cache of 19th century Japanese prints (mostly by a fellow named Utagawa Kunisada). I grew up with those prints in my house which imbued me with a love for Japanese prints which carries on to this day. I actually picked this up at the otherwise way-out-of-my-price-range antiquarian book fair here in San Francisco. This book is a treasure trove of doodling inspiration.

08. Walk Away René: The Work of Hipgnosis
Hipgnosis are best known for doing almost every Pink Floyd album cover—which are totally awesome of course—and were pretty much, along with Roger Dean, the dons of 1970s sleeve design. This fine publication explores their output from that era when packaging rock music was as exciting (and in the case of some of the bands they worked for, more exciting) than the music itself. Of course having 12″x24″ gatefolds to work with helped (so sad when I think about that .75″ cover image on my iPod). Whether through photography or illustration (often by the internet-elusive George Hardie), Hipgnosis' work always has an edge that just takes things a little further and a little higher. This book is divided into atypical chapters like Bodies, Logos, Pastiche, and Patterns, which makes for a fun way to see the connections throughout their work. Its also a funny read.

09. Objets Dessins Maquettes
Two of my favorite designers working today are Ronan and Erwan Bouroullec. Apparently as kids they would draw together for hours and hours, and as this book attests, little has changed. (Their father claims he can tell whose drawings are whose, but flipping through this unlabeled book with Erwan, he was only right half the time). There's not much text here, just drawings from their vast collection of sketchbooks alongside images of models and completed projects. I think what I really admire most about their work are the dualities: there's an Empire Strikes Back quality to it that manages to be both nostalgic and forward-thinking at the same time; its minimal yet sensual; its often bigger than furniture, but smaller than architecture.
10. George Nelson On Design
This does have a very clever cover design, but I got this for the words, not the pictures. While you probably know him for his furniture and clocks, George Nelson is probably the 20th century's best writer about design. Engaging, exploratory, humorous, brimming with ideas, and never over anyone's head, Nelson's prose is perhaps my greatest point of inspiration in my own work at Dwell. Save for a few references to secretaries and nuclear technology, this and his other collection of essays—Problems of Design—have managed to stand up to the test of time remarkably well. Really highly recommended reading.

11. Various Pocketbooks
Of course, I couldn't just pick ten books, so I wanted to wrap this up at 11 with a general shout out to all the pocketbook paperbacks of the world. I love perusing thrift stores, flea markets, and used book shops, and generally end up with a handful of pocketbooks, almost always because I like the cover design. It keeps almost all my literature pre-1985, but I'll read just about anything in this format, so I'm always making great new discoveries. These guys are just the perfect size for traveling, commuting, and even storing.
———-
Thanks to Sam for sharing his amazing collection. Catch Windsurf's new video for "Weird Energy" on Myspace.
———-
Also worth checking: Designer's Bookshelf: Amy Cartwright
Not signed up for the Grain Edit RSS yet? Give it a try. Its free and yummy.

Share on Facebook
TagsBooks, covers, graphic-design, vintage
06.10.09 in Designers Bookshelf by Dave
Share on Facebook