(Another) Update to Designers on Twitter!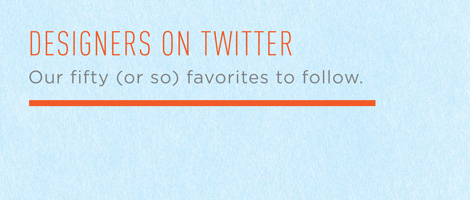 Holy twit! It doesn't stop! Designers seem to be jumping on Twitter left and right. It's turning out to be an awesome community of designers. If you haven't made the Twitter jump yet, then here's a little more incentive. And if you're already up on Twitter, here are some new faces.
Some of the new people on the list include House Industries, Kate Bingaman-Burt, Ministry of Type, Monocle, Chris Glass, Jason Munn, and Kid Robot among others.
Check it out. Follow your favorites. Tweet it up!
50+ Designers on Twitter: Our favorites to follow.

Share on Facebook
04.24.09 in Uncategorized by Ethan
Share on Facebook