Grain's Eye View: A Glimpse into Wayne Pate's Studio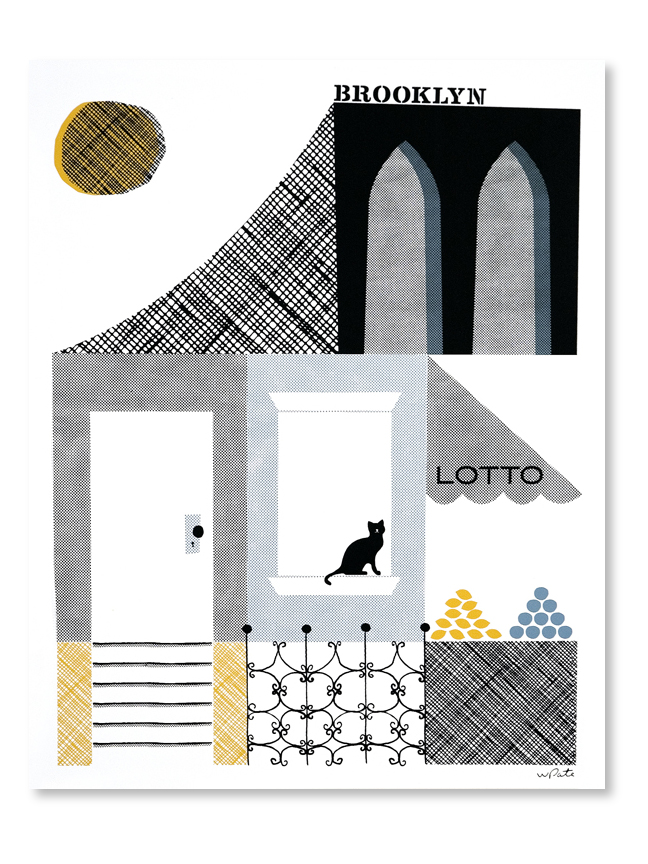 Wayne Pate runs a whimsical design studio in Brooklyn, NY called GoodShapeDesign. He has the best doodles, and also sells playful prints on his website. Today, we have the pleasure of getting the Grain's Eye View on Wayne's studio, including info on his favorite objects and some handy organizing advice.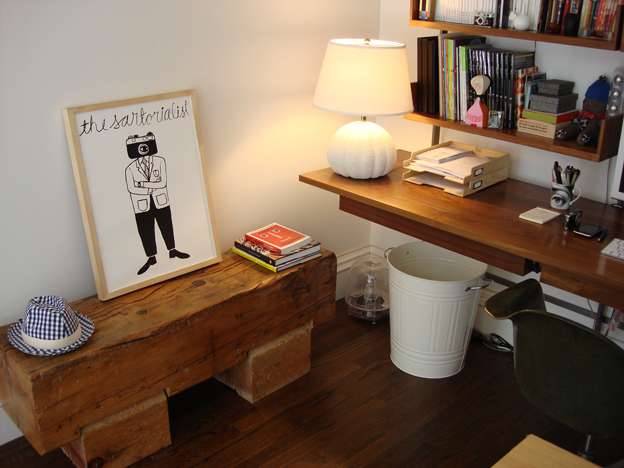 How long have you had your studio for?
This particular work space is on the ground floor of our brownstone here in Brooklyn. It's been located in various other rooms in the house, but this room feels the best; so, it's here for good. Plus, I feel closer to the outside world since it's street level. I like hearing people walk by and overhearing their conversations. It has a store front feel about it. Maybe I'll hang a sign on the out side wall.
What do you like most about your space?
I love having all my cherished possessions around me. It's a real comforting feel and very inspiring. Did I mention the creative powers my possessions hold?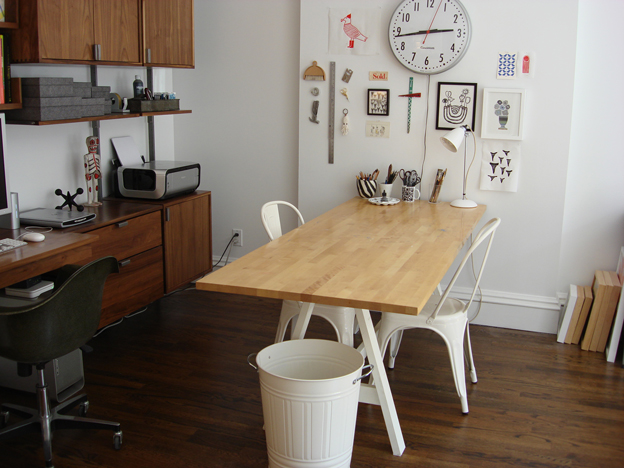 What are some of your favorite objects in your studio?
My books, I couldn't live without them. My IKEA worktable, because it's been with me for years and it's a style they discontinued a long time ago. I will be a happy man if they ever bring it back!
What are some of your favorite books?
Graphis Annuals 55′, 56′, 57′, 58′, 59′, 60′
Paul Rand (Knopf, Japan 1959) – Very rare
Anatomy For Interior Designers (1948) – Cover by Alvin Lustig
Take Ivy Photos (1965) by T. Hayashida – I think, it's in Japanese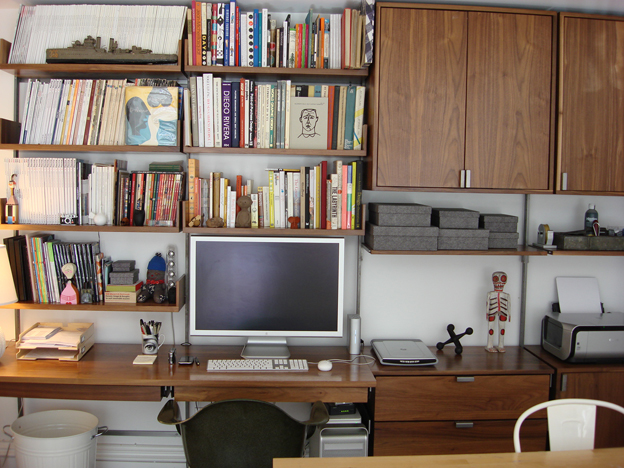 Your bookshelves are so neat and orderly. How do you organize them?
No rhyme or reason. I just keep them tidy. Maybe it's instinctive. Everything is visual with me!
Do you have any advice on organizing?
Organizing is something you get better at over time; it takes practice, I think. Lots of time spent organizing makes one a good organizer! If your a designer, you have to approach as you would a layout.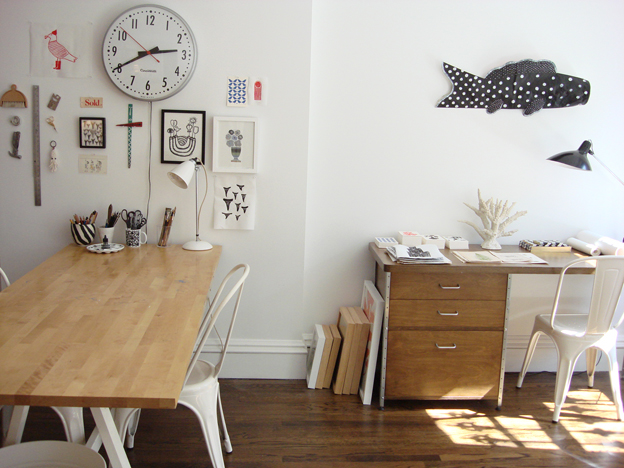 I notice you have three different work spaces, one used for computer work. What are the other two work spaces used for?
My table under the clock is where all the magic happens, the real nuts and bolts of a project. The smaller desk is more for storage and a good place to stack stuff; neatly of course, and to keep certain things handy like reference material and scraps of paper for collages.
Where did you get that neat polka dotted fish above your desk?
The polka dotted fish is a traditional Japanese rice paper fish I picked up during a trip to Tokyo when I got it back I decided to paint over the existing image of the fish so it would fit the feel of my
office.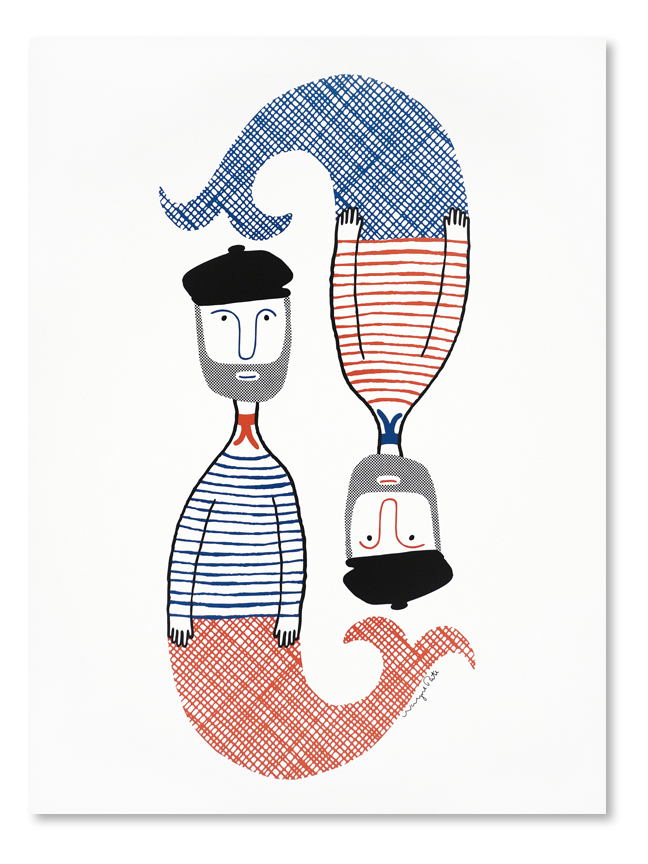 We'd like to thank Wayne for giving us a glimpe into his lovely Brooklyn studio. Check out his entertaining blog, including fun doodles and documentation of behind the scenes work. Also, be sure to stop by his shop and pick up some new prints, including the "Jacques" print!

Share on Facebook
Tagscontemporary, Illustration, Interviews, posters, studios, USA
04.26.09 in studio visits by Grace Danico
Share on Facebook