1950s Alvin Lustig album cover design – Vivaldi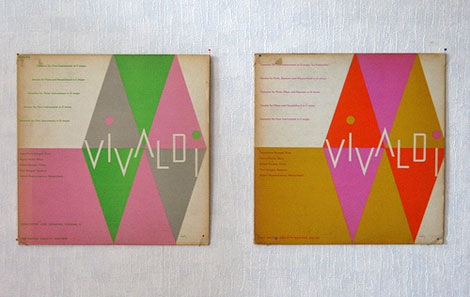 Classical album covers from 1954
Finnish illustrator Elina Minn captured these lovely record cover specimens designed for the Haydn Society by Alvin Lustig hiding in her Grandmother's vinyl collection. I really like the colors of the album on the right. Every time I look at it, it reminds me of this Alexander Girard nativity poster.
After you check out the Vivaldi covers, wander down to Elina's website. Plenty of great illustration and collage work to look at.
Many thanks to Gina Federico for sending this my way and Kind Company who designed the Alvin Lustig website, for alerting us that these album covers are the work of designer Alvin Lustig.
Other work by Alvin Lustig:
The Collected writings of Alvin Lustig
Alvin Lustig brochure design

Share on Facebook
Tags1950s, album-covers, Alvin-lustig, graphic-design, Mid-century, modern, modernism, out-of-print, records, USA, vintage
06.16.08 in Found design by Dave
Share on Facebook