Bare Knuckles starring Robert Viharo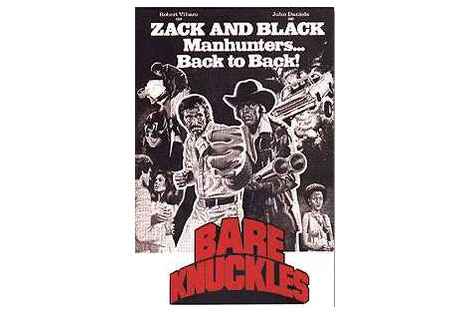 Bare Knuckles poster circa 1977
Last night a few of us went down to the Parkway theater in Oakland to check out the classic blaxploitation film Bare Knuckles. The film stars Robert Viharo as Bounty Hunter Zachary Kane who's on the hunt for a motorcycle riding, masked serial killer ninja! It doesn't get any better then that!
Bare Knuckles is one of several films that inspired Quentin Tarantino's GrindHouse flick. Tarantino loaned his copy of Bare Knuckles to Will Viharo (son of Robert Viharo) for the viewing. Robert was in the audience last night and joined his son on stage after the film. It was awesome to see this guy in person after he just kicked two tons of serial killer ninja butt a few minutes before.
One of my favorite parts of the film is Zach's training session. One minute he's whaling on a punching bag and the next he's in the lotus position playing the flute! Now thats Bad Ass!
Check the soundtrack for the film as well. It was reissued recently. Vic Caesar put together a gritty funk masterpiece.
also worth checking:
Nikkatsu Action Cinema
Technorati Tags: films,1970s,blaxploitation

Share on Facebook
05.09.08 in Design Events by Dave
Share on Facebook