Rudolf Schucht cover design for Hoechst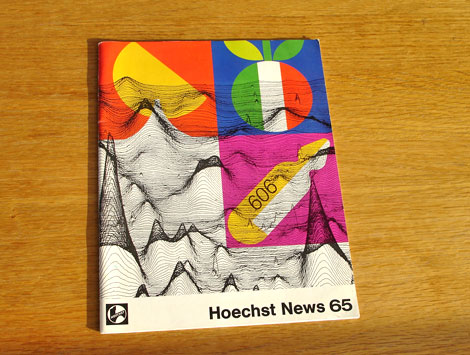 Cool cover by Rudolf Schucht for Hoechst News 65. I believe Hoechst News 65 was the in house magazine for the German life science company Hoechst AG (now Sanofi-Aventis). For the cover design Rudolf pulled elements from the articles contained within the magazine. The top two icons refer to Italian cuisine. The item below is an ampule of Salvarsan used in clinical testing against Syphilis. The background graph refers to work by Dr. Walter Seifried.
I couldn't find much information on the graphic design work of Rudolf Schucht. If anyone knows anything about him, please send me an email or leave a comment.

Share on Facebook
Tags1970s, germany, graphic-design, magazine, science
01.04.08 in Off Our Bookshelves by Dave
Share on Facebook