Modern Polish maps and sharp stinkin teeth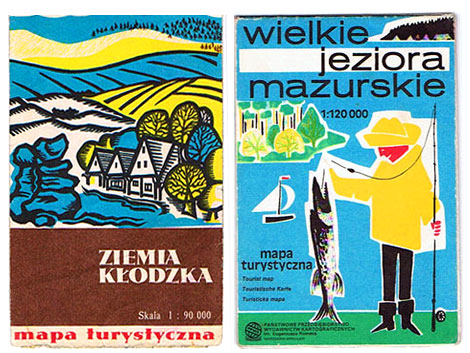 Just found this great polish blog called pantuniestal. They put together a small collection of polish maps from the 1950s, 60s and 70s. You can see a preview above. Check out the fish that guy in the yellow rain suit caught. That thing has some crazy sharp triangle teeth. Do they have Piranha in Poland or something?
Besides the maps they have some great examples of mid century modern ephemera. Browsing the site I found Czech matchbox labels, vintage cameras, hotel luggage labels etc. In addition to the Polish, there is an English version of the site so you can follow the conversation. Tons of eye candy here.
(via FFFFound!)

Share on Facebook
Tags1950s, 1960s, 1970s, ephemera, Illustration, maps, Poland
01.03.08 in Found design by Dave
Share on Facebook