Kevin Dart interview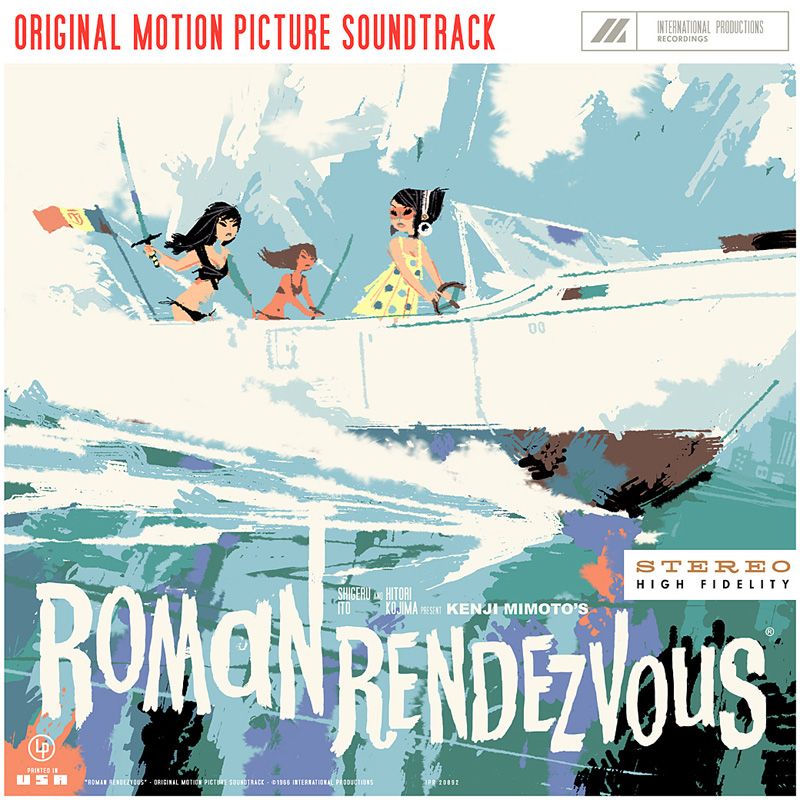 Original Soundtrack from Yuki 7 film, Roman Rendezvous
The latest addition to our Grain Edit interview series takes us to the sunny, pigeon littered streets of Los Angeles: home to Hollywood – movie capital of the world, and artist Kevin Dart. Heavily inspired by films and artwork from the '60s, Kevin beautifully creates the dazzling, glamorous, exciting world of Yuki 7: a gorgeous feisty international globe-trotting spy.
In today's interview, Kevin transports us to the year 30,000, discusses his adventurous background, and of course his inspiration for creating the Yuki 7 character. Before we get started, here are a few examples of Kevin's work…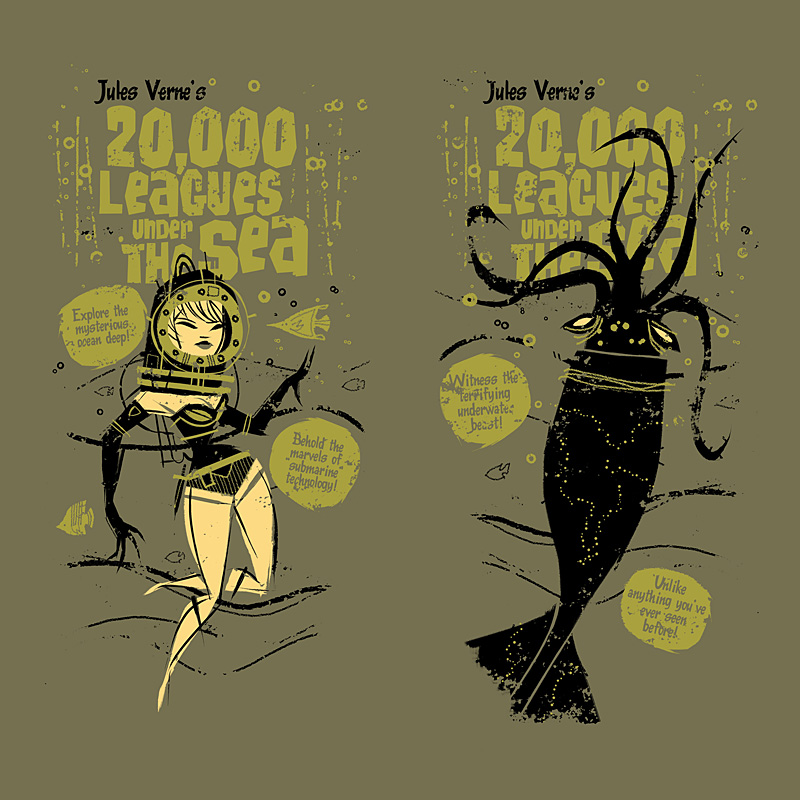 Jules Verne's 20,000 Leagues Under the  Sea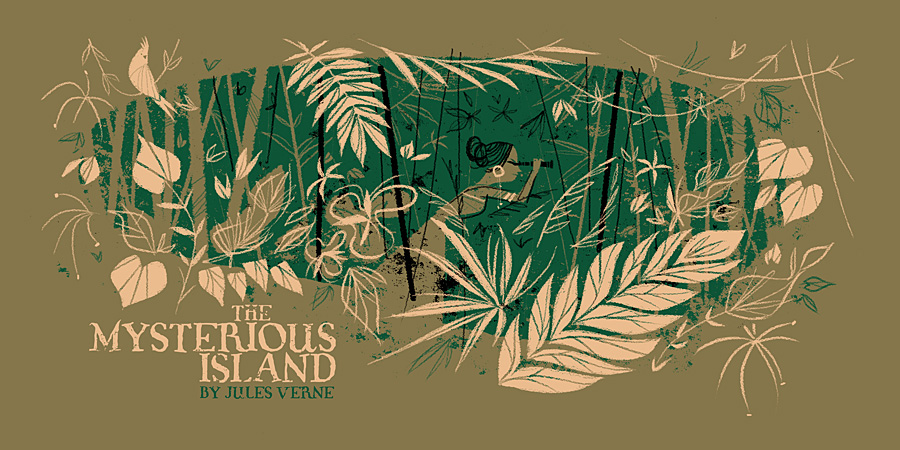 The Mysterious Island by Jules Verne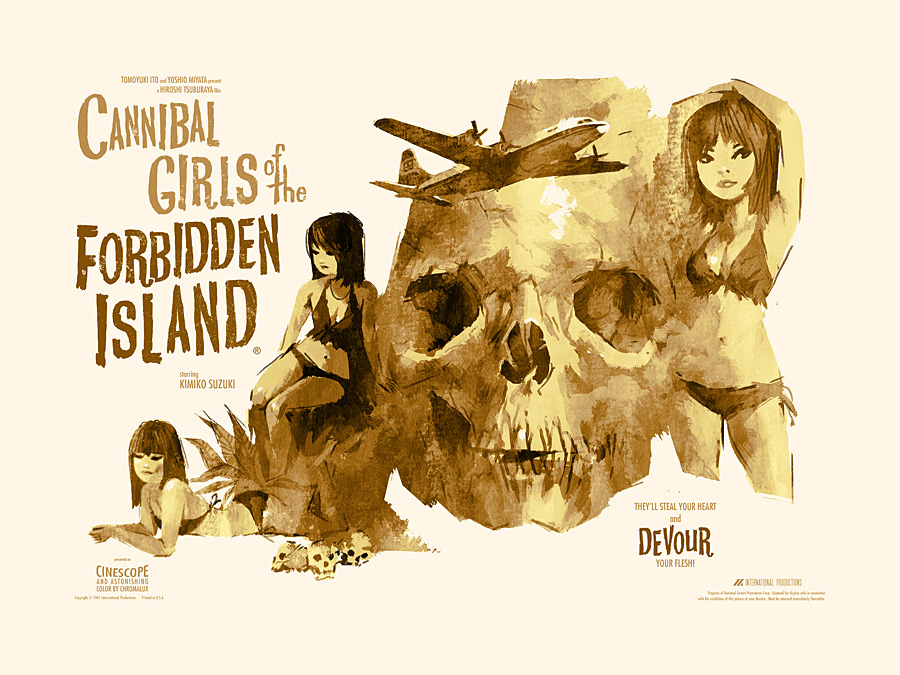 Movie Poster for Cannibal Girls of the Forbidden Island
Where are you from originally?
I can't really claim I'm from one place, since my dad was in the Air Force and we were hardly ever stationary for more than 2 years.  In fact, I was born in Missouri but only lived there for 3 weeks before we moved to Southern California!  The coolest place we lived was Riyadh, Saudi Arabia.
You currently reside in Los Angeles. How long have you been there, and what are some of your favorite things about it?
I've been in LA for the last 2 ½ years.  I don't know why it gets such a bad rap because I could talk endlessly about all the things I love about it.  To name just a few – I love the huge community of artists, the nearby vacation spots (Santa Barbara, Palm Springs), getting tacos from a truck at 1 in the morning, the quality of light, and of course – the weather!
When and how did you become interested in illustration?
I've always had a lot of creative interests, like writing, drawing, and film making.  My move to using illustration as my main artistic outlet was pretty gradual.  Although, I think a turning point happened one time when I was home on break from college and I started thumbing through a stack of 1960's LIFE magazines that my parents had collected.  I remember feeling like I had never seen anyone who could really draw when compared to the old illustrators in those magazines.  After that, I started tracking down and studying more classic illustrators and eventually it became a full-time obsession.
What was your first drawing & how old were you?
In first grade, I started illustrating my own stories.  The earliest one I can remember was about me getting left behind when my family moved to Saudi Arabia, and then using bits of trees and dirt to build an airplane so I could go find them.  I still remember my teacher, Mrs. Forbes, being very encouraging.  She made me think that writing stories and drawing for a living was completely within my reach.
I'm sure I did earlier drawings, but my memory before elementary school is really vague.  I know I used to love drawing dinosaurs, especially triceratops.

You wouldn't happen to have any of these drawings would you?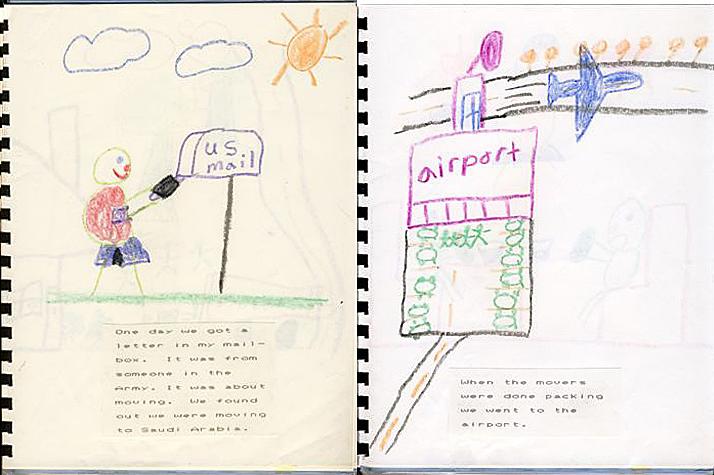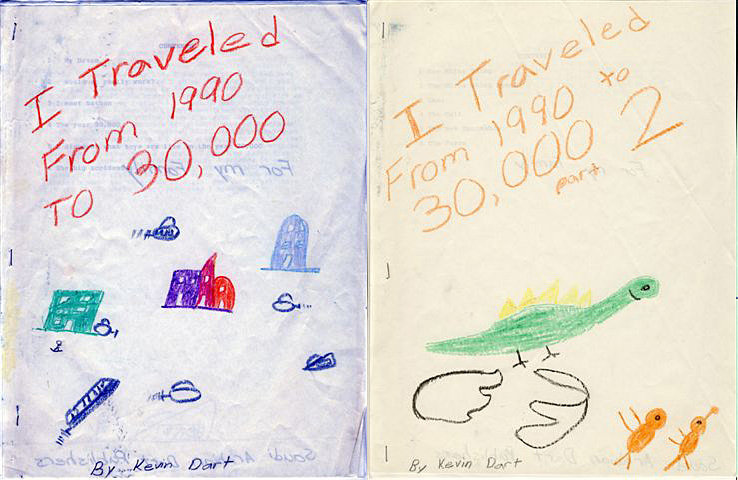 These are a few more stories I wrote as a kid.  The "I Traveled from 1990 to 30,000" story was actually a four part anthology.
Thanks to my mom for digging up these old drawings and scanning them for me!
These are spectacular! What exactly happened between 1990 and the year 30,000? What are your predictions for the year 30,000?
From what I remember of the story, in the year 30,000 all cities float in the sky, space dinosaurs are common pets, and Lego sets come to life after being built.  I think my vision of the future has remained relatively unchanged.
Did you attend a traditional art school? If so, what was your experience like?
I went to a technical school in Redmond, WA called DigiPen and majored in 3D animation.  It definitely wasn't a traditional art school.  The program I was in had a focus on creating art for video games.
Have you worked on many video games?
I worked on a couple.  My first video game job was at Nintendo where I worked on a version of 1080: Snowboarding for the GameCube.  After that I worked for THQ on an Evil Dead game, and also did concept art for some other titles they were just starting.  It wasn't too long after that when I decided that I was ready to get out of video games, and I left to do some development work for Disney TV.
What were your expectations after school, and what ended up being the reality?
I was a bit lost after school because I really wanted to work in animation, but the only marketable skills I had were in doing game art.  I realized that if I wanted to get into animation I still had a long way to go.  So I practiced a lot outside of work and also found a great mentor in my art director, Jeff Haynie, who was a traditional painter.  He basically taught me the fundamentals of drawing and understanding light.  It felt like I was starting all over and I had never really known how to draw!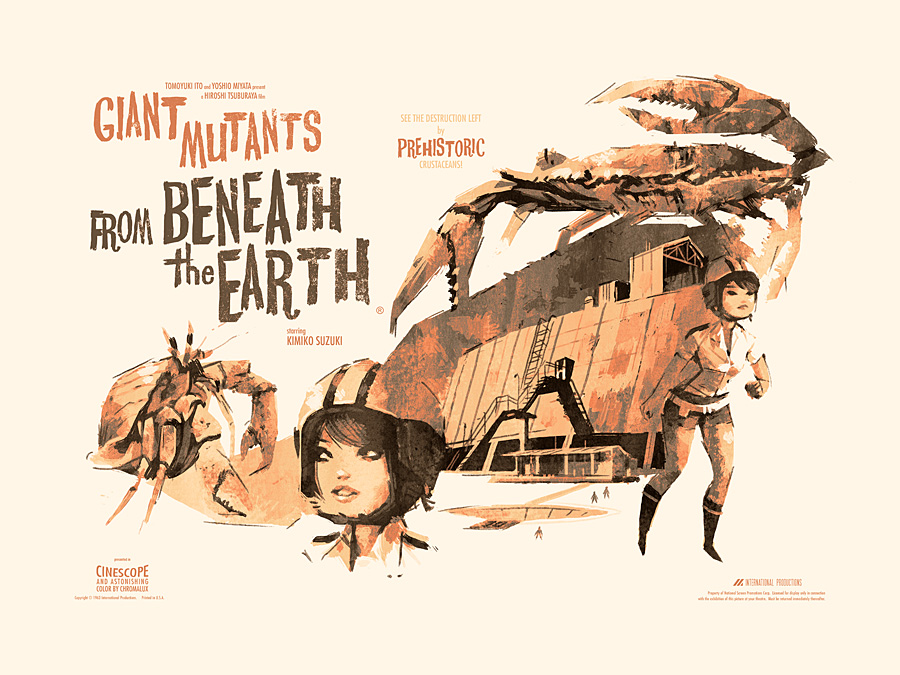 Movie Poster for Giant Mutants from Beneath the Earth
What was your first design job?
In high school I worked part-time at a graphic design firm in San Antonio, TX.  My boss there introduced me to the Pixies and said I had terrible taste in fonts.  In the end, I think both of those things helped me grow as an artist.
I saw that you interned at Pixar. What was your experience there? How has it shaped you as a person and your work?
My experience at Pixar was amazing.  I loved getting to work in the same building as so many of my artistic heroes and friends.  Bill Cone used to take me and the other interns out into the Berkeley Hills at 7:30 in the morning to do pastel painting.  I learned how to see colors that I had never paid attention to before.
One of the best things about the internship was how closely I got to work with Harley Jessup, whose work had already had a big influence on me.  The most valuable lesson I learned from him was how to get work done even on days where you don't "feel it." He made us fill up giant bulletin boards with artwork and I got used to pinning up drawings I wasn't totally comfortable with just to fill the space.  The funny thing is that once the artwork is pinned up you feel less bad about it, and it's easier to visualize what else needs to be done and what holes should be filled.  Right when I got back from Pixar, I bought a big bulletin board for my studio and I still pin up as much work as I can to keep myself moving forward all the time.
It was great working with the other interns too – Brigette Barrager, Lorelay Bove, Olga Stern, and Katy Wu – they were always pushing me to do my best work and were fun to hang with too.
Also, they have an entire room filled with cereal and every kind of milk you could ever want, plus scooters you can ride anywhere in the building!
It sounds like you had an amazing experience at Pixar. Where did this experience take you? What type of work did you come across after your internship?
About a month after I got back from Pixar, I was contacted by Pete Candeland, the director of the Gorillaz music videos.  He was working on a pilot called Kid Cole & Klay at Cartoon Network Europe and wanted me to help out with the backgrounds, which I was more than happy to do!  He seemed to have complete faith in me, which I'd never experienced with another director.  Pete and the whole crew at that studio were just awesome to work with. Everything started happening really fast after that.  I got to work with Pete again, this time in London, on a commercial for the Olympics on BBC.  I also started picking up more design work from studios in the States.  Right now I'm doing more work for Cartoon Network Europe and designing posters for the new No Doubt tour.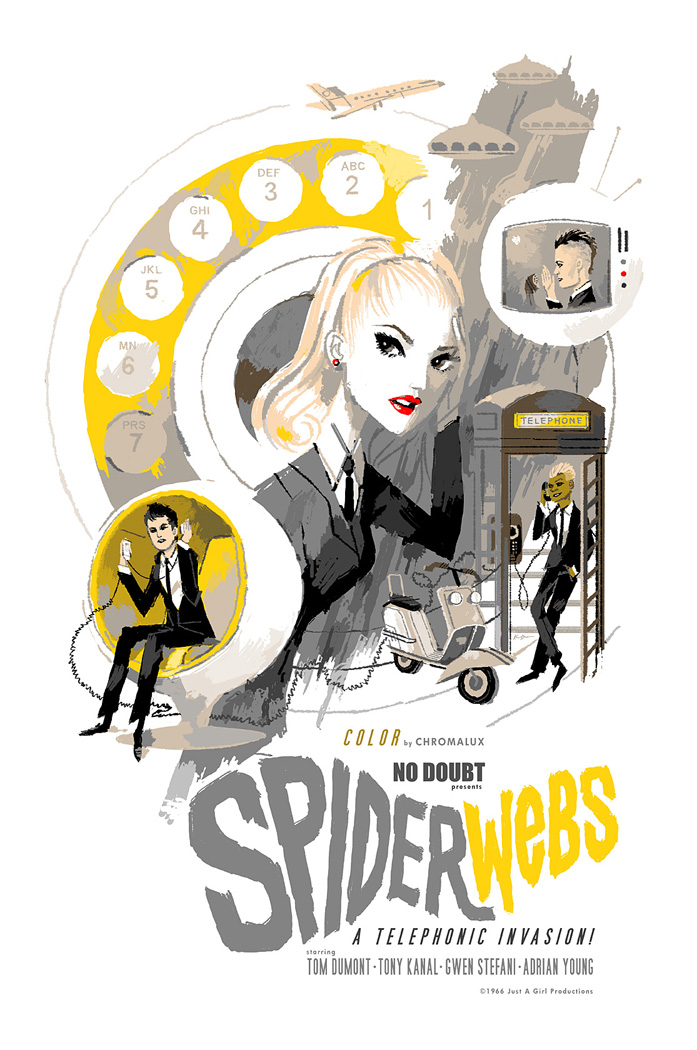 No Doubt Tour Poster
Who or what are some of your influences?
Bob Peak, Robert McGinnis, Bernie Fuchs, Mitchell Hooks, Saul Bass, Tadao Ando, mid-century modern architecture, Los Angeles, Euro-spy movies, 1960's Asian pop music, early Disneyland designs, old postcards, James Bond movies, Jim Henson, monster movies, and my girlfriend Elizabeth Ito.
Too cool! 1960's Asian pop music is so great! Have you been to garagehangover.com? They have a good collection of garage & pop from that time period from all over the world.
No, but thanks for telling me about that website!  It's so cool!  I found this Myspace page a while back that has a cool collection of 60's Asian pop music: http://www.myspace.com/singaporesixties
They post some awesome videos like this one: http://www.youtube.com/watch?v=xwUEr8KokJ0 – I love the music, but also the costumes and the hair!
What contemporary illustrators do you admire?
Don Shank, Lou Romano, Chris Reccardi, Jon Klassen, Bill Presing, Ronnie del Carmen, Megan Brain, Josh & Justin Parpan, Chris Turnham, Robert Valley… all of my friends – there's too many to name but they motivate me every day!  I've been really fortunate to make friends with most of my favorite modern illustrators.
What is a typical day for you like?
There's never really a typical day when you freelance, but on a really good day I'll wake up around 7:30, check my Google Reader to see what everyone's been up to, exercise, eat something, settle down to do as much high-powered work as I can before noon, shower, then head out to maybe grab lunch with a friend, come back to do some more relaxed afternoon work (sometimes turns into zoning out on the web and answering e-mails) until my girlfriend gets home, then chill out and get dinner and hopefully nothing else for the rest of the night… but lots of times I end up working until I fall asleep.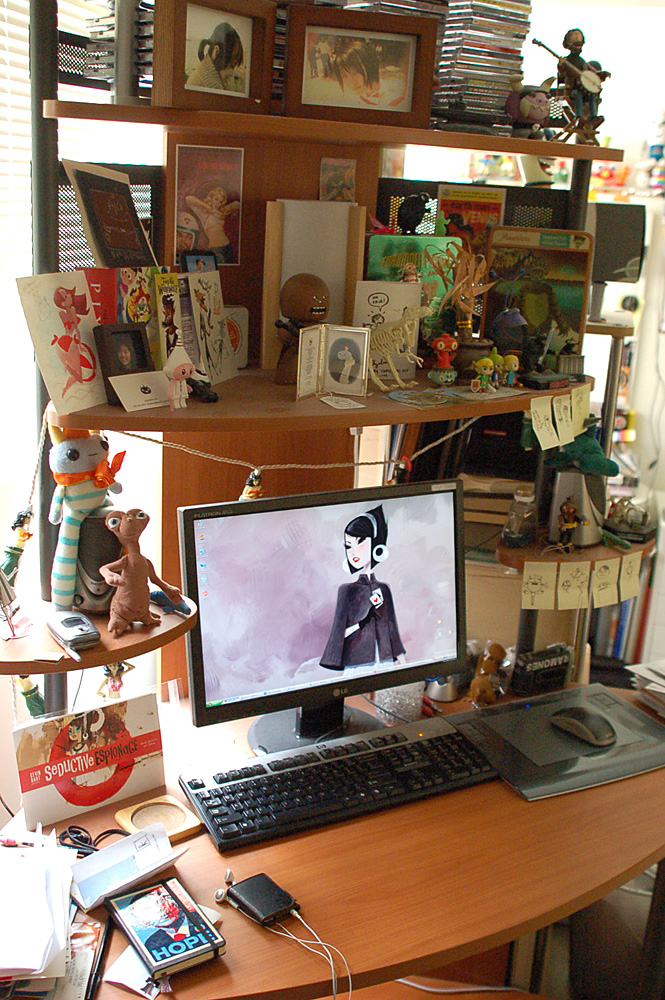 Kevin's work desk, surrounded with tiny inspirational items
How would you describe your creative process?
Usually the first step is finding some inspiration or a spark to start a drawing, and that can mean letting an idea marinate in my brain for a long time or looking at tons of reference.  As soon as a rough image forms in my head I begin scribbling tiny thumbnails and notes to help me visualize the idea better.  Once I've figured out a composition that excites me I'll start fleshing out the elements in the image with more detailed drawings and reference.  Then I do a color study.  At this point all of the hard work is done and I just need to use my drawings and color studies to complete the final illustration.  When I'm on a really tight deadline though I tend to skip the whole first part and start at the color study.

How do you pair a concept with your distinct style?
I think the style of my work derives from hundreds of different sources of inspiration, so when I get a concept from a client I just have to search through that backlog of styles and ideas to find the right one for the job.  In my personal work, when all the doors are wide open, I tend to feel like I'm battling with too many ideas and I have to try really hard to focus on just one to keep a consistent style to the work.

How do you know when a project is finished?
With an illustration I always reach a point where I can't think of what else to add to it.  For me it doesn't help to spend lots of time on nit picky details at the end, so when I reach a stopping point I'll just put it aside and maybe come back to it in a few weeks to see if there's anything I want to fix.
——————-
Kevin was kind enough to walk us through the creation of one of the Yuki 7 posters, Roman Rendezvous, from initial concept to finished product.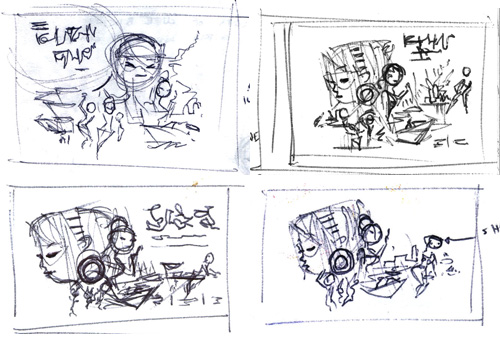 This is my tiny thumbnail stage.  Before this stage I'll often just write down notes about what I want to put in the illustration, or make tiny drawings to help me remember ideas.  This picture shows the thumbnails pretty close to the scale I drew them at.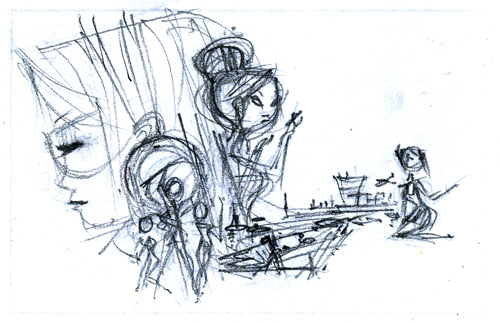 A really quick and rough pencil sketch where I'm trying to better figure out the placement and scale of the elements in the illustration.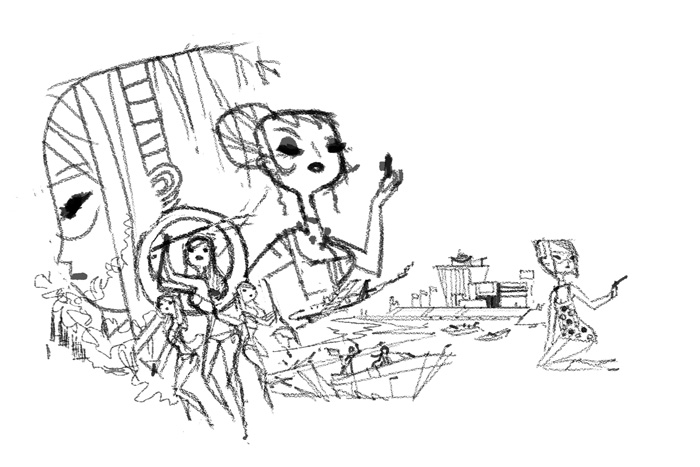 This shows my digital layout drawing based on my previous thumbnails.  I'll use this as an underdrawing when I start the final painting.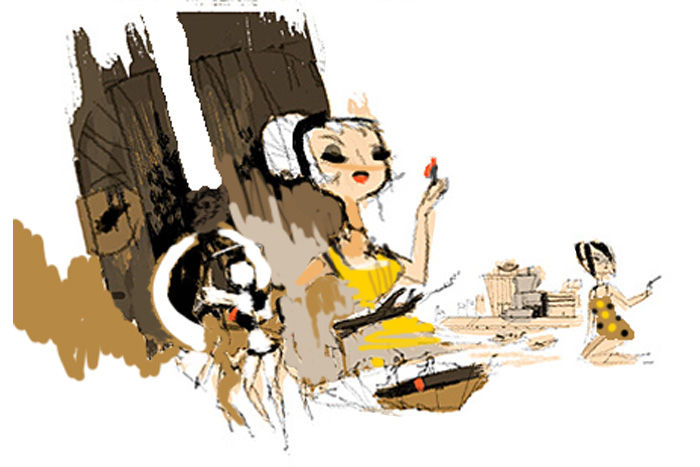 The final "approved" color study.  My color studies are super messy because I change my mind a lot about the colors and just paint back into the same tiny image.  I'll also show this to my friends to get their feedback.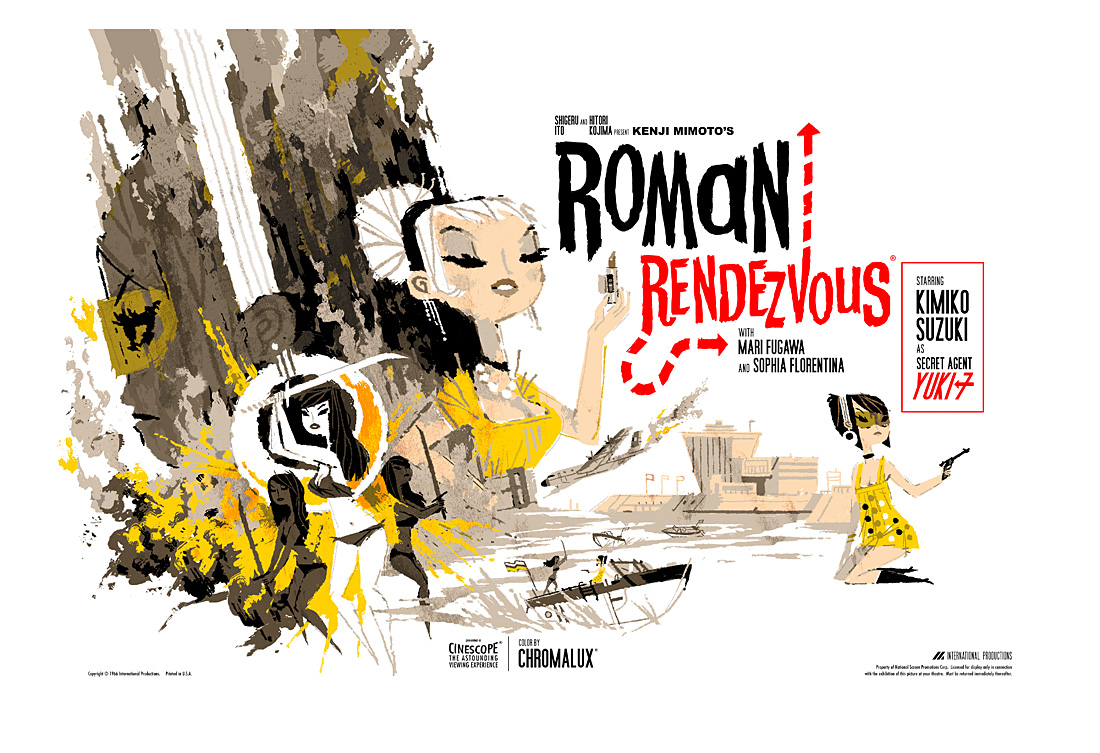 This is the final illustration.  If I've done my legwork on the previous steps, getting to this point is actually pretty easy.  I can just zone out and paint and trust that the time I spent sketching will pay off.  If I'm still moving things around and changing my mind a lot during this stage, then I probably didn't solve enough problems in the thumbnails.
——————-
It looks like last July was a turning point for you, as it was the first time you introduced the Yuki-7 character. What inspired you to create her?
Yuki was the result of a lot of ideas that had been floating around my head for a long time.  When I got back from working in London last year I was thinking a lot about this concept of a jet-setting spy girl with impeccable taste in fashion.  I love 60's spy films like Deadlier than the Male, Danger: Diabolik, and of course the James Bond movies.  So I wanted to create a fictional series of movies that, had they actually been made, would have been the greatest spy films ever made – filled with awesome chase scenes, amazing costumes and sets, and gorgeous ladies.  But even more than that, I was fascinated by the idea of creating a believable behind-the-scenes story of how those movies were made.  Who was the director, the actors, etc?  What kinds of challenges did they face on and off the set?  I became obsessed pretty quickly and started going to the nearest coffee shop every afternoon and scribbling the ideas down on paper as they came to me.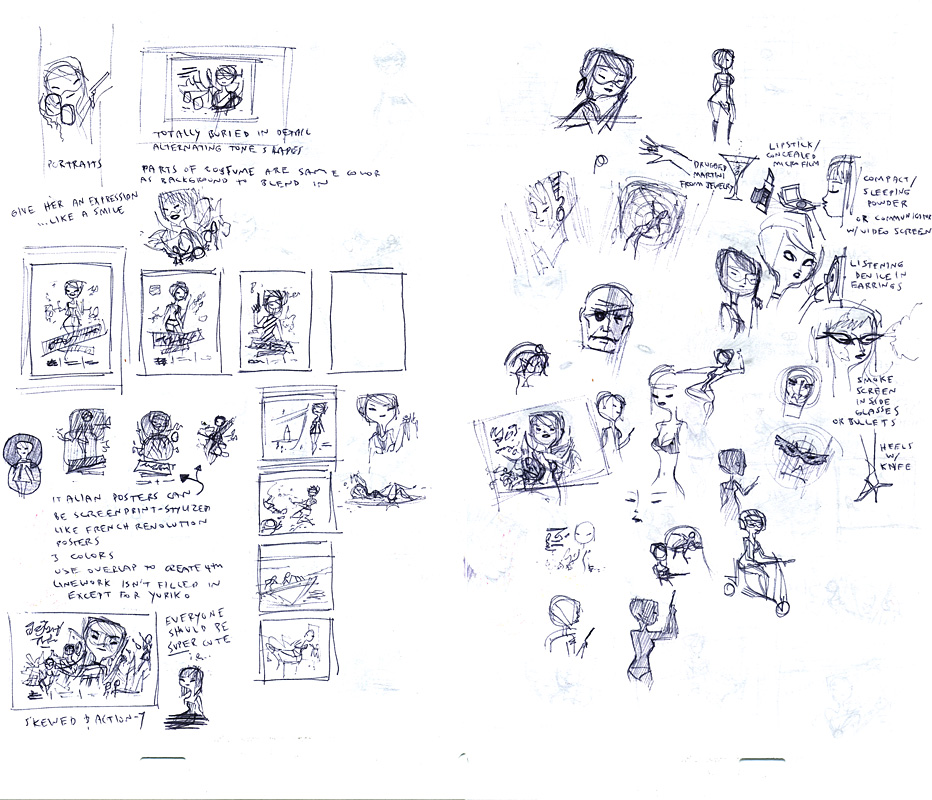 Yuki 7 Sketches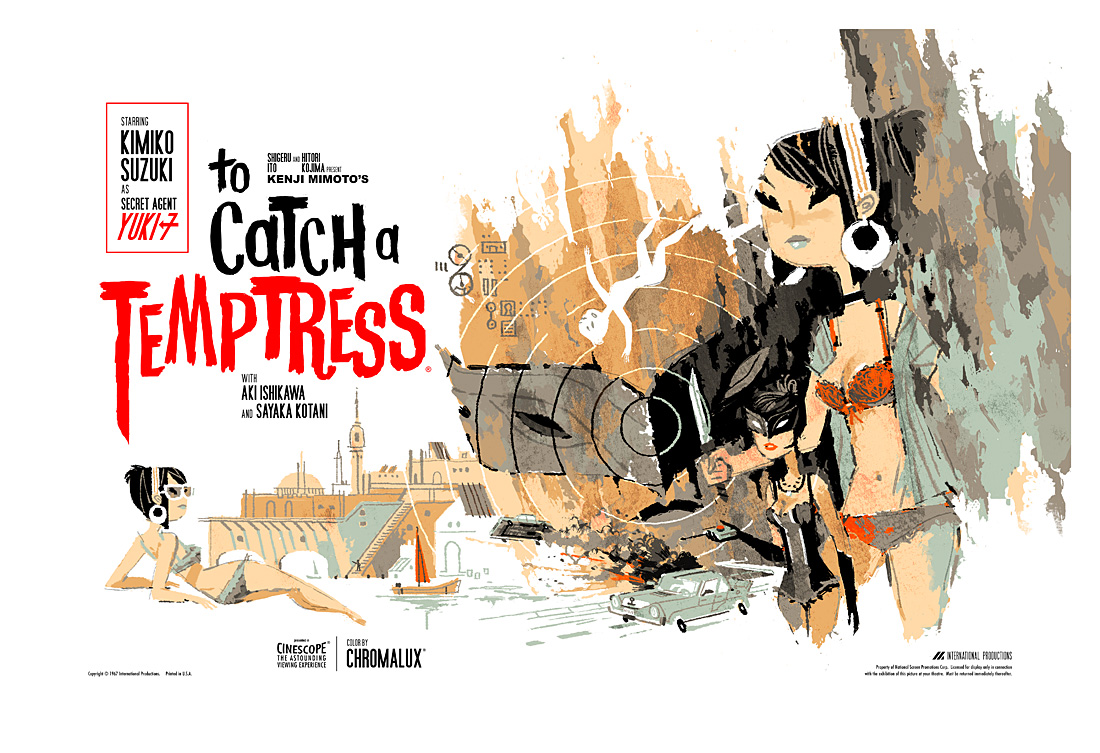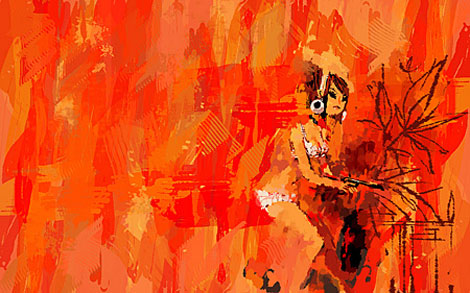 How did Yuki transform from an idea to a book? Was it a natural progression, or did the opportunity come out of the blue? Was it easy to find artists willing to participate in the project?
I wanted it to be a book from the very beginning.  The best way I could think of to communicate the whole idea of Yuki's world was to do a pseudo "Art of" book that contained production artwork, movie stills, posters, and behind-the-scenes stories about the making of the movies.  Once I had a firm grasp on that idea, everything came together very quickly and naturally.
Finding artists to participate happened very naturally too.  As the book began to form, the story felt very personal to me, and I wanted to include people in the project who had made a big impact on my life.  Because, in a way, everyone who helped me get to where I am now also had a hand in creating Yuki.  So, I made a list of about a dozen people who had done a great deal for me over the past few years, sent them an invitation, and was astonished when they all accepted!
The other thing that really helped it all come together was when my friend Ada Cole suddenly jumped onto the project just two months before we were supposed to ship.  She's an amazing writer, and she started coming up with all these brilliant articles for the book.  Her writing really added a whole other dimension of believability to everything.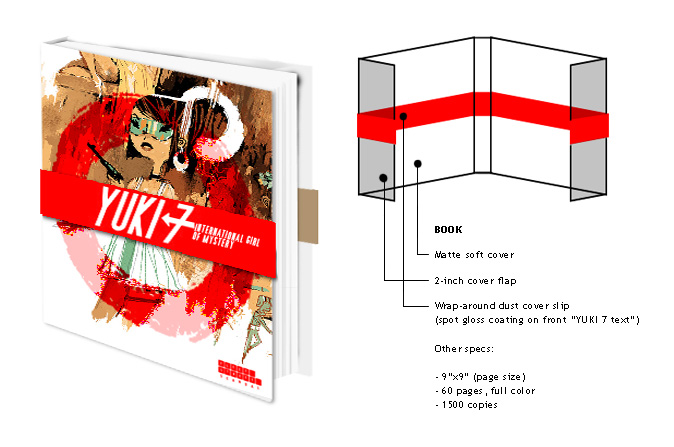 Yuki 7 book cover mock-up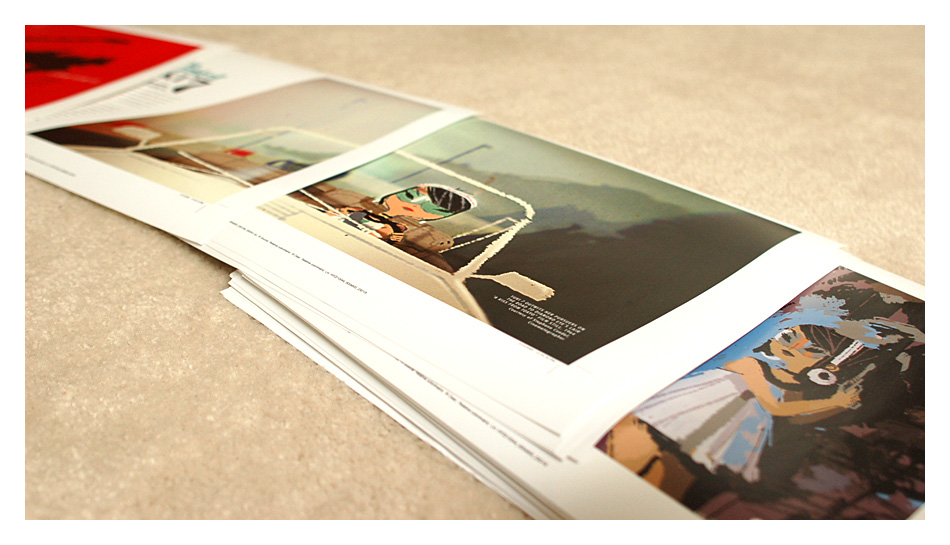 Proofs from Seductive Espionage: The World of Yuki 7
Can you tell us more about the book making process? How long have you been working on it? When will it be published?
I've been working on this book for about a year, though I'd been toying around with different versions of the idea for a few years before that.  The book's going to be released at a big event at Gallery Nucleus on July 3rd, with original art on display and lots of the artists in attendance!   If you want to know more about the book making process, I've actually been posting a weekly series of articles on my blog that offer a really detailed behind the scenes look at how it was made!
If you could recommend 3 books & 3 albums to another designer, what would they be?
It's too hard to pick, so I'll just list 3 albums I've been listening to a lot lately:
Metric – Fantasies (One of my favorite bands ever, and their new album is their best yet!)
Yeah Yeah Yeahs – It's Blitz! (I found out about them when they opened up for the White Stripes at a show in 2003.  I remember seeing Karen O lying on the ground, kicking her legs in the air and screaming the lyrics to "Date with a Night" – I immediately went out and bought their first album after that!)
The Wedding Present – George Best (Never gets old!)
As for books, I'm looking over at my bookshelf and the 3 that immediately stand out are The Art and Flair of Mary Blair, Jim Henson's Designs and Doodles, and Tapestry: The Paintings of Robert E. McGinnis.  I've poured over every page of those books many, many times.
What's next for Kevin Dart? Do you have any new and exciting projects coming up?
There's a lot of exciting things happening with Yuki right now and I can't wait to see where that project goes.  Besides that, my friend Chris Turnham and I are planning out our next book which will be a volume of Jules Verne-inspired artwork called "Fantastic Voyages."


—————————————————————————-
I'd like to extend a big thank you to Kevin Dart for all of his hard work in making this interview happen. If you haven't seen it already, definitely check out the Yuki 7 trailer for A Kiss from Tokyo on his website and be sure to pre-order your copy of Seductive Espionage: The World of Yuki 7 as well. If you can't wait for the book's release on July 3rd, enter our Yuki 7 Screen Gems Giveaway for an advanced copy of the book, as well as ton of other nibbles and goodies!

Share on Facebook
Tagscontemporary, illustrators, Interviews, posters, USA
06.03.09 in Features by Grace Danico
Share on Facebook