Sponsor // Respublika Font Family
Made up of 10 unique styles, Respublika FY, from FontYou, is a gorgeously balanced humanistic sans serif font. Complete with 10 different styles ranging from light to extra black italic, there's pretty much nothing this titanic typeface can't do! And for a limited time only, you can get the entire family for 88% off thanks to this Mighty Deal!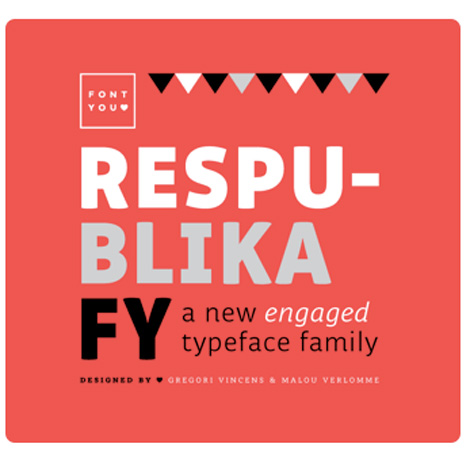 Humanist Sans Serif Typeface
Respublika FY is a fabulously unique font to add to your typeface toolbox. A humanistic sans serif typeface, the large range of styles lets designers really set some incredible layouts with some truly rich contrasts.
10 Different Styles
You don't just get one fabulous font with the Respublika FY font. You actually get 10 fabulous fonts! The Respublika FY Family is available in 10 styles, and with this Mighty Deal, you'll get all 10 of the following: light, light italic, regular, italic, bold, bold italic, black, black italic, extra black, and extra black italic.
Well-Balanced Shape
What's so sweet about Respublika? Besides all the different shapes and contrasts, you'll find this family is neither too rigid, nor too round. It's just a very well-balanced typeface all around.
Versatile in Use
Wondering what Respublika FY's best used for? Thanks to its well-balanced nature, you can use this terrific typeface for small size elements or even large, powerful headlines.
Manual Font Hinting
Diversity is the name of the game and with Respublika FY, you don't have to worry about being pigeonholed into just one thing. Thanks to its manual font hinting, this typeface beautifully displays on any screen, whether it's a website or an app.
Great for Online and Print
No matter what your next project is, Respublika FY has you in its sights! Use it on just about anything you're currently working on whether it's online or in print. That goes for headlines, magazines, logos, posters, book covers, packaging, editorial pieces, you name it.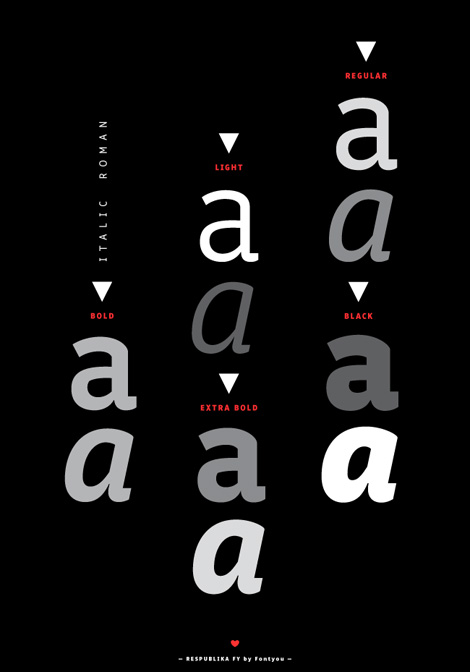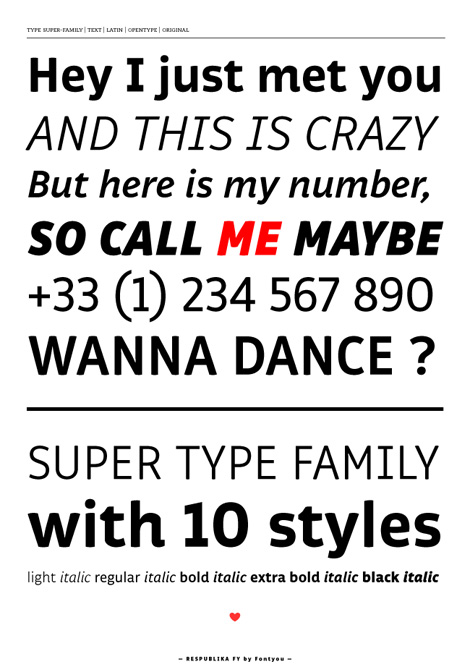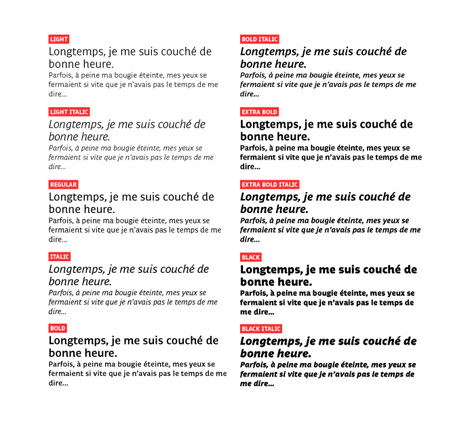 Respublika is currently available at Mighty Deals.
——————–
Also worth viewing:
Book Gift Guide
Blex Bolex
Recent Books
Not signed up for the Grain Edit RSS Feed yet? Give it a try. Its free and yummy.

Share on Facebook
Share on Facebook