Jim Flora Prints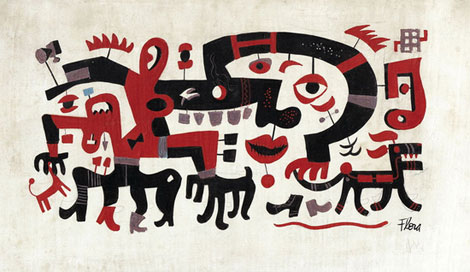 Untitled painting casually referred to as White Block Quadrupeds
Jim Flora was a fine artist/illustrator best known for his album cover art for RCA Victor and Columbia Records, as well as his illustrations for children's books. In this uncirculated and untitled early 1940s painting, he presents us with a (literally) twisted cast of characters. As mentioned on the Jim Flora website, the work "depicts an inscrutable panorama of disconnected facial features, headless quadrupeds, and someone's nightmare of a fanged horse". This piece along with select paintings from the Jim Flora collection are now available as limited edition prints for purchase over at the Poster Cabaret.
Manhattan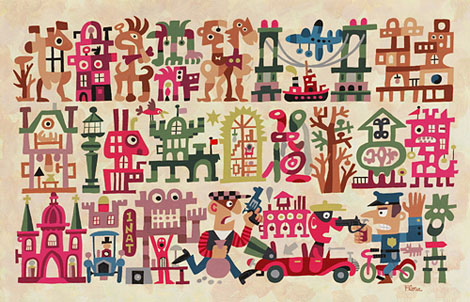 The Big Bank Robbery
Related Books:
The Sweetly Diabolic Art of Jim Flora
The Curiously Sinister Art of Jim Flora
Related Fonts:
Flora Mambo
——————–
Also worth viewing: Sigrid and Hans Lammle

Not signed up for the Grain Edit RSS Feed yet? Give it a try. Its free and yummy.
——————–

Share on Facebook
10.19.10 in Poster Picks by Dave
Share on Facebook