2010 Sasquatch! Music Festival Poster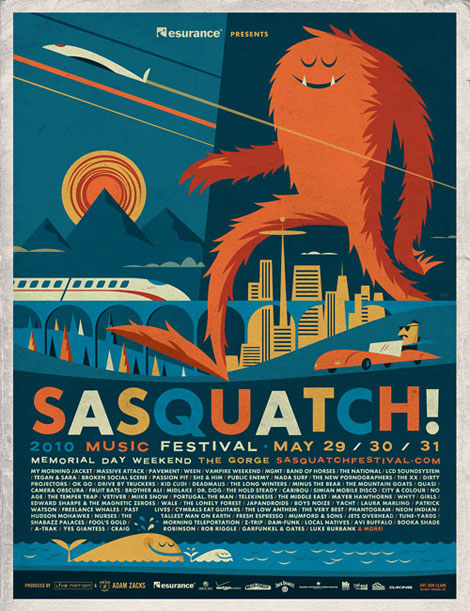 Every year at the end of May (since 2002) the Sasquatch! Music Festival rears it's hairy head in a small town along the Columbia River in Central Washington. The three day bash features bands like Vampire Weekend, MGMT, Massive Attack, LCD Soundsystem, They Might Be Giants and Camera Obscura just to name a few. The promo poster for Sasquatch! 2010 (created by grain edit fave Invisible Creature) features a whale whose blow hole juice magically controls Abobe's text wrap feature and a giant furry beast that can easily touch the esurance logo found floating in our atmosphere. If you were unable to make the show you can still pick up some of this poster sweetness right here.
——————–
Also worth checking: Invisible Creature Interview
Not signed up for the Grain Edit RSS Feed yet? Give it a try. Its free and yummy.
——————–

Share on Facebook
Tagscontemporary, Illustration, posters, USA
06.09.10 in Poster Picks by Dave
Share on Facebook