Birds of a Feather 2
If your in the San Francisco area this Saturday (11/21/09), this looks like it's going to be a good show.
Details:
Super7 is proud to present the follow up to 2007's blockbuster show "Birds of a Feather" with the new aptly titled show "Birds of a Feather 2" featuring artwork by Dora Drimalas, Heather Amuny-Dey and Shay Ashley-Ometz. This show features three original new prints from each artist (nine in total) as well as a sampling of older, out-of-print and rare prints from each artist's personal archive to create a whimsical and wonderful reflection on their lives.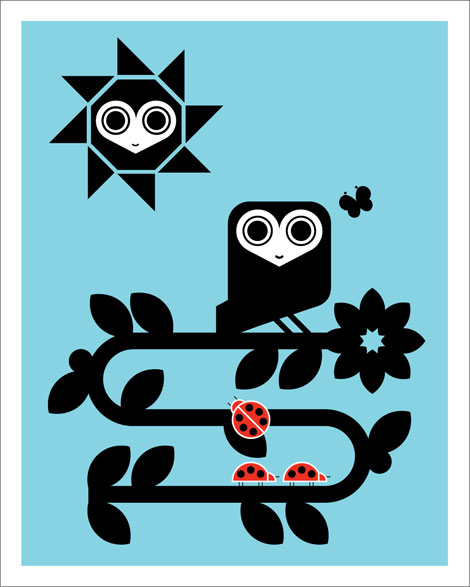 Ladies Day Out by Dora Drimalas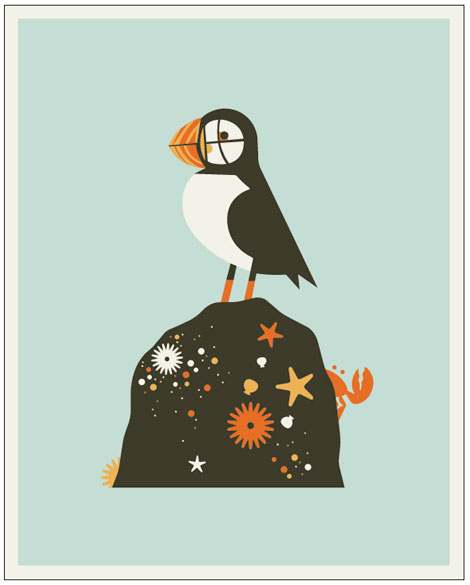 Puffin by Shay Ashley-Ometz
Birds of a Feather 2's title is taken from the popular phrase "Birds of a feather flock together", as these three women share an important bond as friends, as well as each one having established themselves a significant role in the male driven world of design. It is a rare confluence of talent and ambition that has led each of them to become some of the most respected designers working today. Birds of a Feather 2 is their chance to share more personal work about life, love, heartbreak, happiness that feature our fair feathered friends.
Birds of a Feather 2 is comprised exclusively of limited edition, hand screenprinted, signed and numbered editions of art that are priced for the average customer. The works lend themselves perfectly to be framed (sized to fit a standard 16×20 frame) and priced at a moderate $40 per print, the show is an overt attempt to create unique items and gifts in time for the holidays, and to encourage the access and opportunity to have and give artwork for those who traditionally are not able to afford it.
Show Dates/Times:
Birds of a Feather2 opens at Super7 San Francisco (1628 Post St., San Francisco, Ca. (415) 409-4700) on Saturday, November 21st at 7pm, with Dora Drimalas and Heather Amuny-Dey in attendance, and on Saturday, November 28th at 6pm at Super7 Florida (720 2nd Street North, St. Petersburg, Fl. 33701, (727) 822-8685).
About the artists:
Dora Drimalas is the principal of Hybrid-Design, and former Nike Senior Designer, whose San Francisco design studio is considered to be one of the finest boutique design studios in the country, with clients such as Apple, Nike, Starwood Hotels, Converse, Sony, Upper Playground and more.
Heather Amuny-Dey is now the Category Design Director for the Women's Division at Nike, and the former Global Creative Director of the Nike Brand. Heather's immense talent and ambition have landed her at the top of the corporate ladder despite her being only in her early 30's. In the past Heather has overseen Nike's execution and strategy for the World Cup in 2006, as well as the Olympics in 2004 and 2002.
Shay Ometz is a Senior Art Director at Fossil Watches in Dallas, Texas. After working for years in international advertising and design, she was recruited to help reshape the Fossil brand, evolving them from a watch company to a fashion brand. Last year Shay and her husband founded "beethings", where they make art and products for the home. Their work has been sold all over the world.
——————–
Not signed up for the Grain Edit RSS Feed yet? Give it a try. Its free and yummy.
——————–

Share on Facebook
TagsART, contemporary, Events, Illustration, posters, USA
Share on Facebook