Miyagi Typeface: Tribute to Letraset Yagi Link Double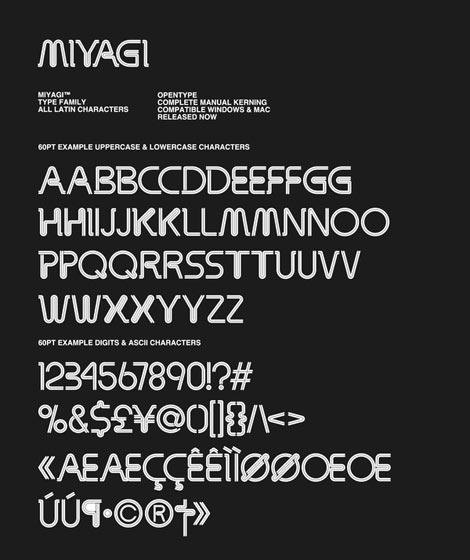 Thanks to Alex Haigh of ThinkDust for making my day. I love looking though my old 1970s/80s Letraset catalogs, so I'm really excited to see that someone has finally created a digitized version of the Yagi Link Double typeface. Alex has put in hundreds of hours to create the upper and lower case 255 character set which he calls Miyagi.
I just fired up Illustrator and gave the typeface a test drive. It looks great. This makes me want to break out the Letraset catalogs and see what other typefaces I'm missing.
Technical details: 255 character set upper and lowercase, full ascii characters, opentype format compatible with pc and mac, full manual kerning.
You can purchase the Miyagi typeface at Alex's new foundry HypeForType

Share on Facebook
Tags1970s, 1980s, fonts, Typography
12.18.08 in Found design by Dave
Share on Facebook